覧覧覧覧覧覧覧覧覧覧覧覧覧覧覧覧覧覧覧覧覧覧覧覧覧覧
覧覧覧覧覧覧覧覧覧覧覧覧覧覧覧覧覧覧覧覧覧覧覧覧覧覧
A Buyer's Guide.
覧覧覧覧覧覧覧覧覧覧覧覧覧覧覧覧覧覧覧覧覧覧覧覧覧覧
This guide is to help you know what to look for when viewing a van, regardless of which model. Firstly it helps if you decide on which
model of transporter you want, then decide on the year. I have provided a bus diagram (below) with a lettered code system to help you
understand the areas of the vehicle. Do your homework first and then start your search for your van.
Bodywork & Body Trim.
A. Engine Lid & Tailgate.
Check for basic panel fit, signs of accident damage and rust.
B. Rear Bumper & Rear Corners & Valance.
The bumpers can get battered about, check for filler & twists. Look inside bumper for signs.
Rear corners usually rot round the bottom near the battery trays. Check for accident damage.
Check rear valance for damage, these can get butchered about, people fitting wrong exhausts.
C. Roof & Guttering.
Check the roof area for dents and drilled/rust holes.
Check the guttering all the way around for rust, get a tall person or a step to see inside the lip.
D. Front Bumper & Front Valance.
The bumpers can get battered, check for filler & twists. Look inside the bumper for signs.
The front valance is a good place for rot/rust, check behind the bumper and also at the back of valance especially at the ends,
corners & bottom, repair panels are cheap, but welding labour is not.
E. Sills & Outriggers & Chassis.
Check outer sills for filler and cracks, check inner sills for rot.
Check outriggers for rot, Check chassis for heavy rot. Sills, Outriggers & the chassis are all connected and rotten ones will require
major welding.
F. Front Panel & Windscreen Surround.
Check Front panels for surface rust & cracked paint, stone chips. Remove the spare if fitted.
Check window surrounds especially around the bottom corners.
G. General Areas.
Check these areas, under the doors, door steps & arches, bottom of door pillars, top & bottom of tailgate rim, loading area door
bottoms, bad panel fitment on doors, whole chassis & floor.
H. Trim.
Check condition of trim, or for missing trim as replacements are not cheap and hard to find.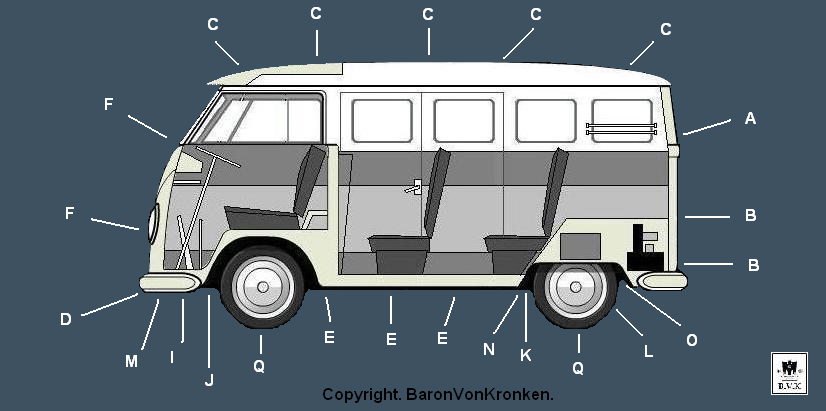 Mechanicals.
I. Master & Brake Cylinder.
Located under cab floor, check fluid levels, look for leaks, also check all the backing plates.
J. Link Pins & Tie Rods.
Link pins need greasing every 1500miles, not many people do this. Check for play and rot.
These can be expensive and hard to find.
K. Gearbox.
Test drive the van checking for easy gear change, Check for leaks and the gear linkages.
L. Reduction Boxes
Boxes are noisy, but worn bearings are noisier check for leaks.
M. Steering Box.
Check for tight or notchy steering, check steering links underneath. Replacement boxes are not that common & can be expensive.
N. Rear Torsion Area.
Check for general rot & sagging
O. Engine.
Replacement engines are readily available and quite cheap. But check for lack of maintenance & oil leaks.
Check general engine bay for rust/rot and condition.
Other Bits & Bobs.
P. Electrics.
From 1950 to 66 all vans were 6volt, some have been converted over to 12volts.
Check all gauges, dials & switches work. Check for chaffing wires especially in the engine bay area, around the battery & thro'
the body to the starter, look for rubber grommets to be fitted.
Q. Wheels & Brakes.
Check wheels for leaks as brake and reduction box leaks show here.
General rule of thumb is 14" wheels indicate 1500 engine & gearbox, where as 15" = 1200.
R. Interior.
By now you'll know what interior you want, camping, empty, passenger seats, etc.
Check general interior for missing bits & door panelling for damage.
Conclusion.
At the end of the day its your decision & money, if your not sure or happy, walk away from it.