覧覧覧覧覧覧覧覧覧覧覧覧覧覧覧覧覧覧覧覧覧覧覧覧覧覧
2006 Show & Event Review.
覧覧覧覧覧覧覧覧覧覧覧覧覧覧覧覧覧覧覧覧覧覧覧覧覧覧
( 12 Nov ~ Ansty Midlands Inter-Club Meet )
Ansty Arms is a great location, with a good turn out of vw's and another weekend of good weather. Every type and style of volkswagen
turned up, from bugs, all years of vans, buggys and a kubel. The beetle crisis bug was there from discovery. Loads of inter-club chatting
for most of the day.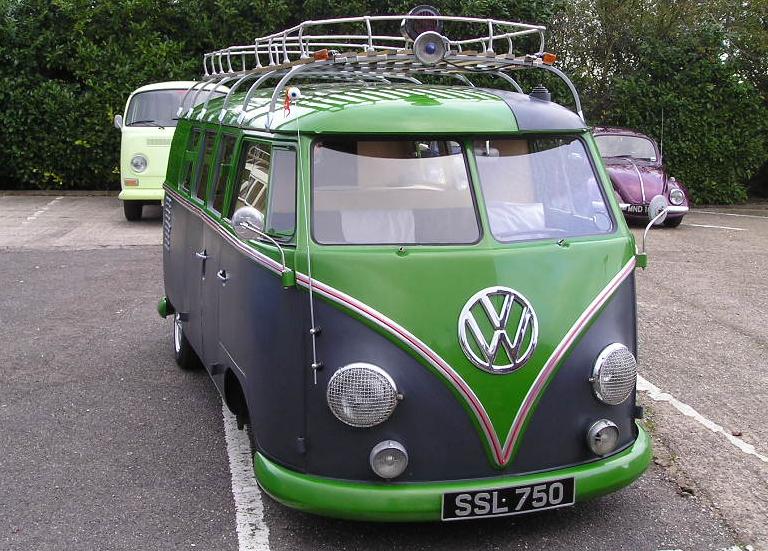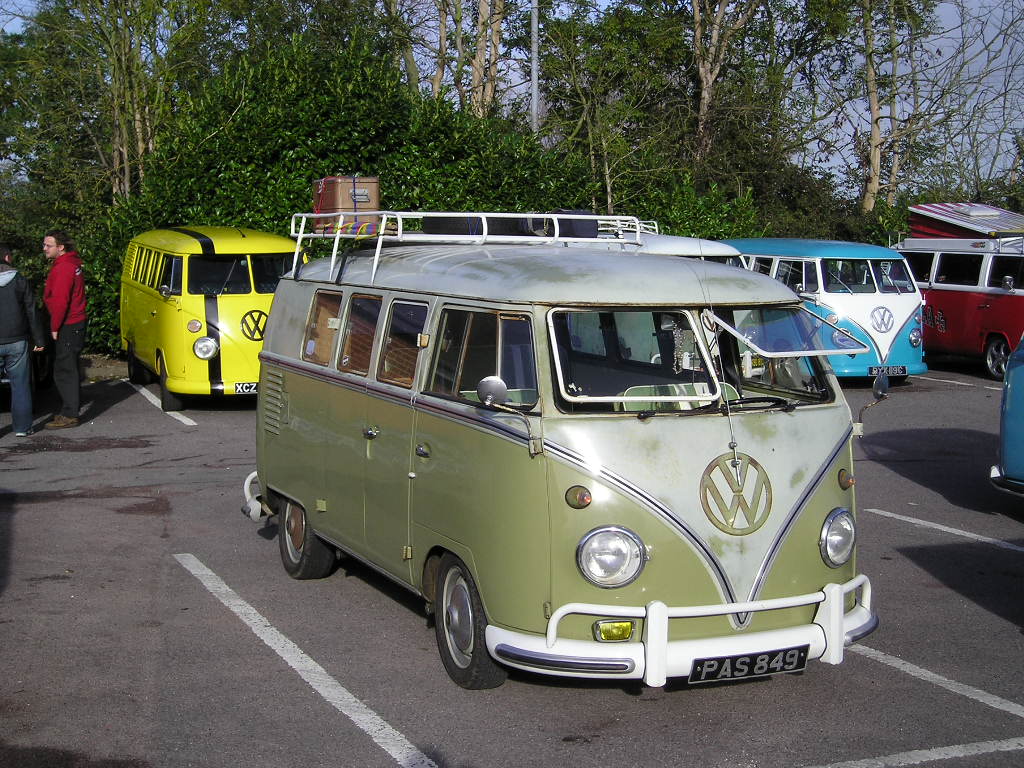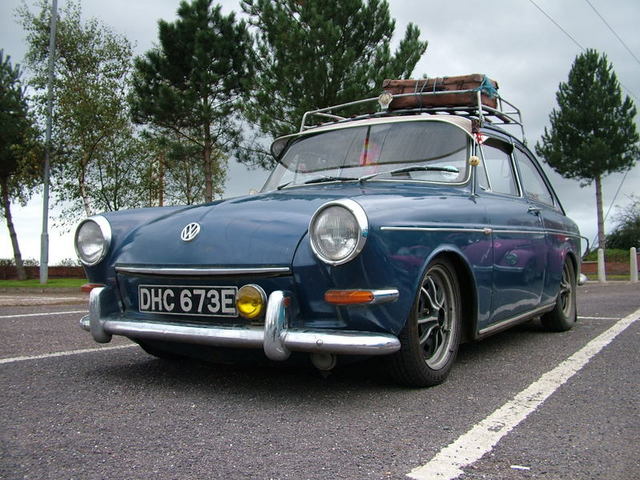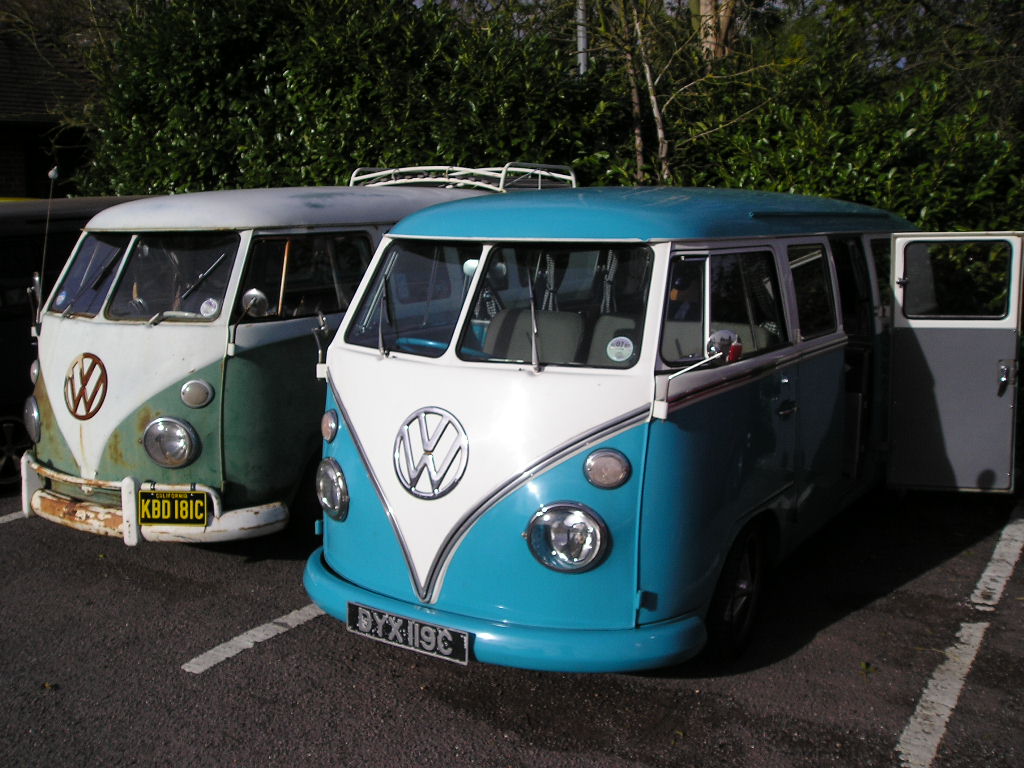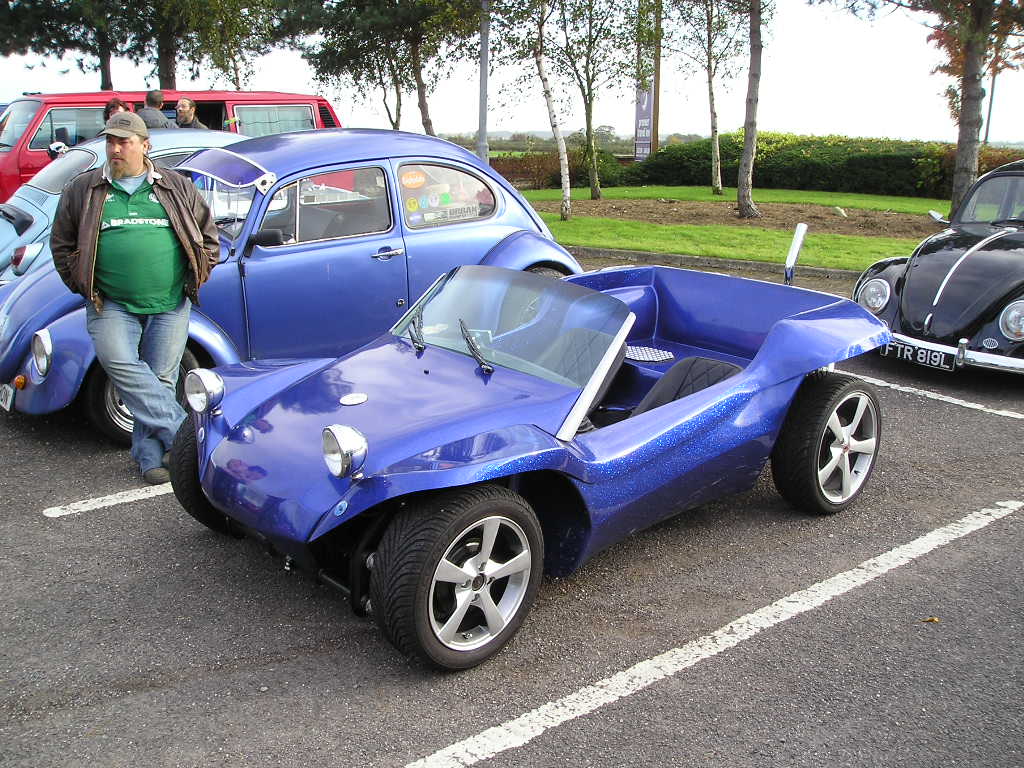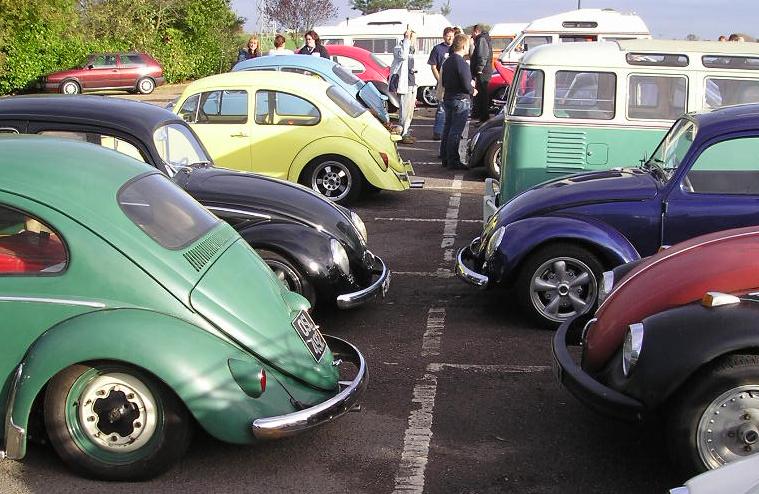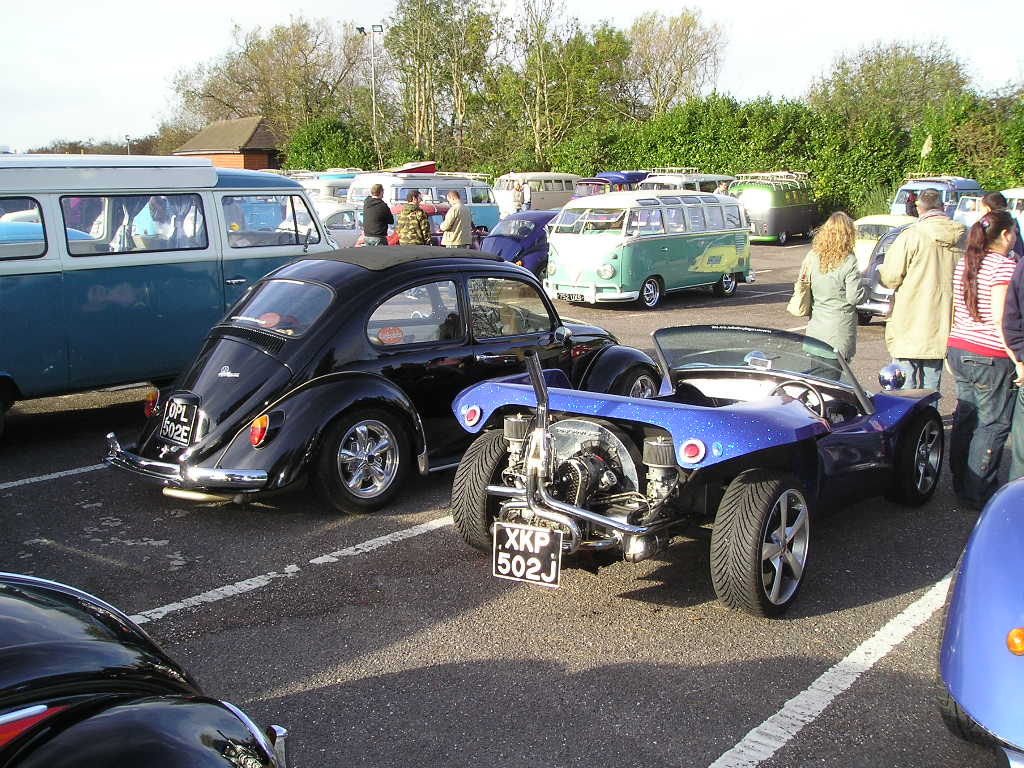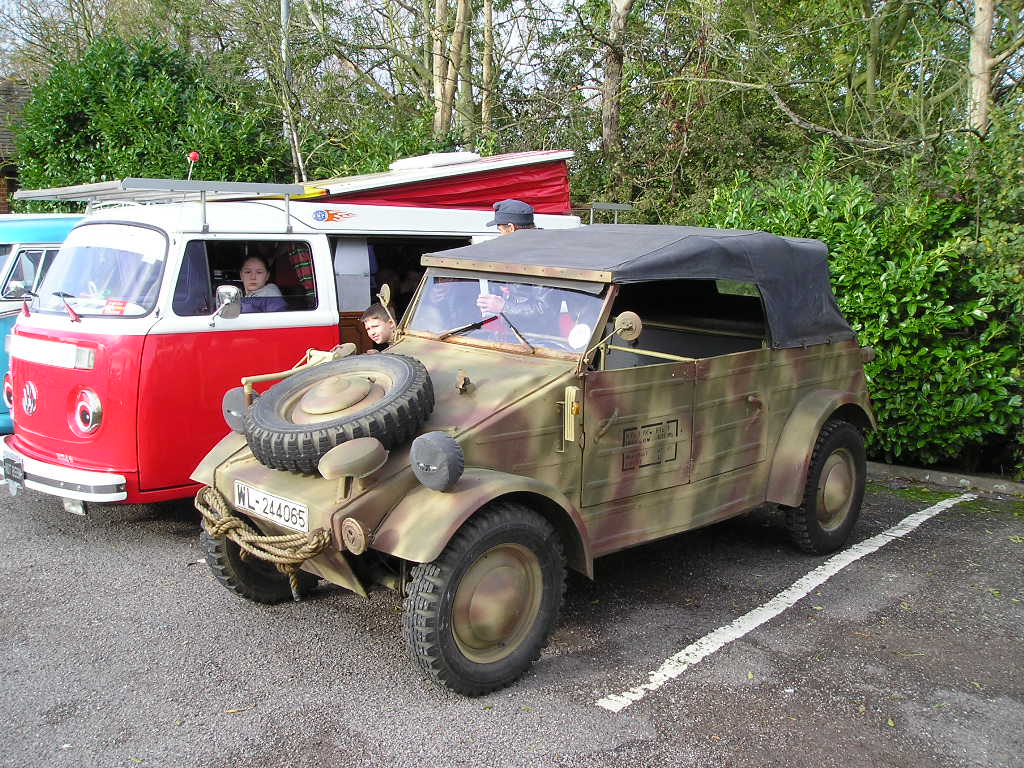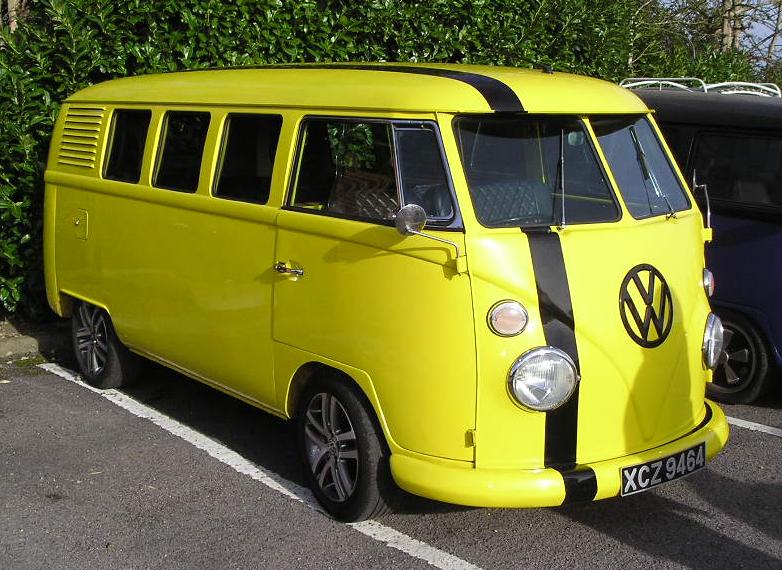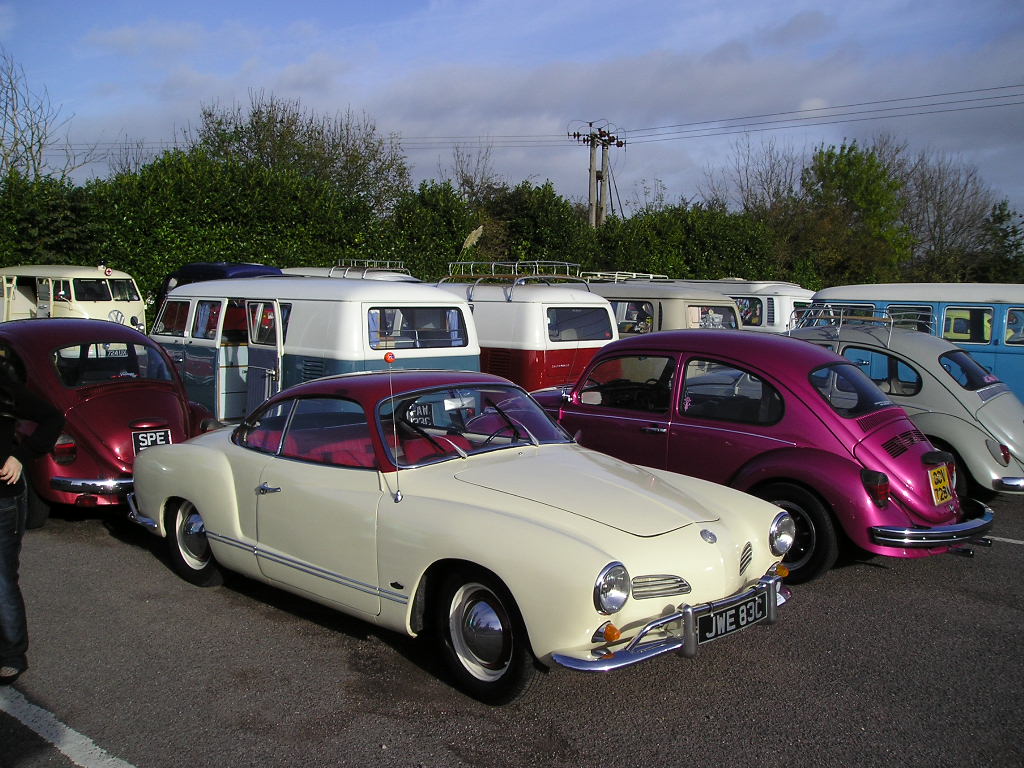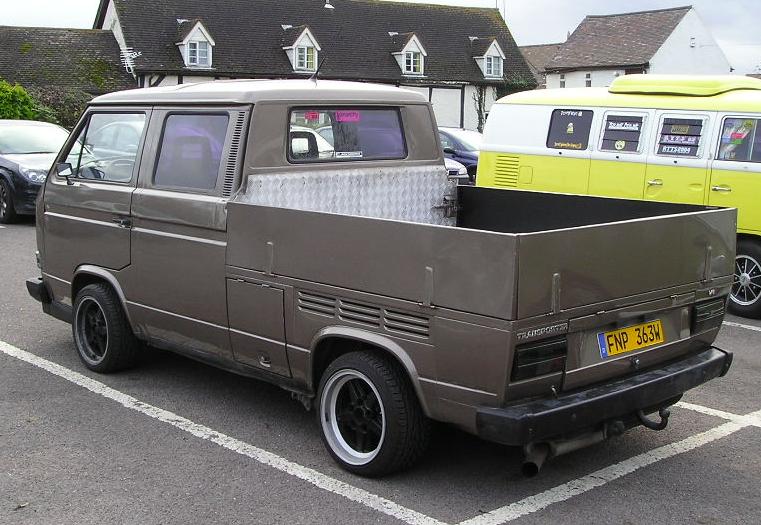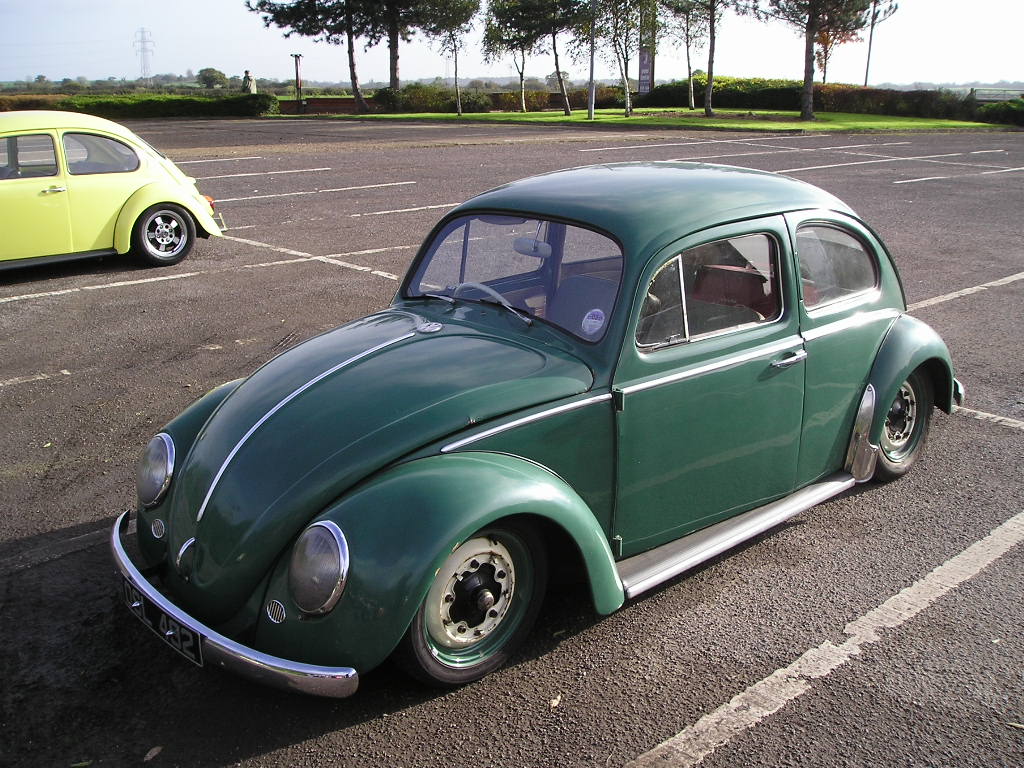 ( 5 Nov ~ Slough Swapmeet )
A fresh start to the morning with temperatures around 5 degs C. The car park was full by 9:15am. Trade seemed to be a little lighter than
previos years, but still a good amount of tables.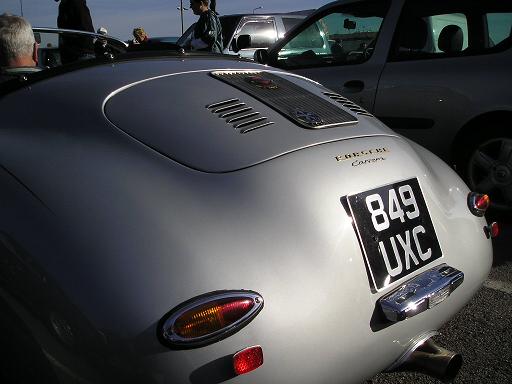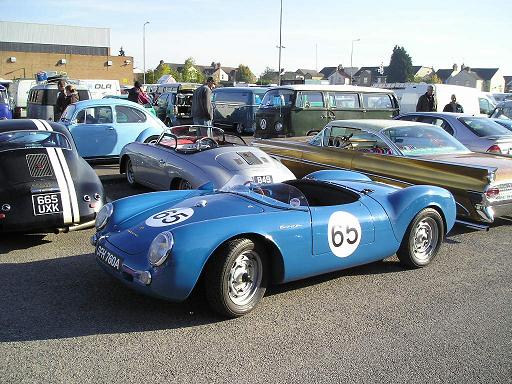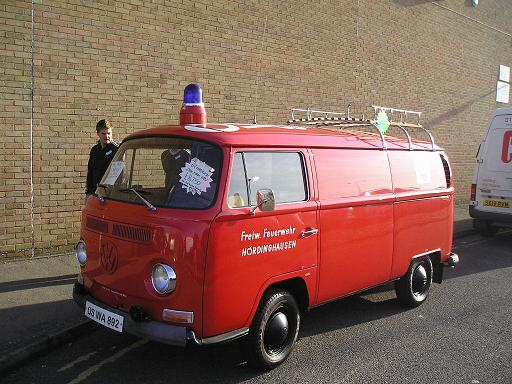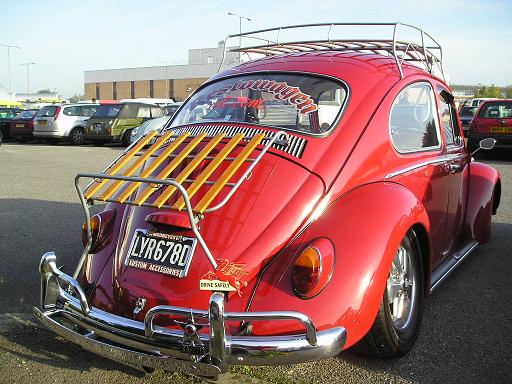 A sweet Porsche 550 rep turned up with the driver wearing black leather crash hat and goggles. Mmm, a nice part that i'd like was the
Judson Supercharger, but prices were high as usual. The car park traders were out in force as well, at least it probably paid for the petrol
home.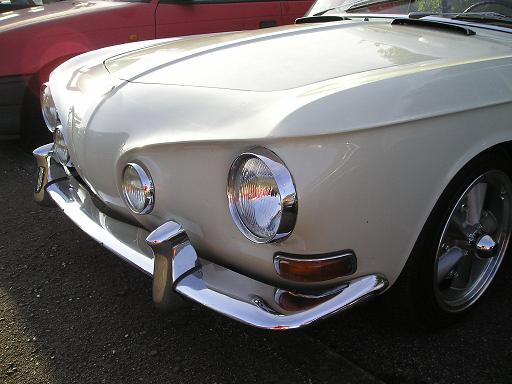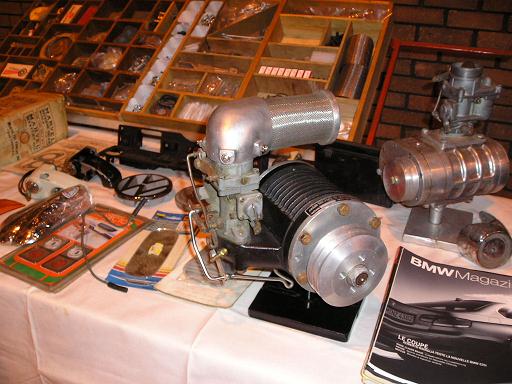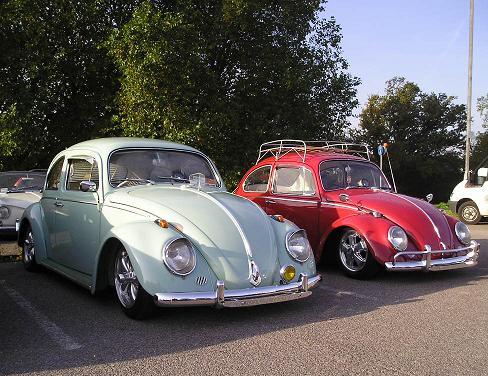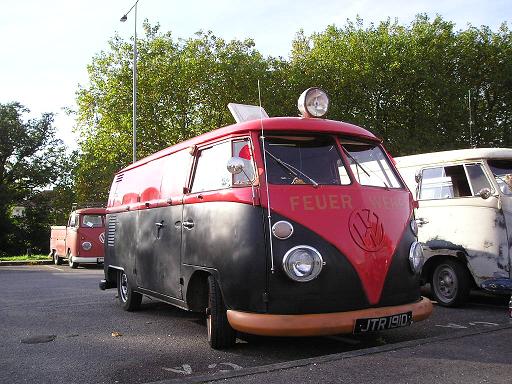 ( 8-10 Sept ~ VanFest )
Arrival at the showground on Friday at 2pm meant the usual bedlam & chaos of the queue system. The weather was superb all weekend
with chilly nights. Entertainment was good as always. Loads of quality buses littered over the entire site and trade was large, But there
seemed to be more novelty plots than vw parts. Thanks go out to OxonPhil who acted as our support bus.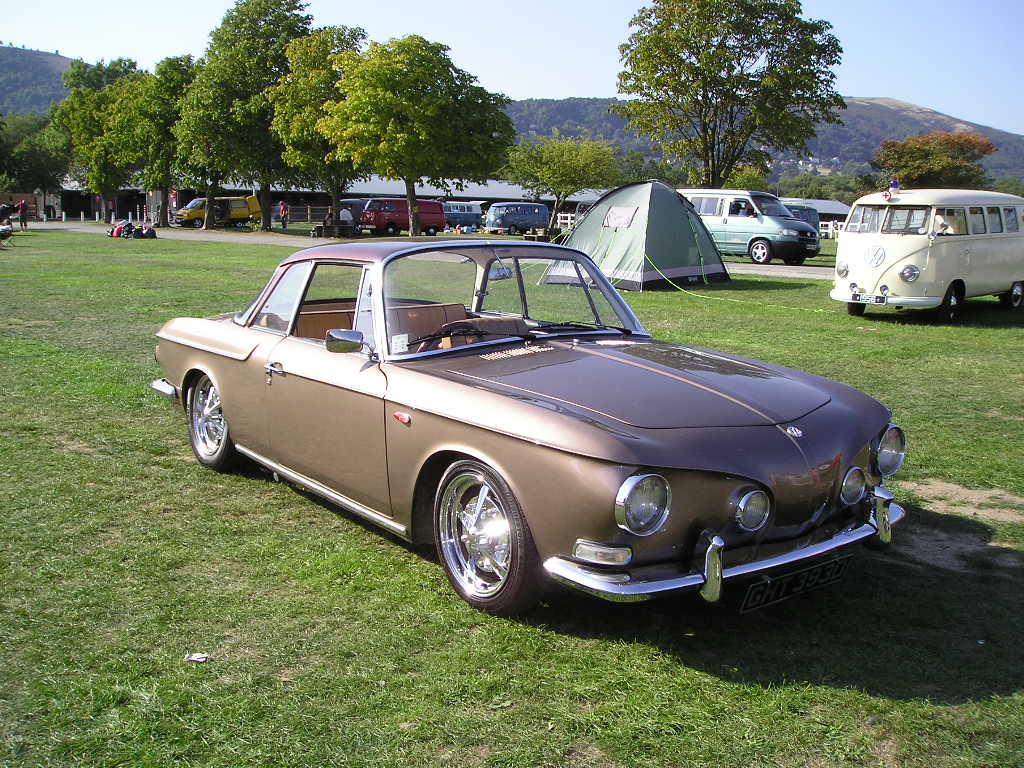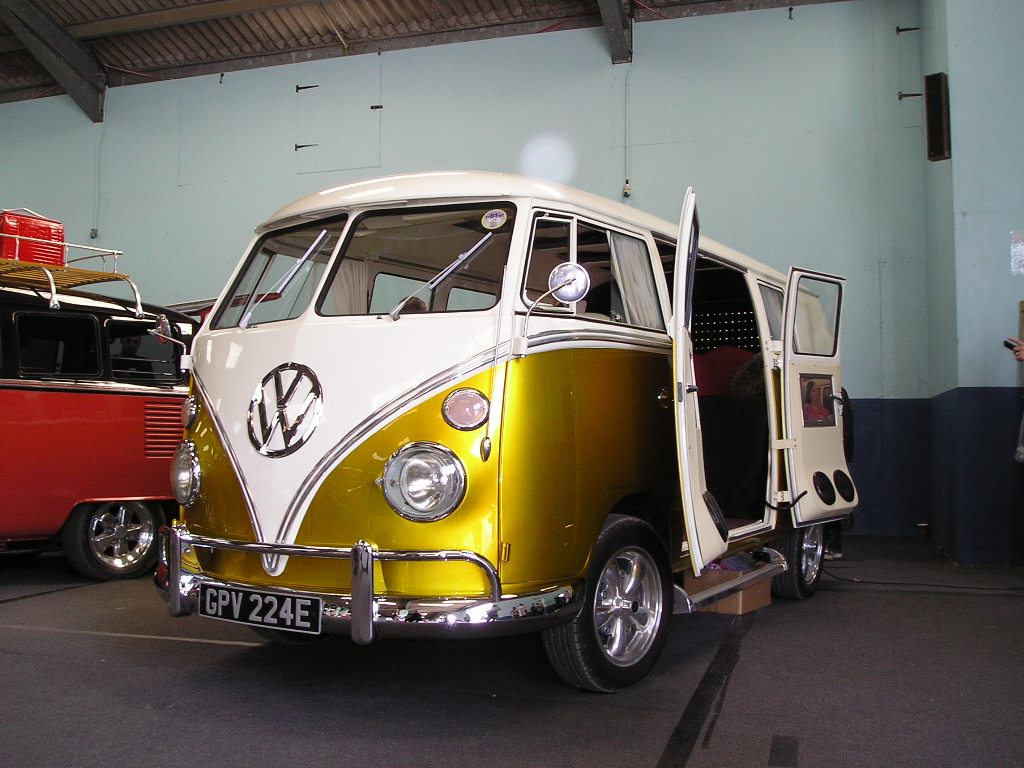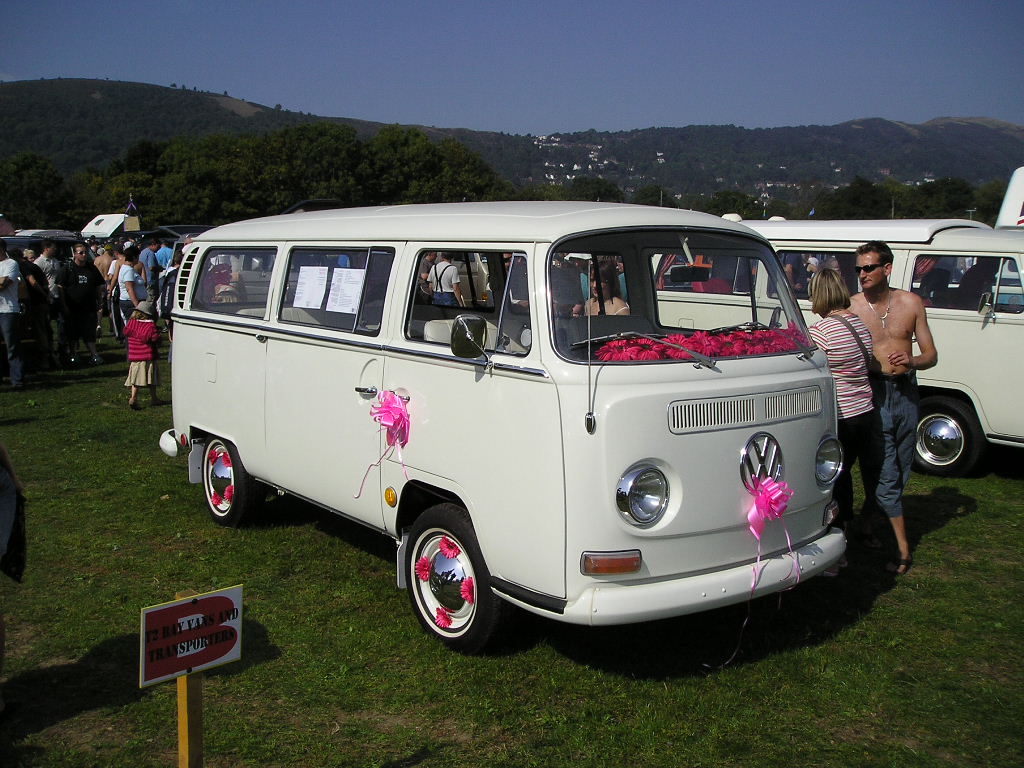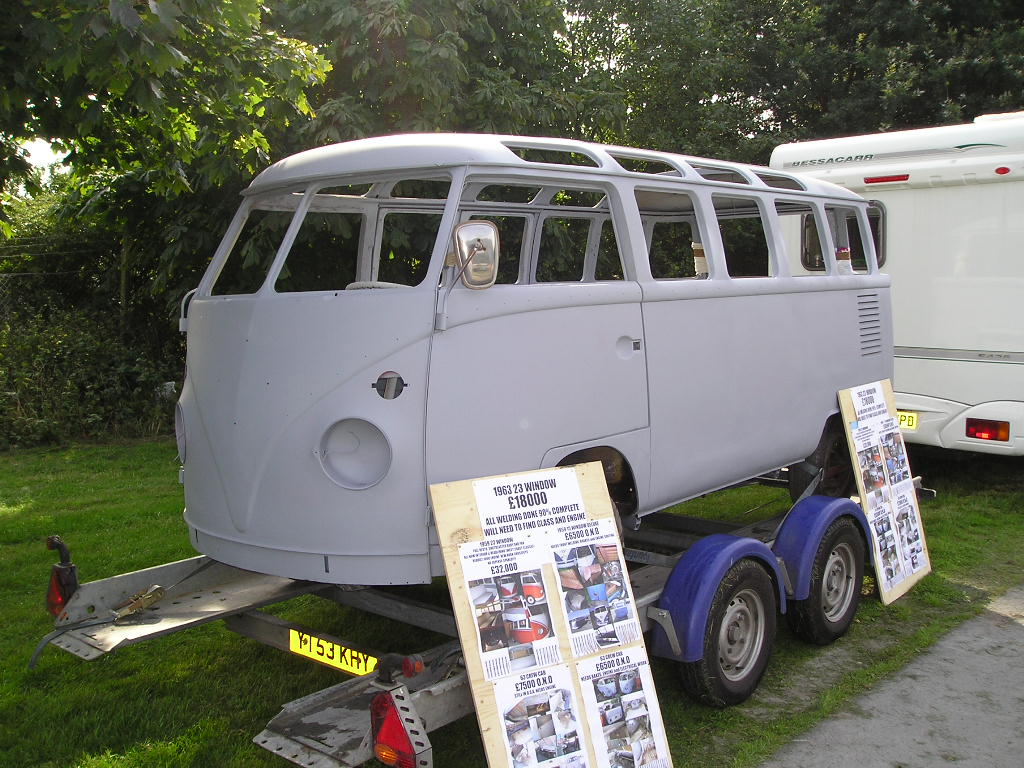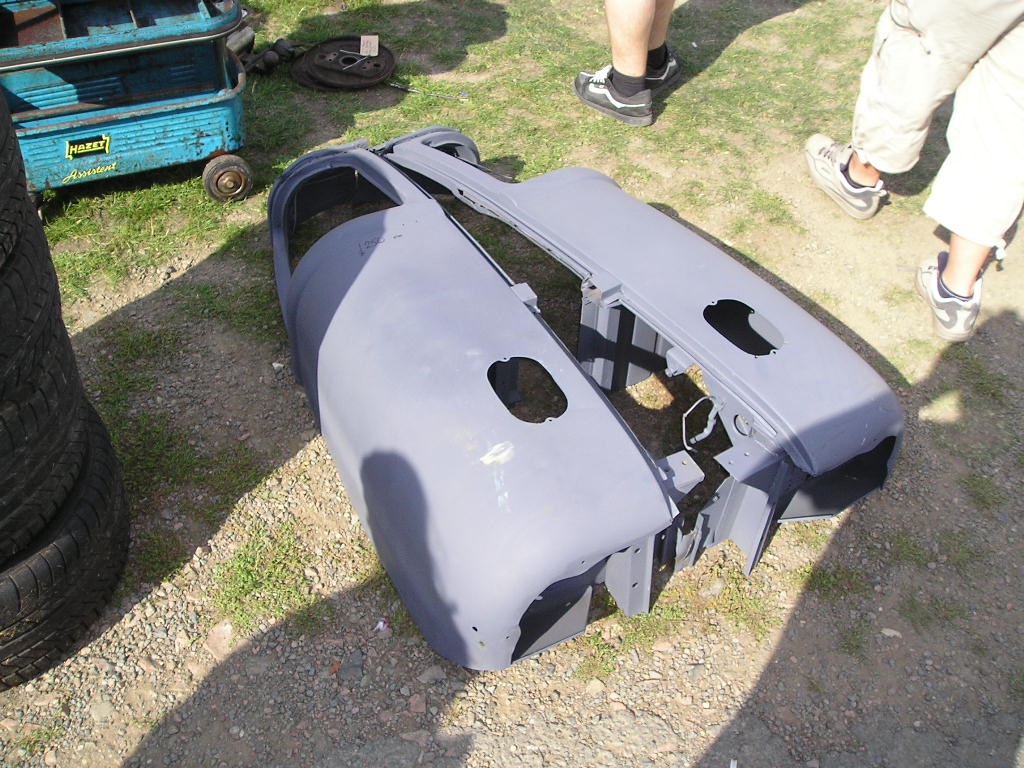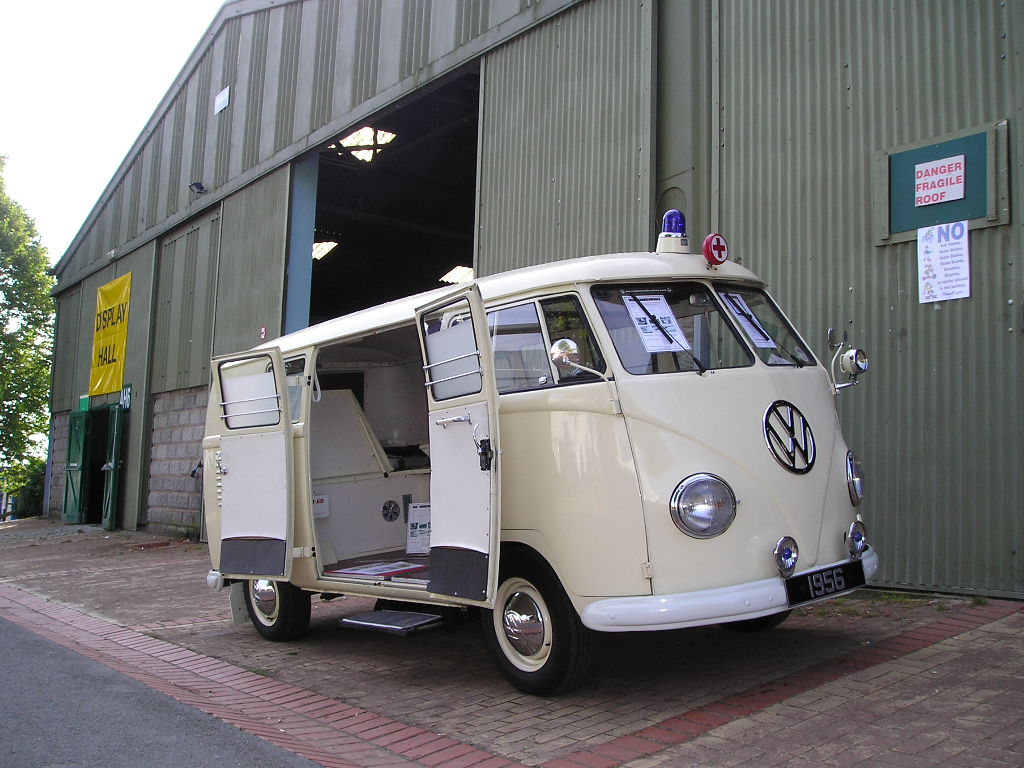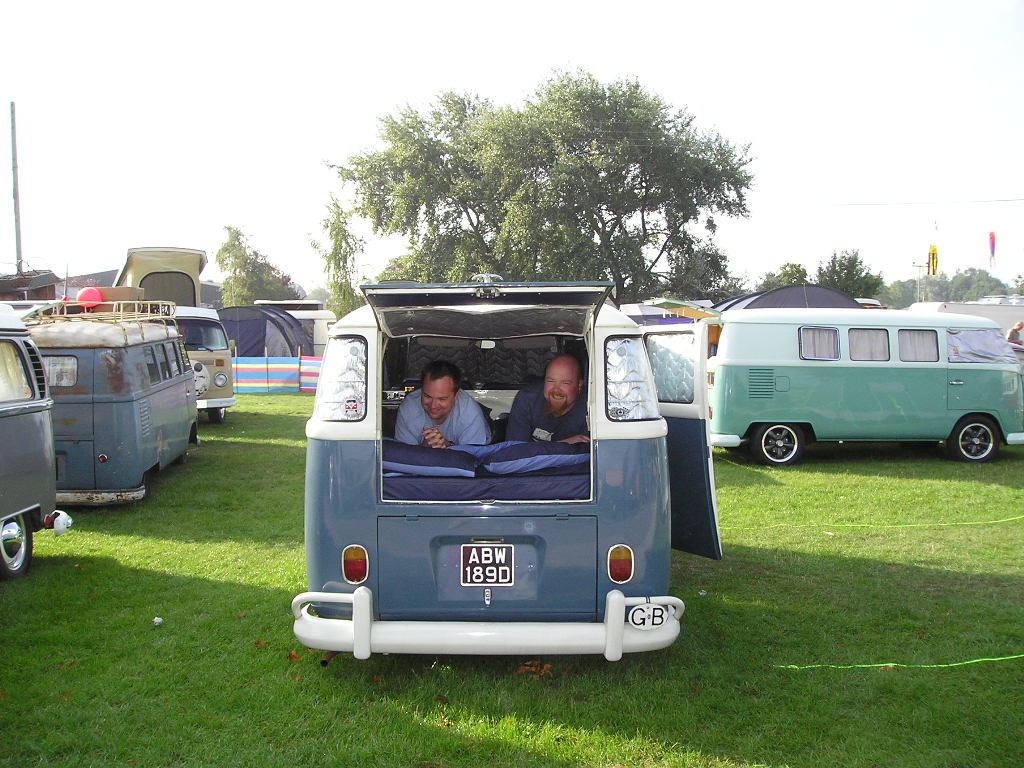 David Eccles launched his new book called Campervan Crazy, which he was also signing.....nice. The For-Sale area was huge, a very nice
dove blue bay panel for 」6100 was snapped up within the first hour. A 23 window shell was going for a cool 18K and a pair of rear
corners with corner windows were going for 」250. The most expensive bus i saw for sale was 」40,000. Alan Schofield brought along his
double sliding door panel split with matching trailer.....sweet.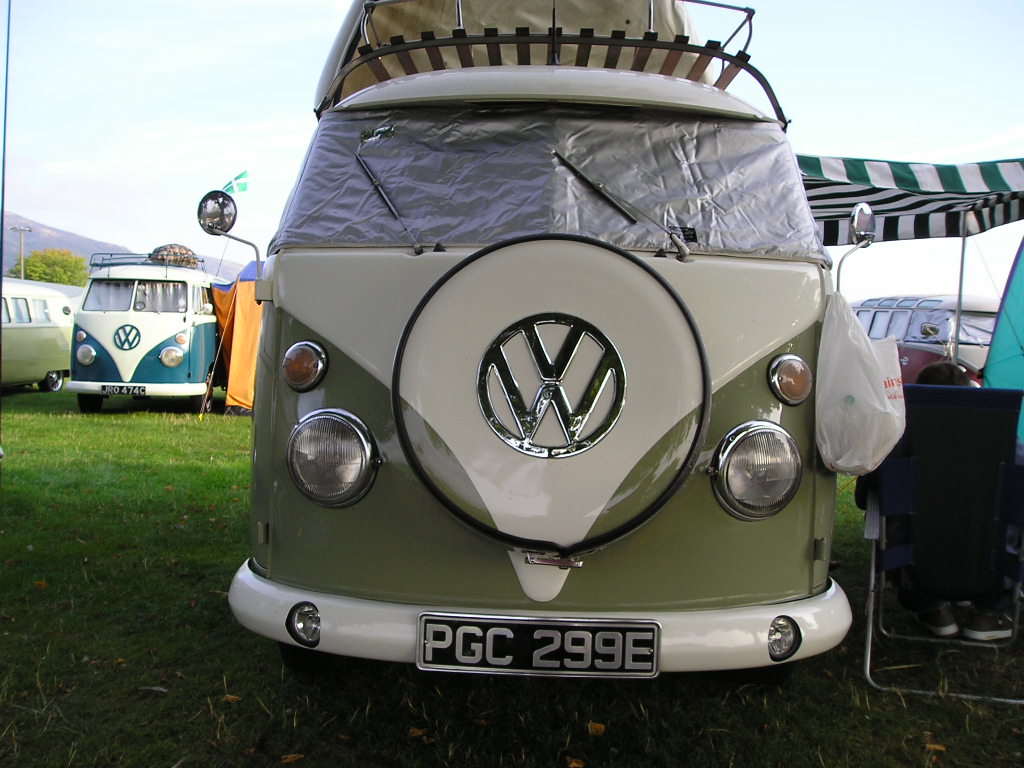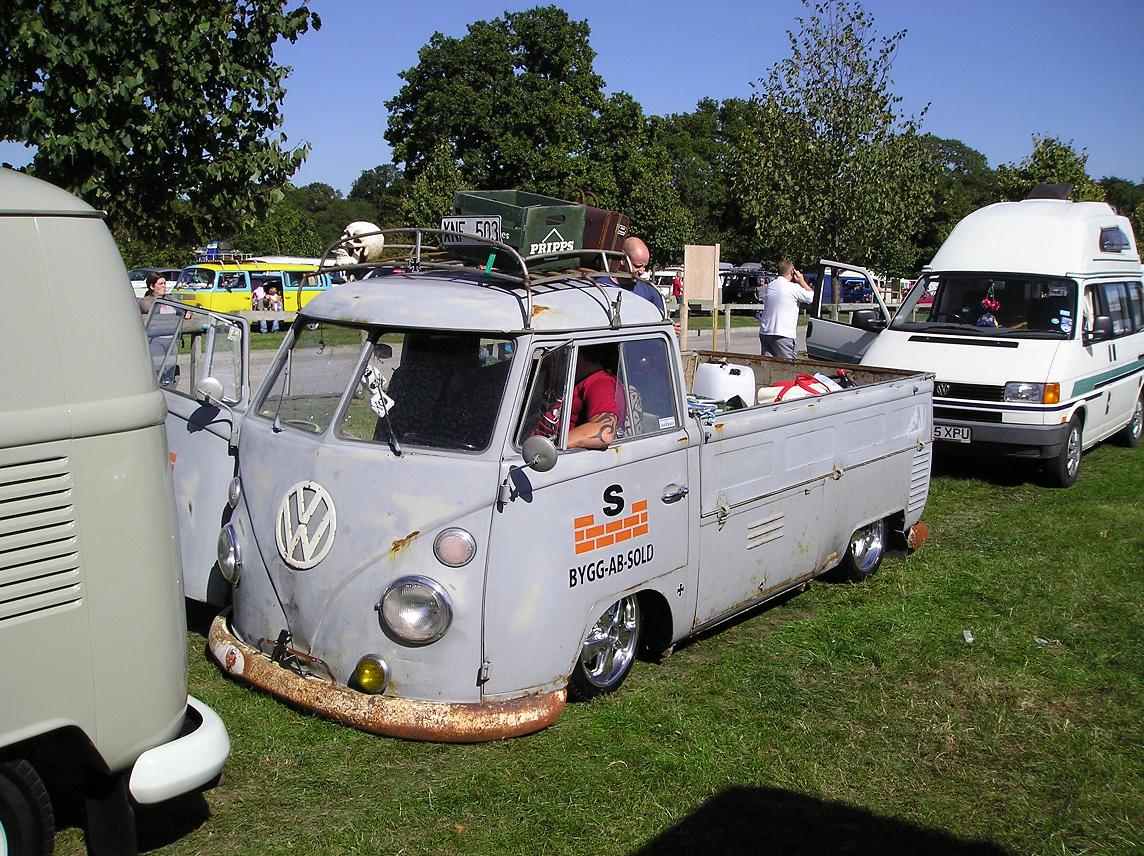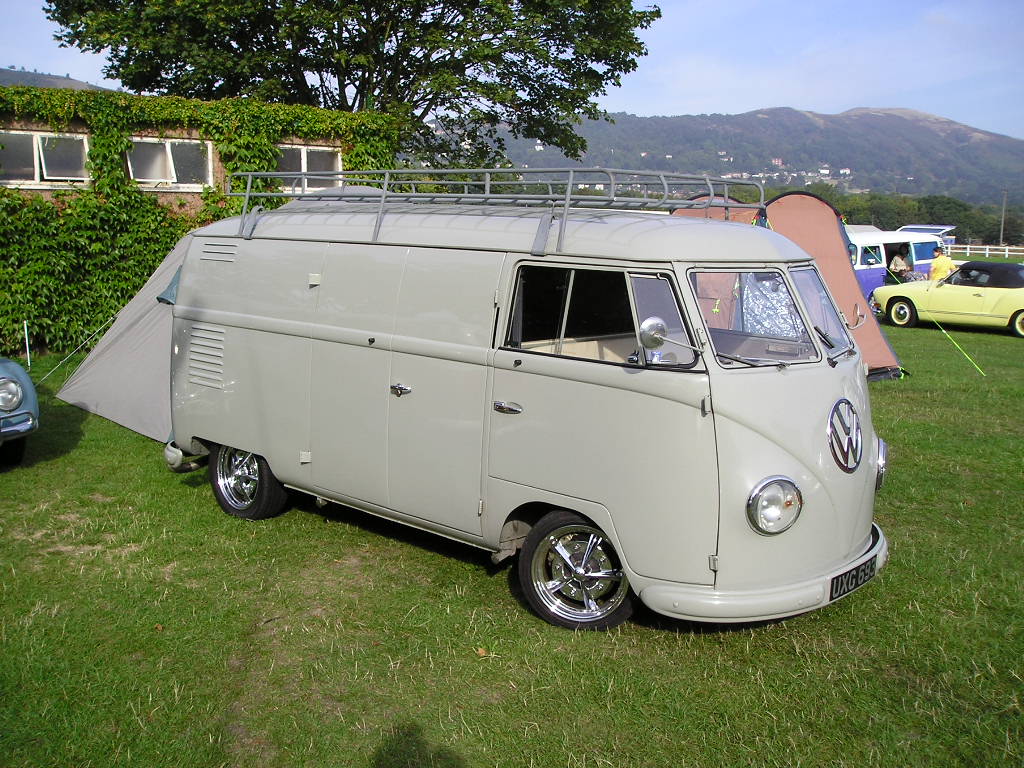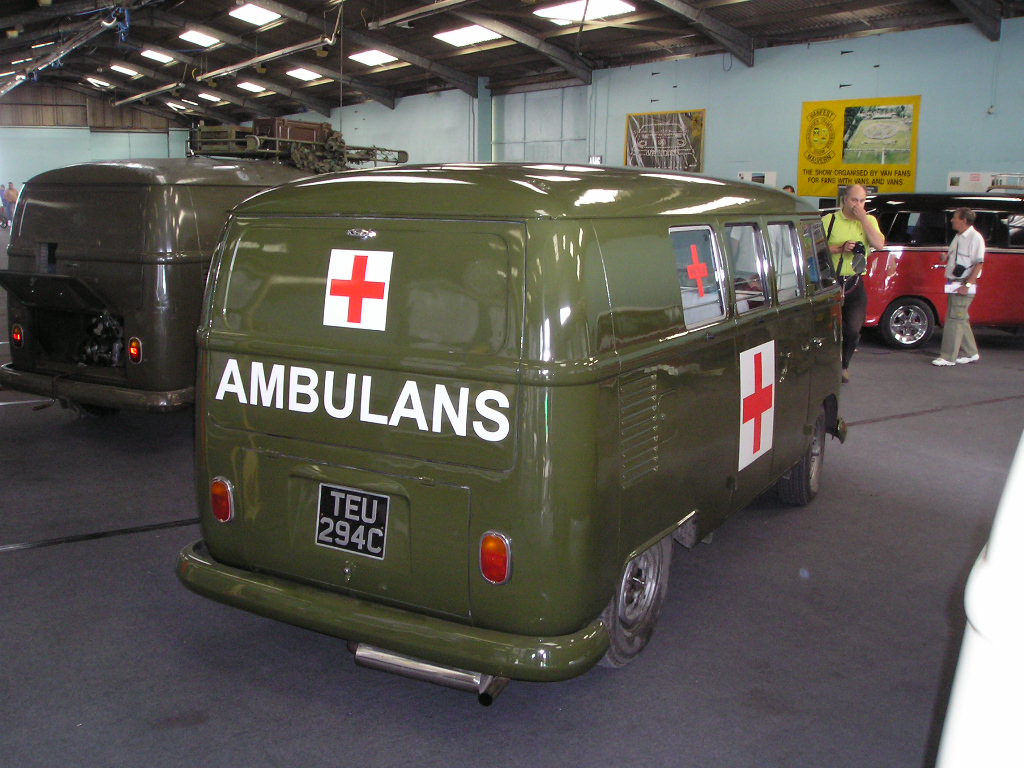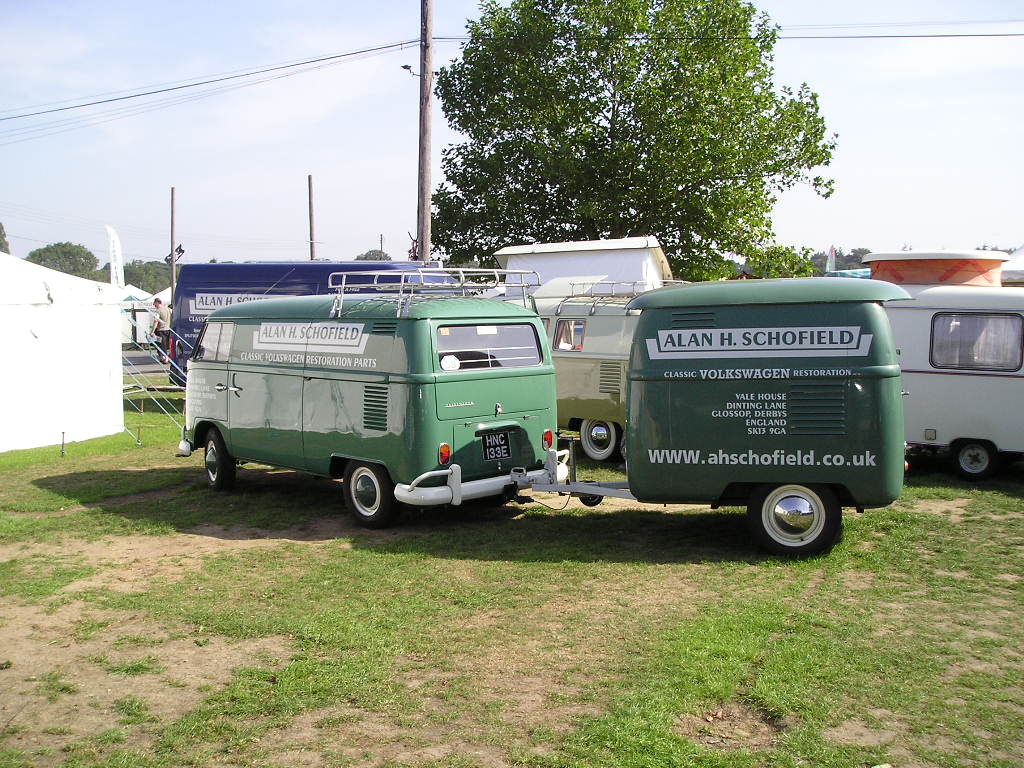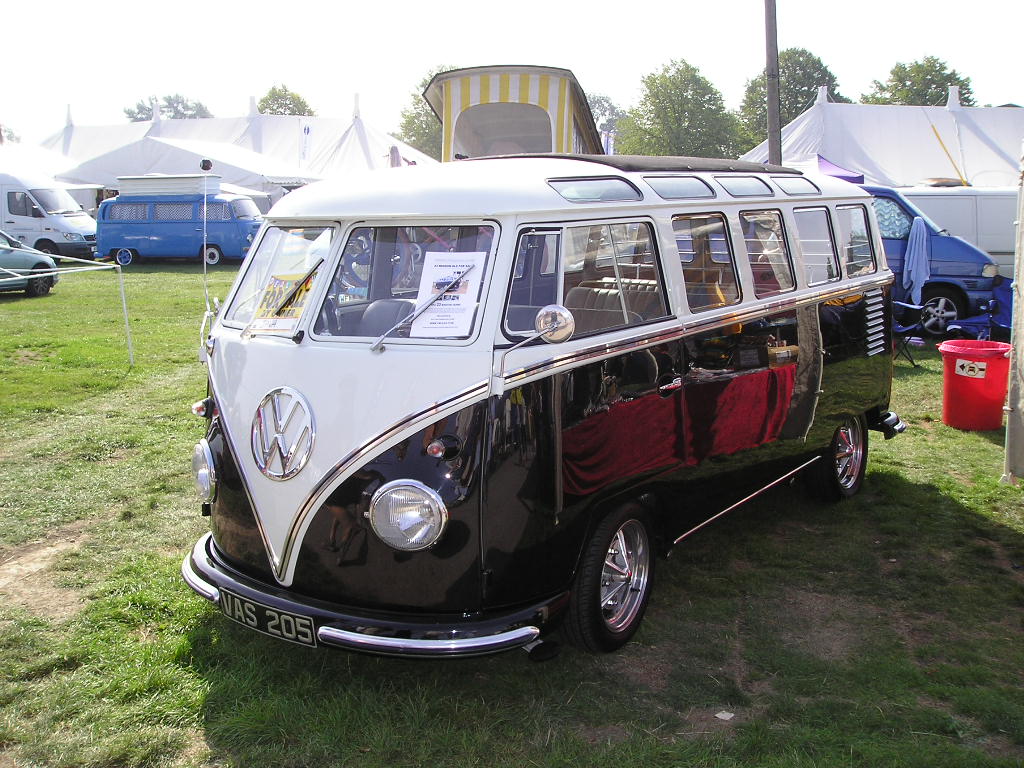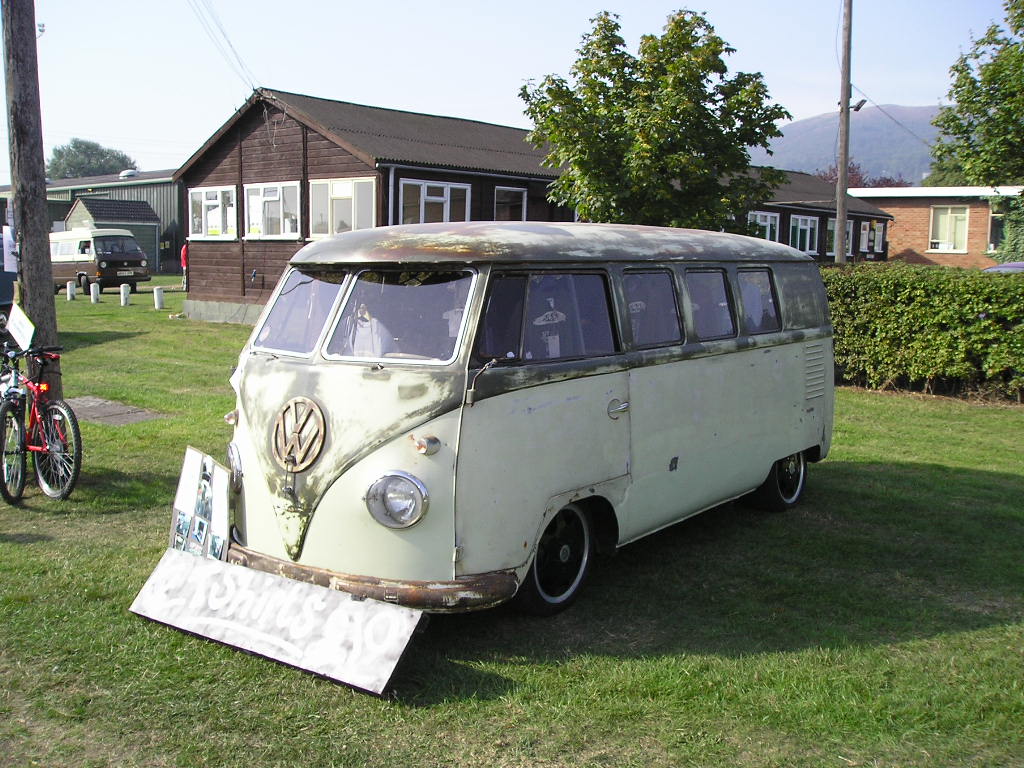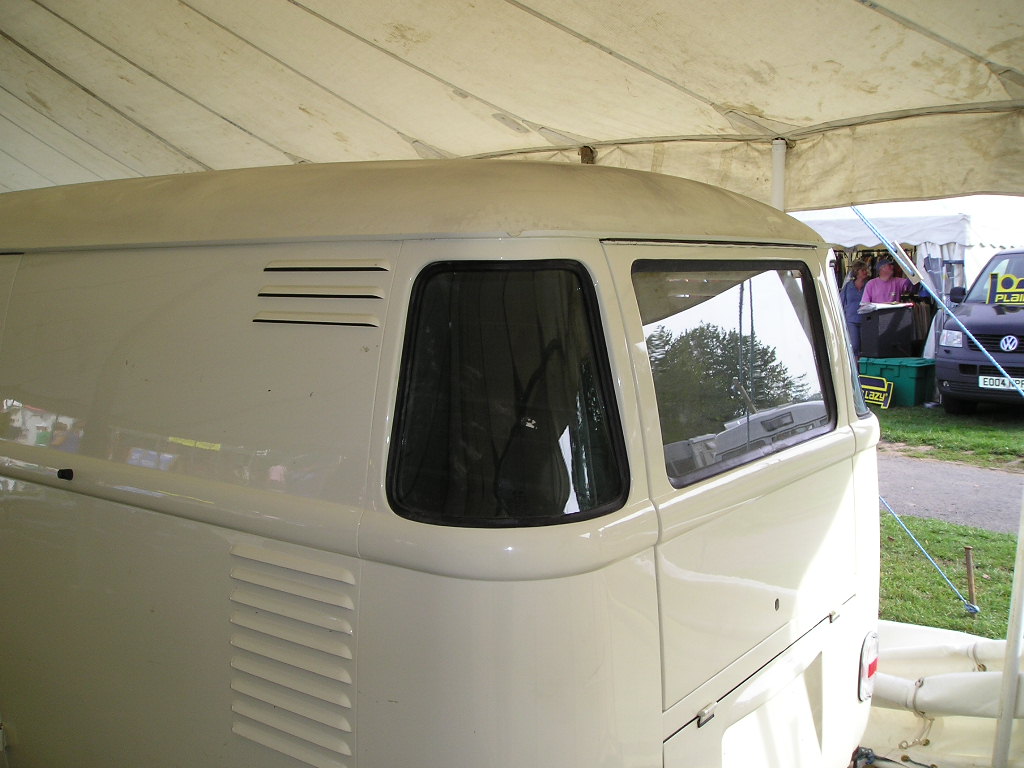 The UK 'Pimp my Ride' bus was attracting loads of people. The mornings were fresh with the mist coming off the Malvern hills shortly
followed by a bacon mist rising from the camp site......yum. Some nice looking modern transporters were on display on the 'show & shine'
field and very odd looking van with giant wings and a body kit. A great weekend, See you there next year.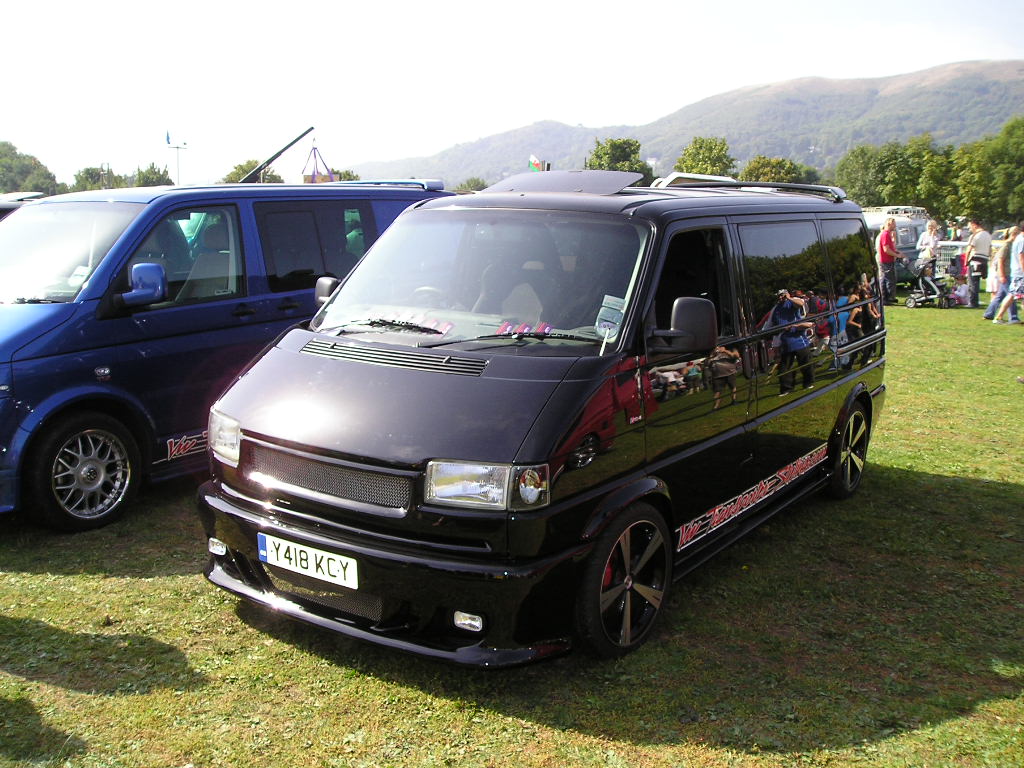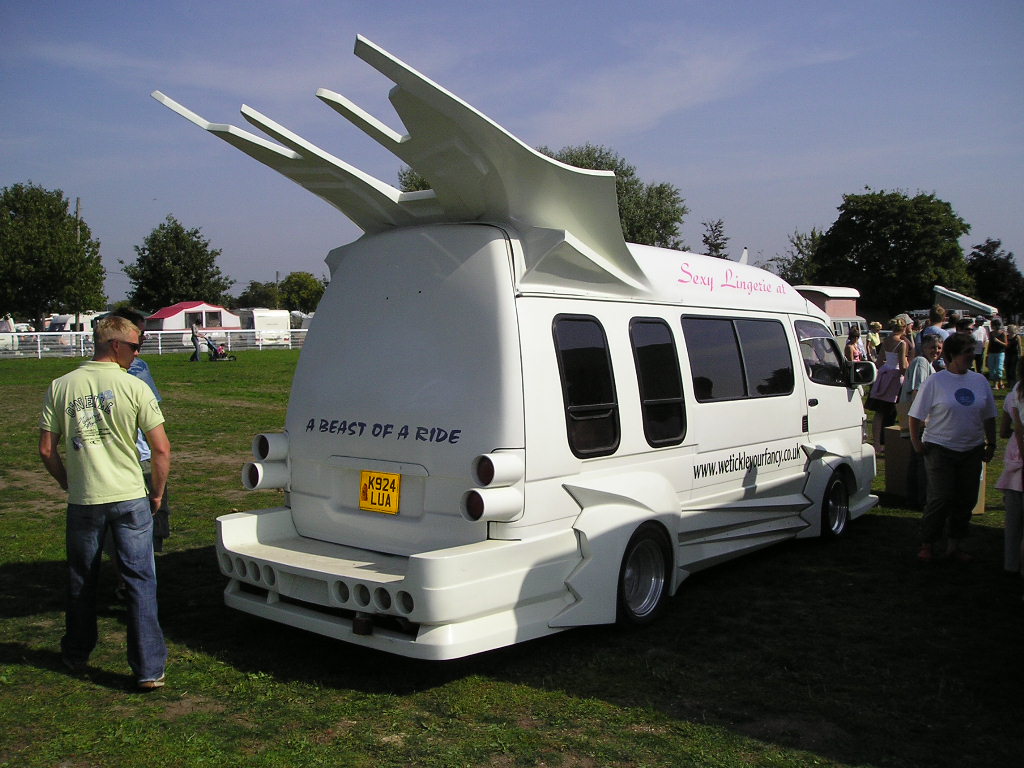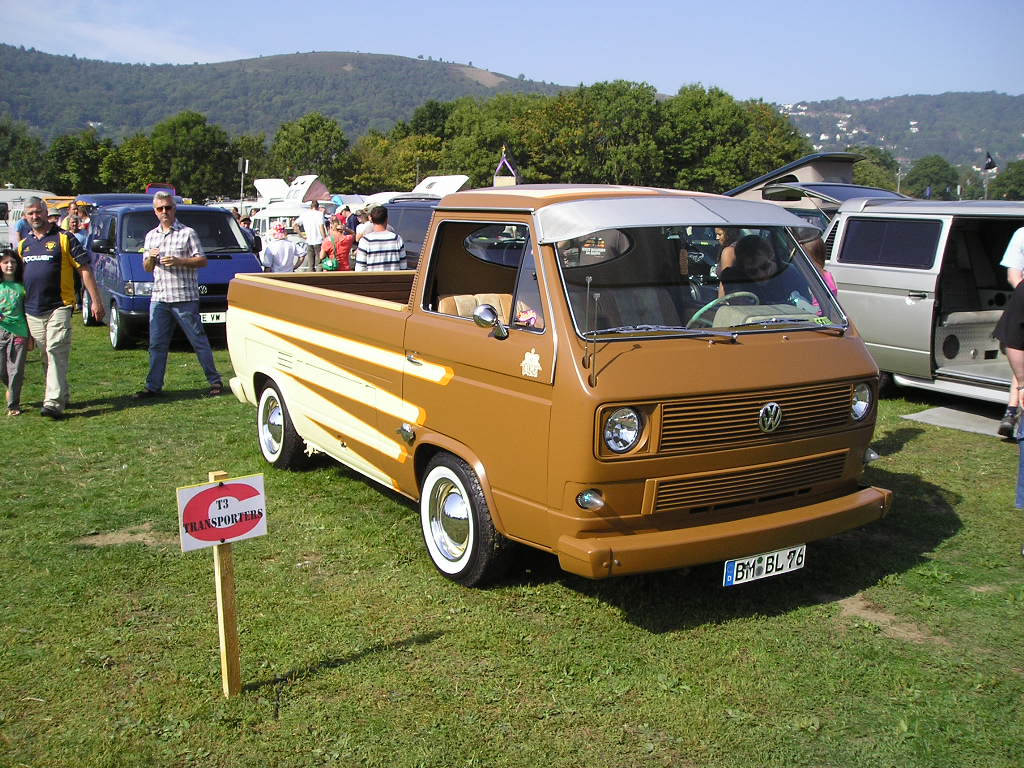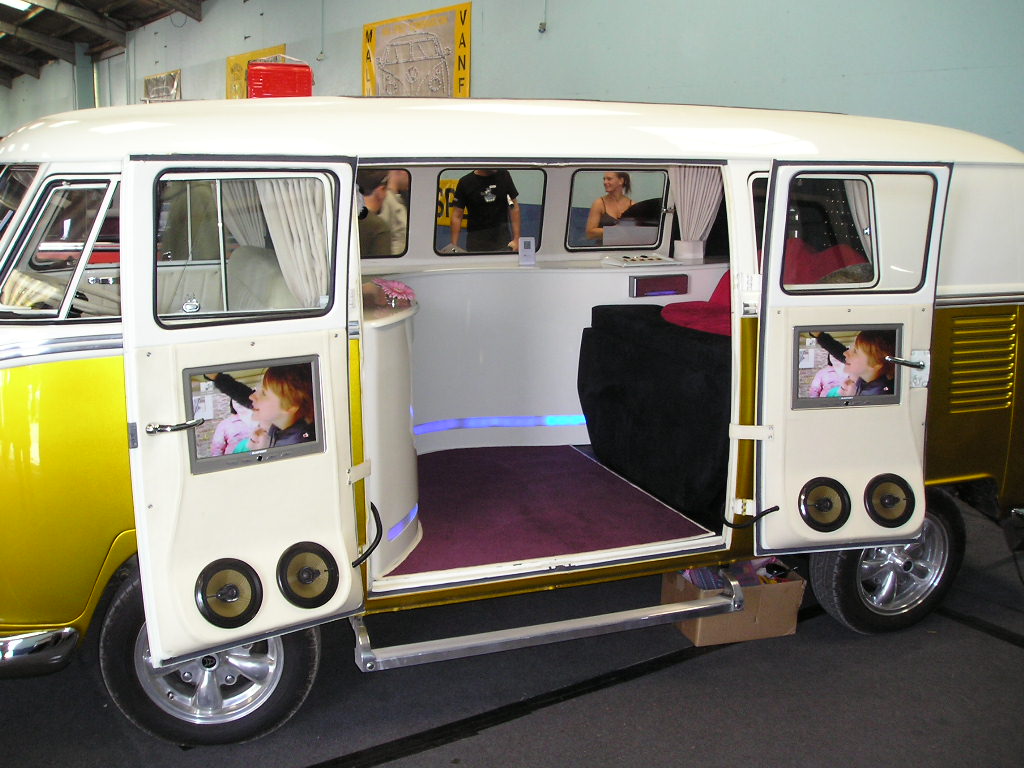 ( 11 July ~ Midland's Bus Meet 7pm-11pm)
A lovely dry evening, 25 buses and about 5 other VW's turned up at ToysRus & McD's (M5-J2). A easy going bunch of people just
meeting for a chat, a wicked bug turned up with a 2332 capable of doing a 13.1, which was pretty much proven by a short display.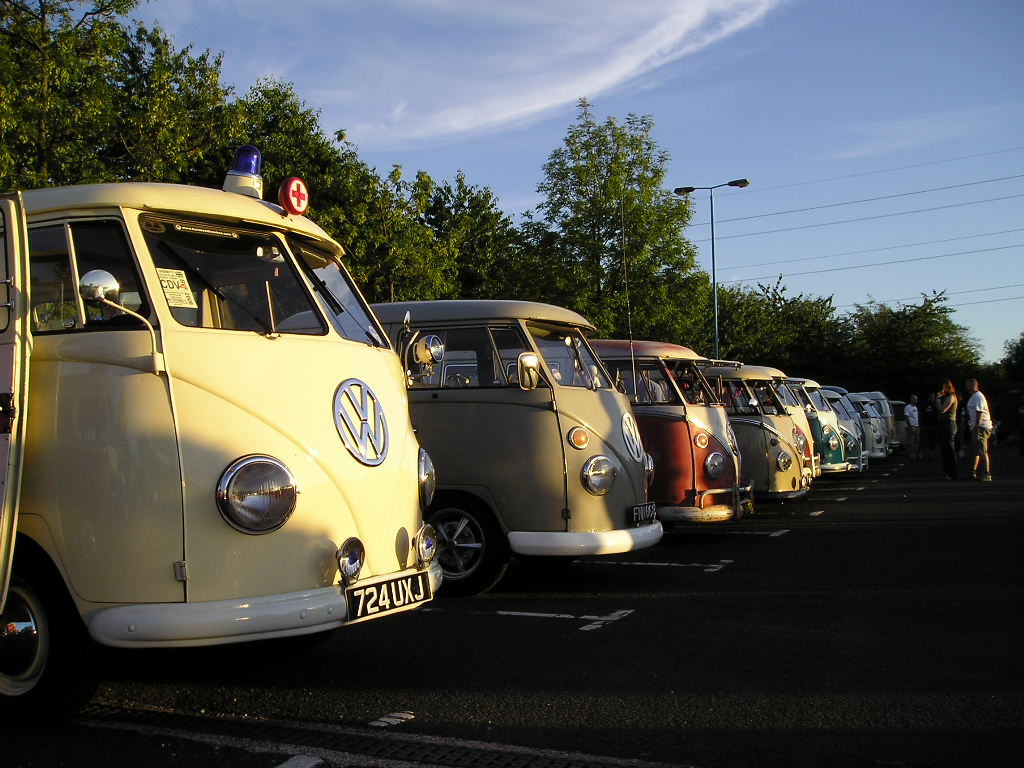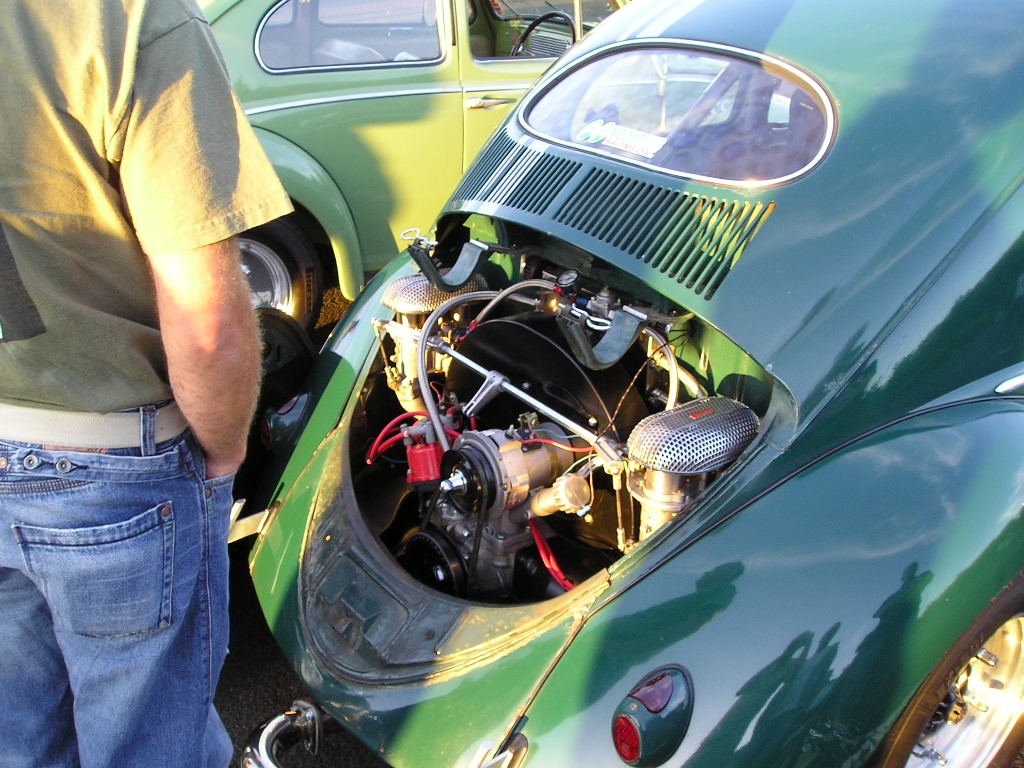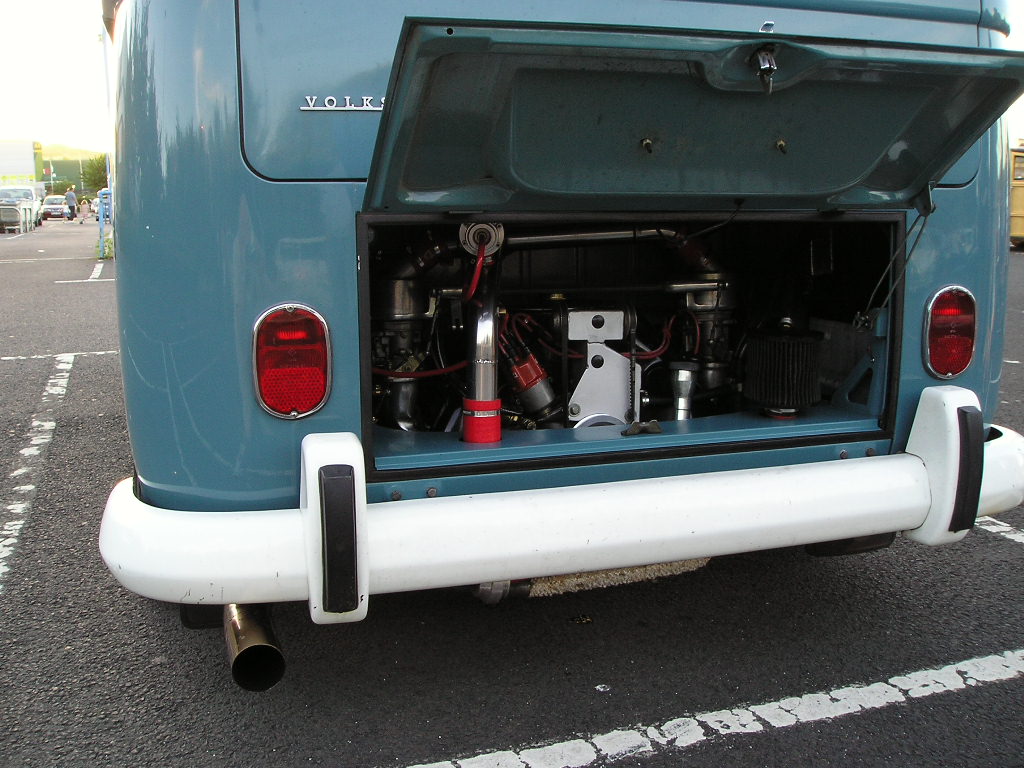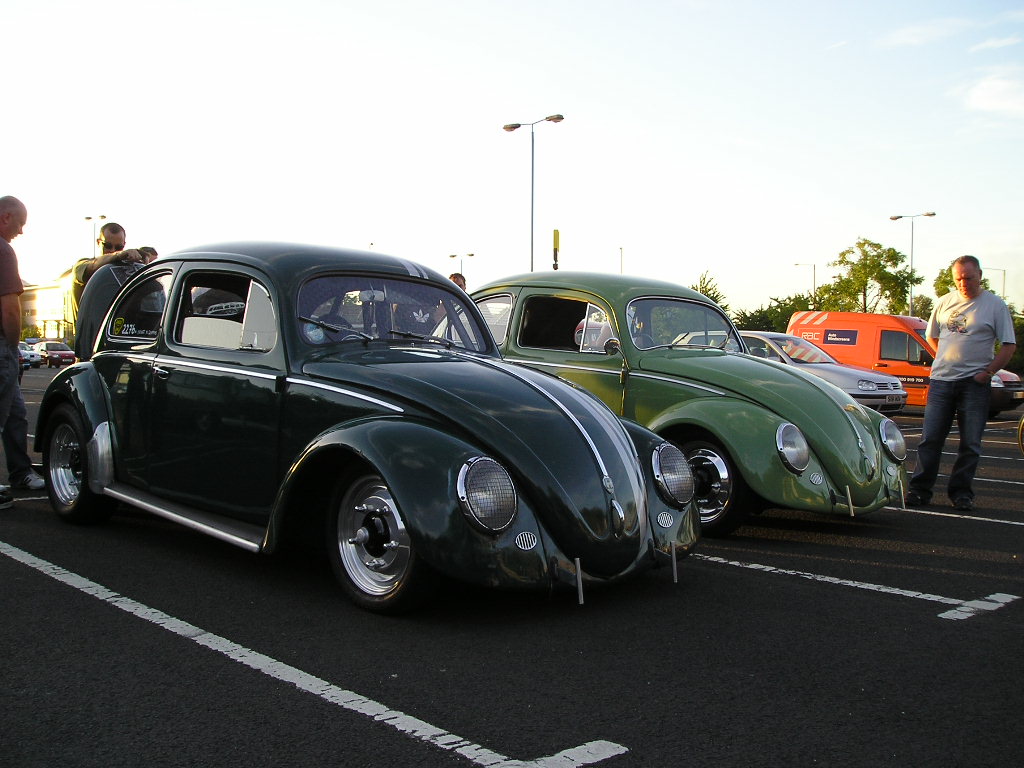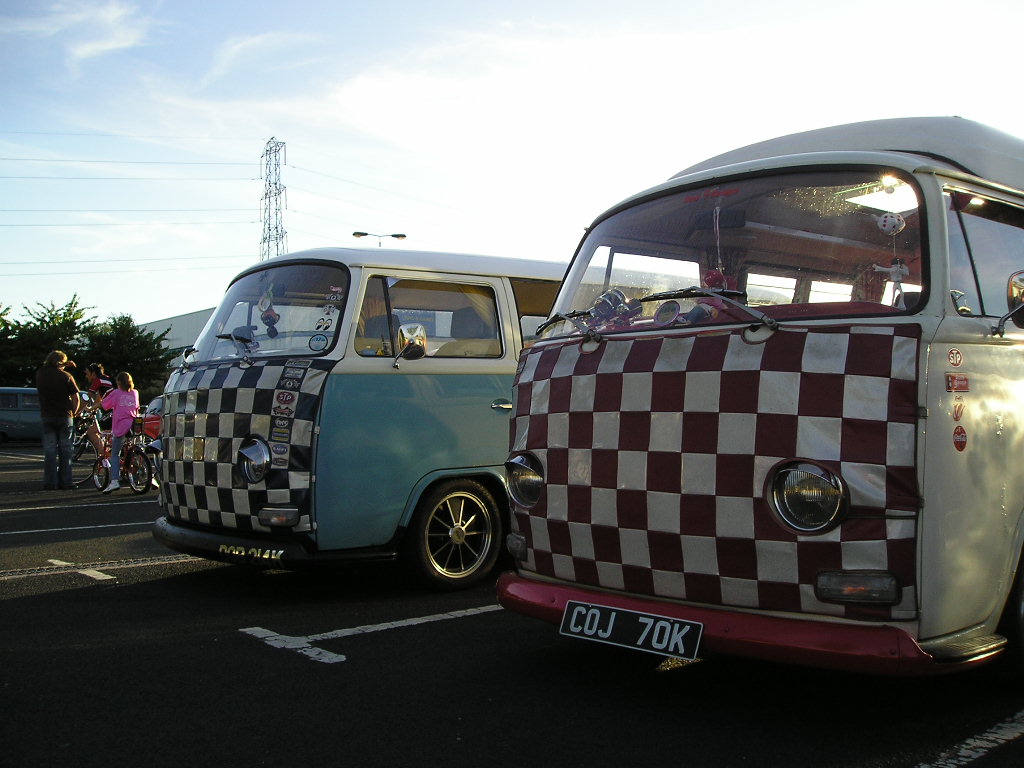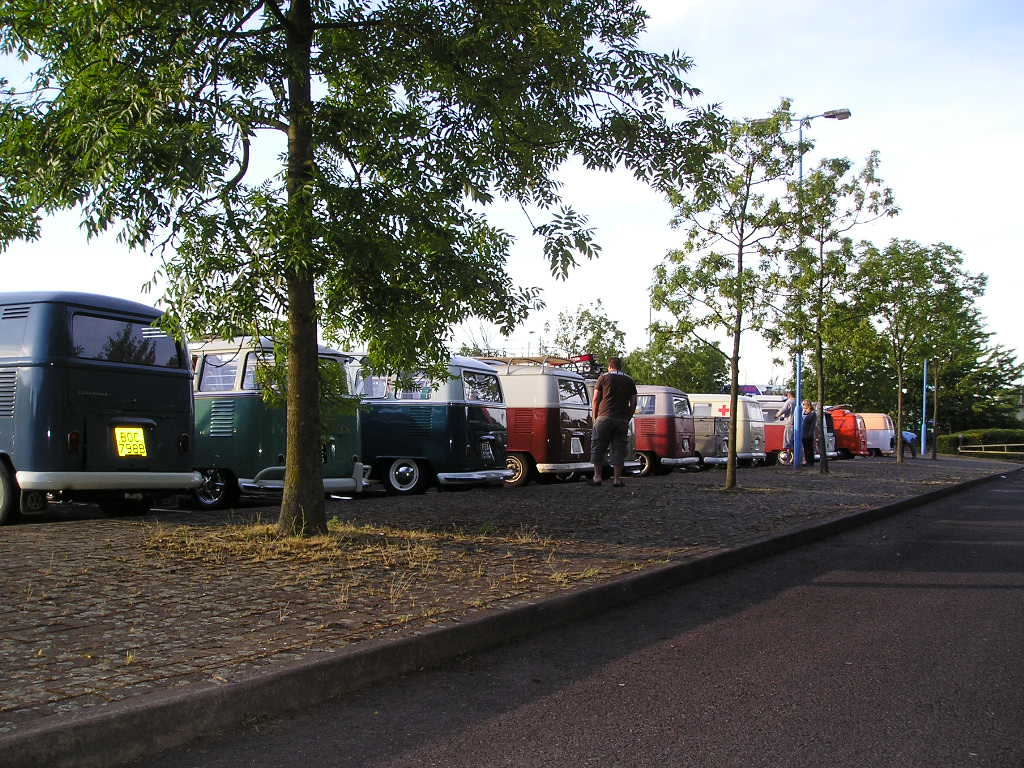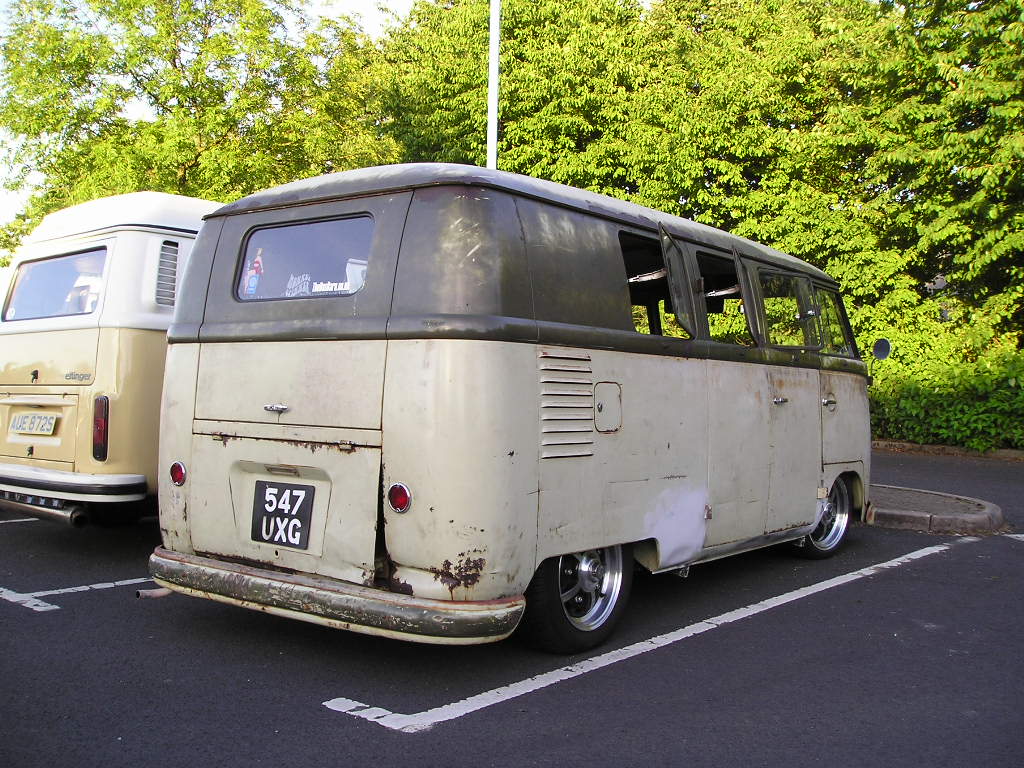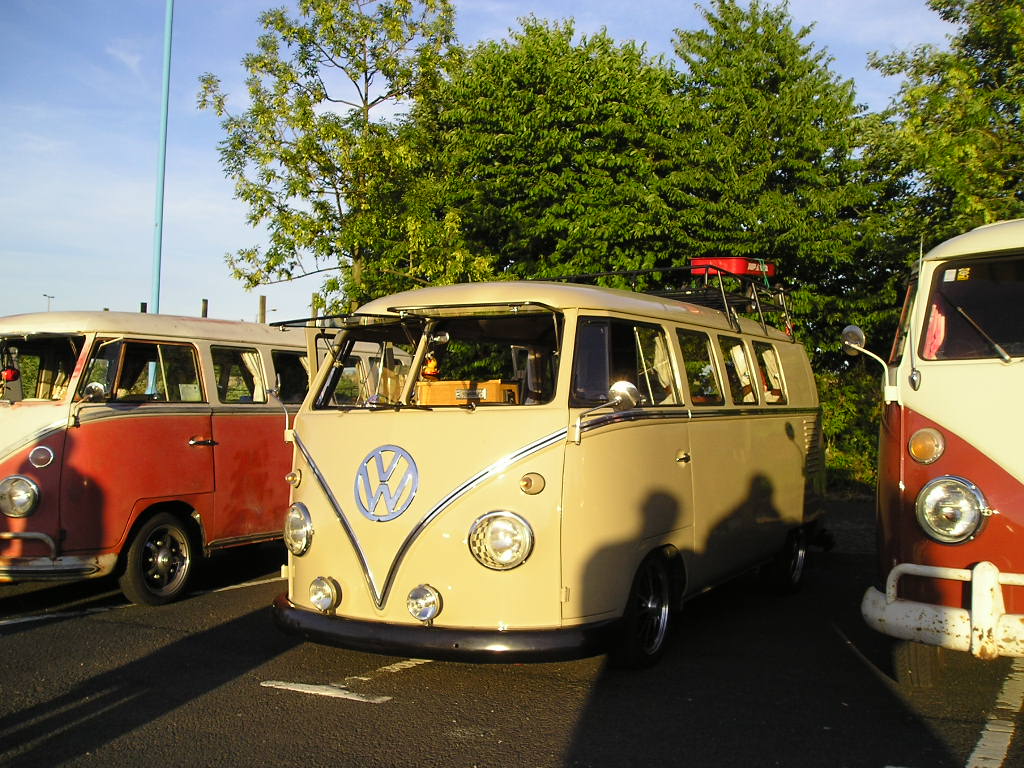 ( 01-02 July ~ BVF )
Ouch, what a scorcher, high temperatures of around 31 degrees C for most of the weekend. Excellent evening entertainment on both
evenings from DJ's, bands and the Poi Fire Display Team. There was an animal centre which let you hold the animal of your choice, from
tarantulas to snakes. A big display of Off-Road VW's & Buggies were in the avon hall.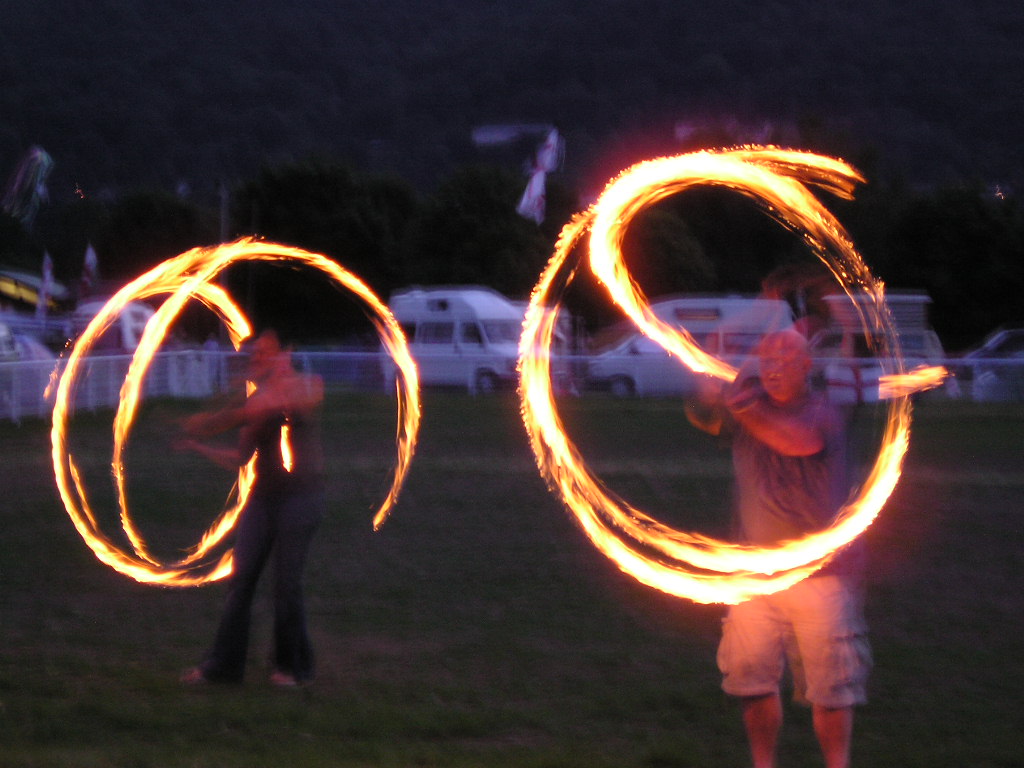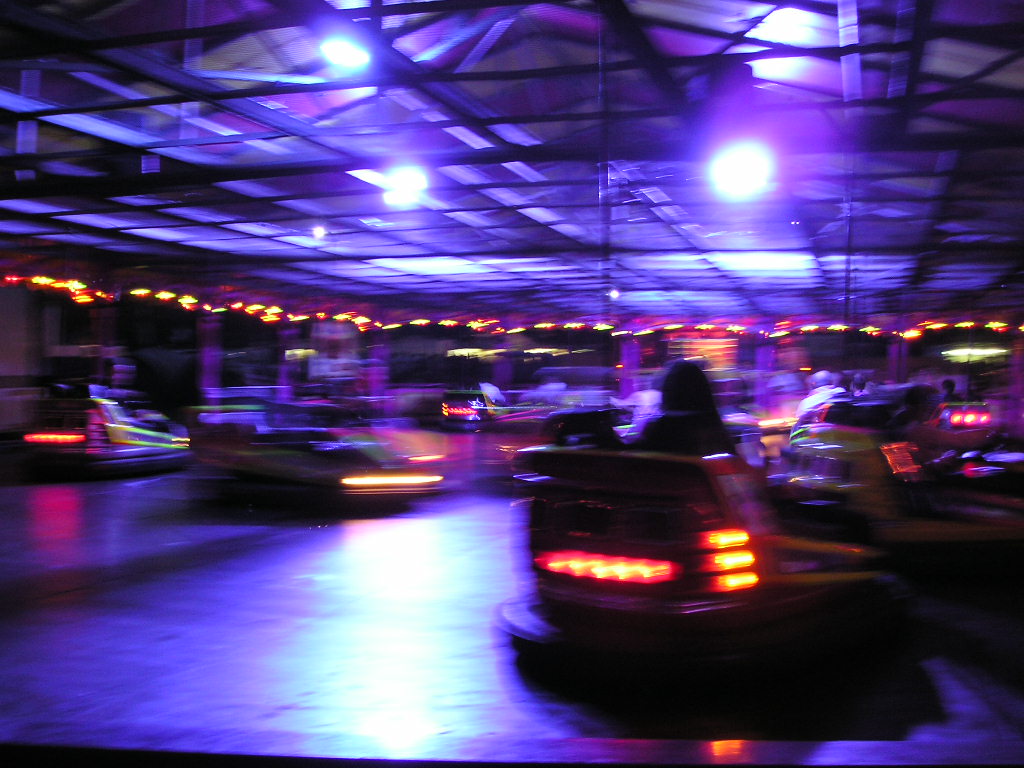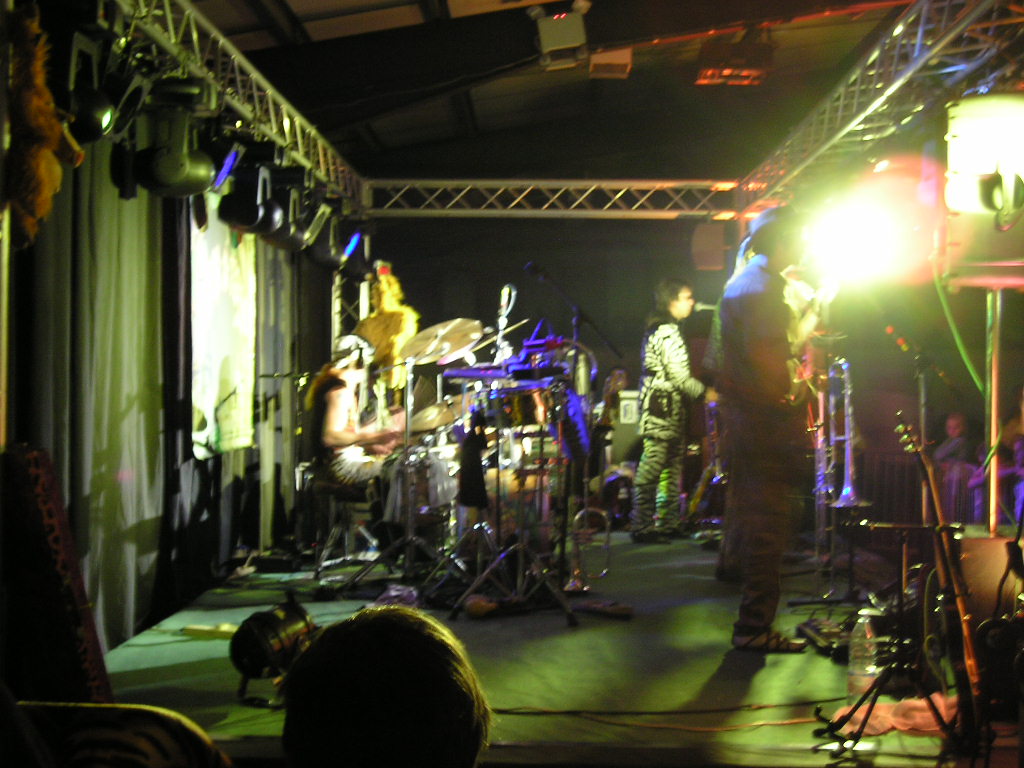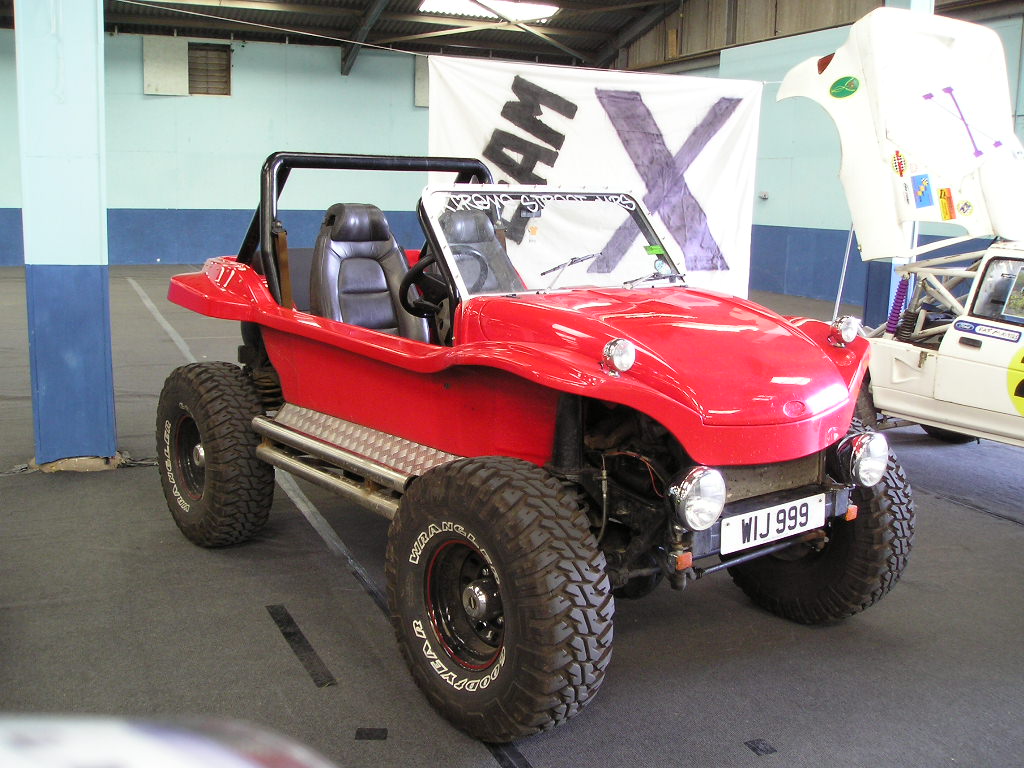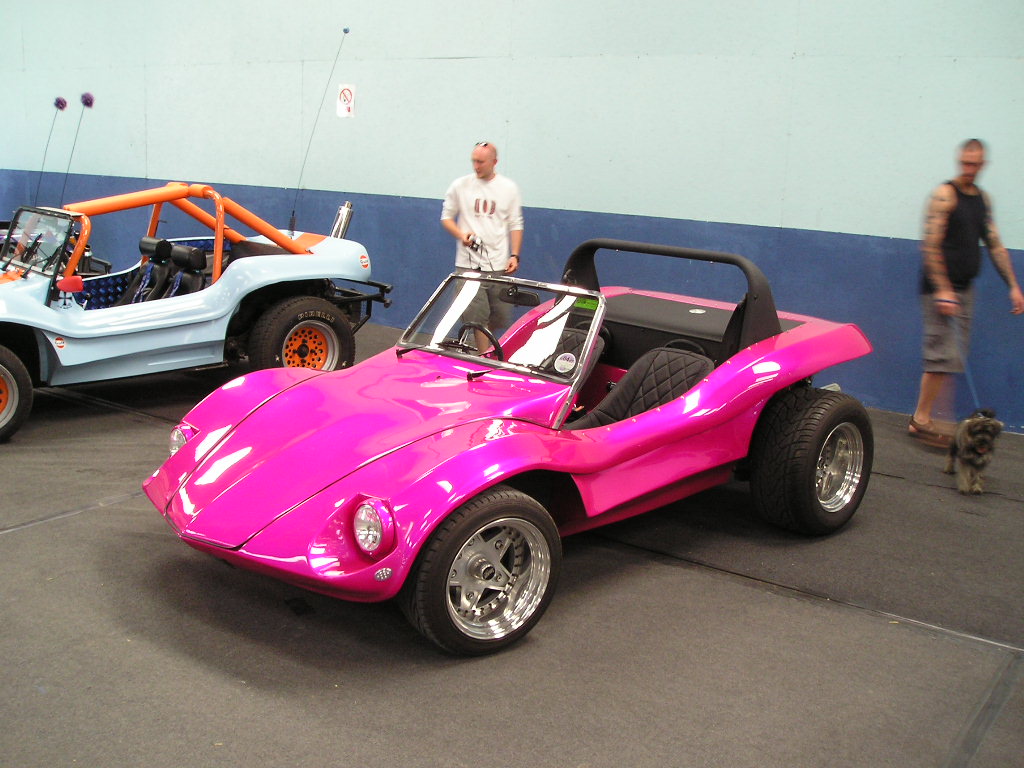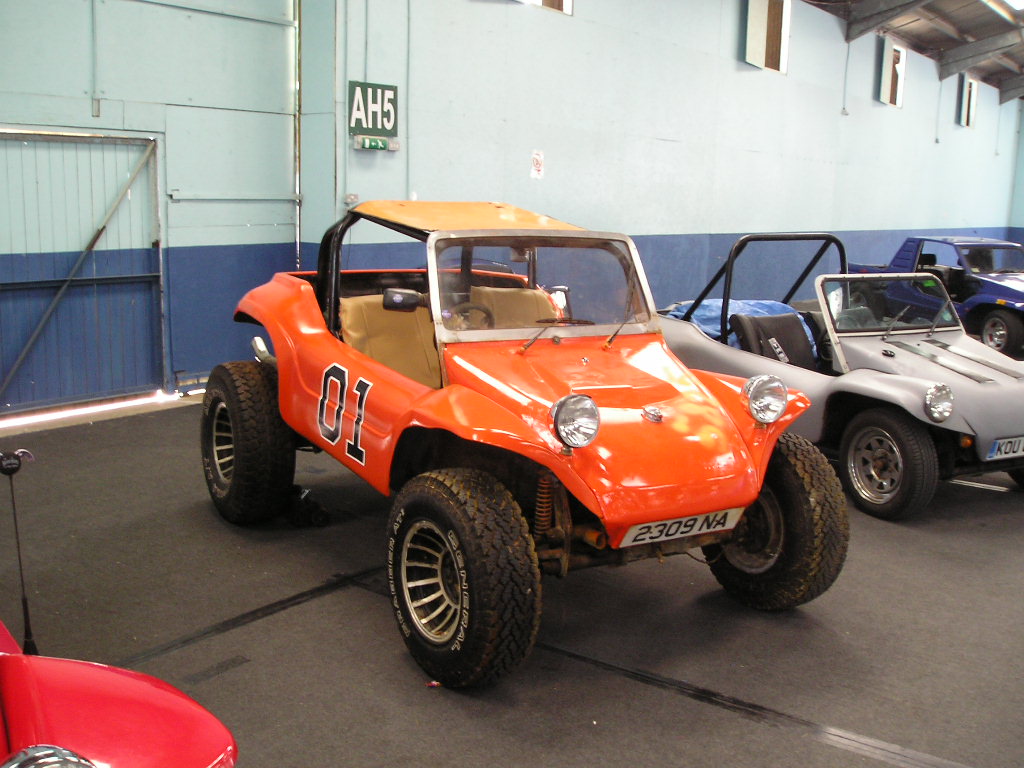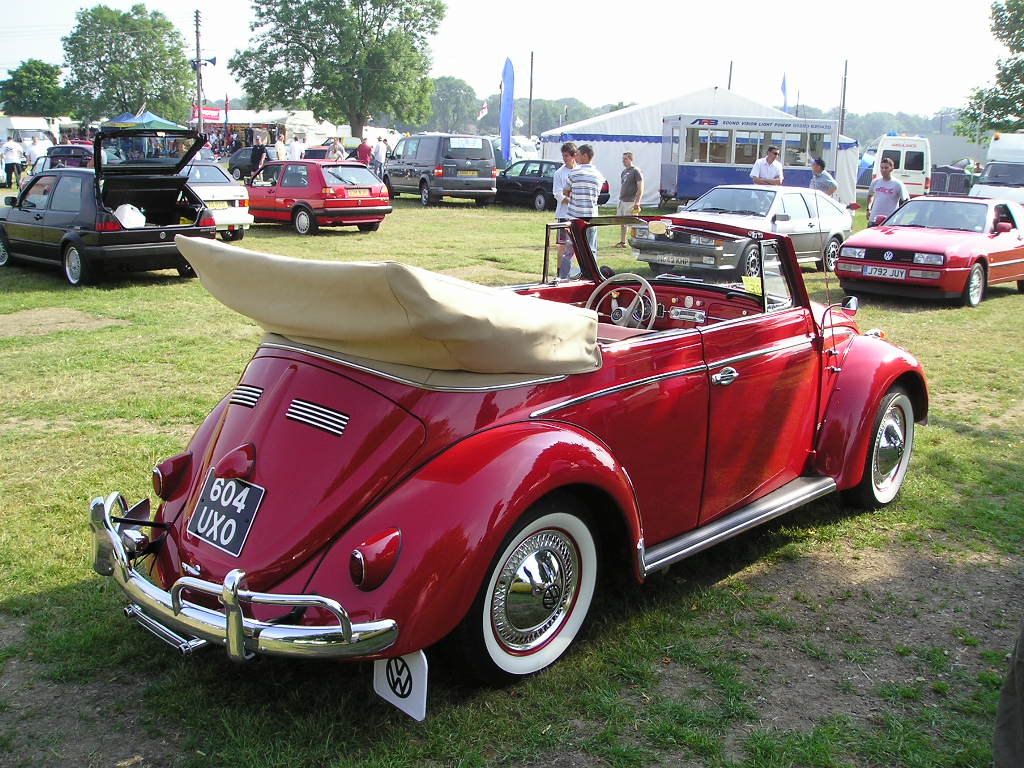 CamperVan Crisis turned up pretty ready for BugJam. From bare shell to race ready in 150 days. The first episode (5 in total) is on at
9pm Tuesday 25th July on the Discovery RealTime Channel. The X-Factor van also showed up, covered in vinyl, i wouldn't wanna be the
one who peels that off
.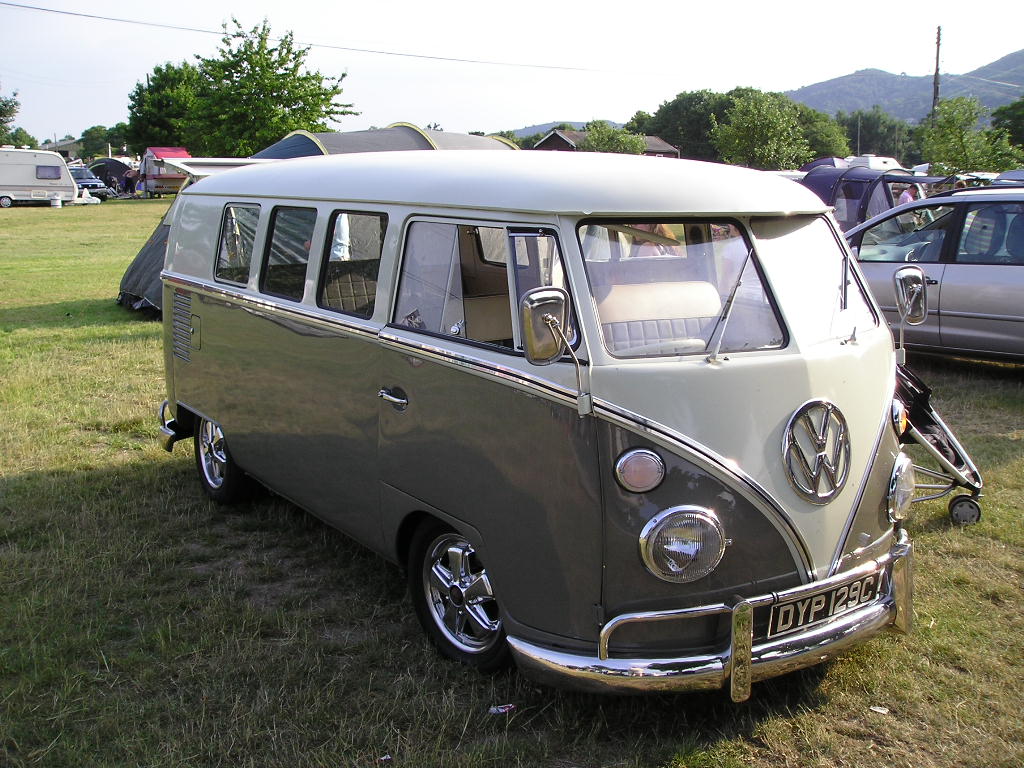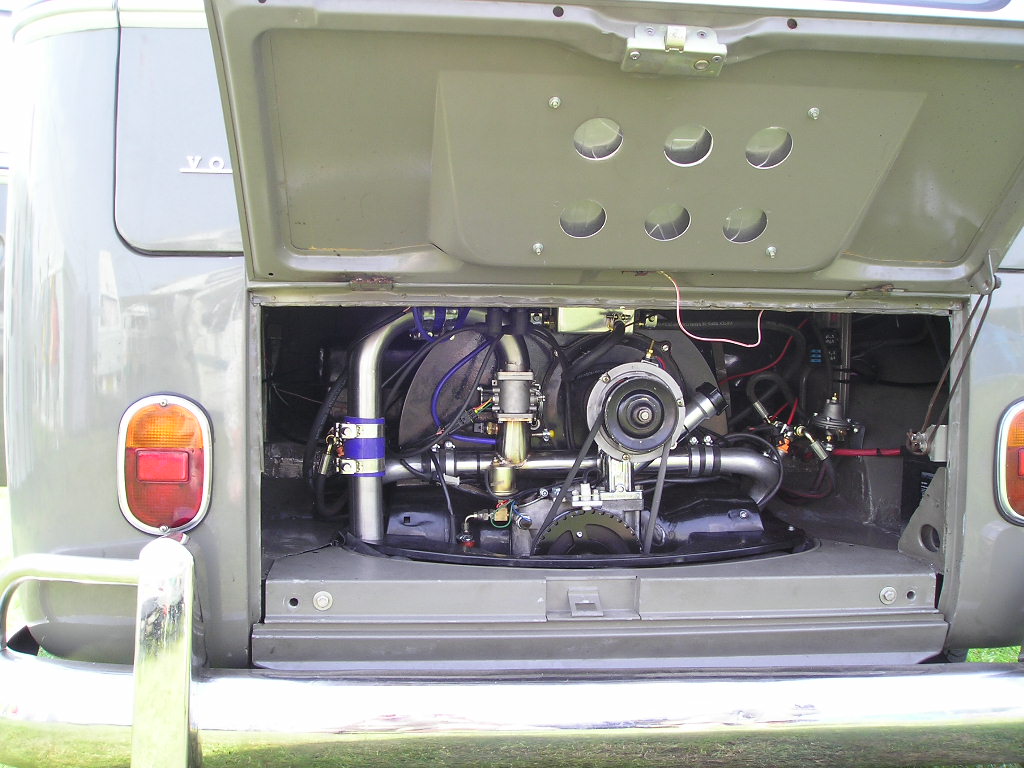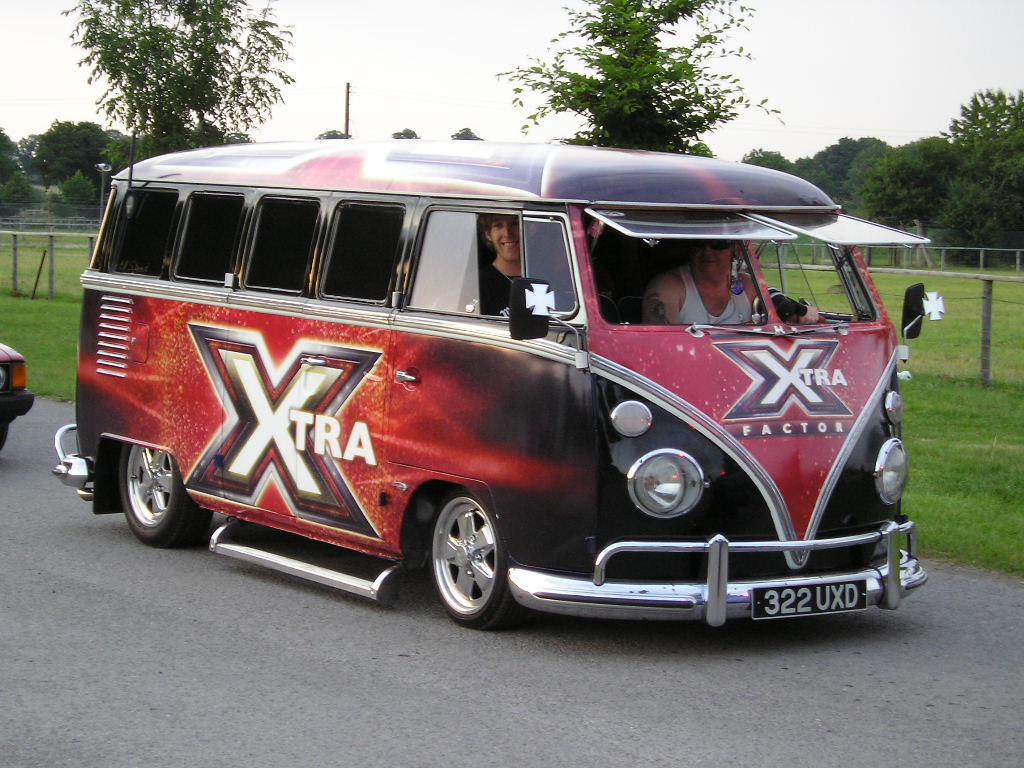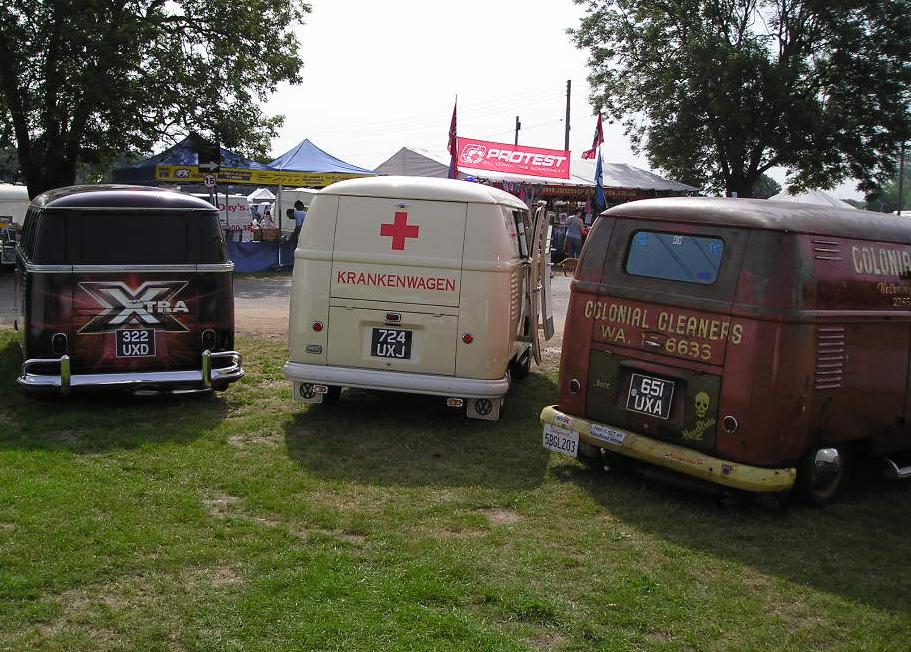 Sign written van called Colonial Cleaners was nice, watch out for a magazine feature on that one. Tons of waterpumpers (golfs, polos, etc)
on display, They were probably 50% of the show vehicles. Loads of traders, selling rusty scrap metal or shiny chrome to hippy beads &
incense burners.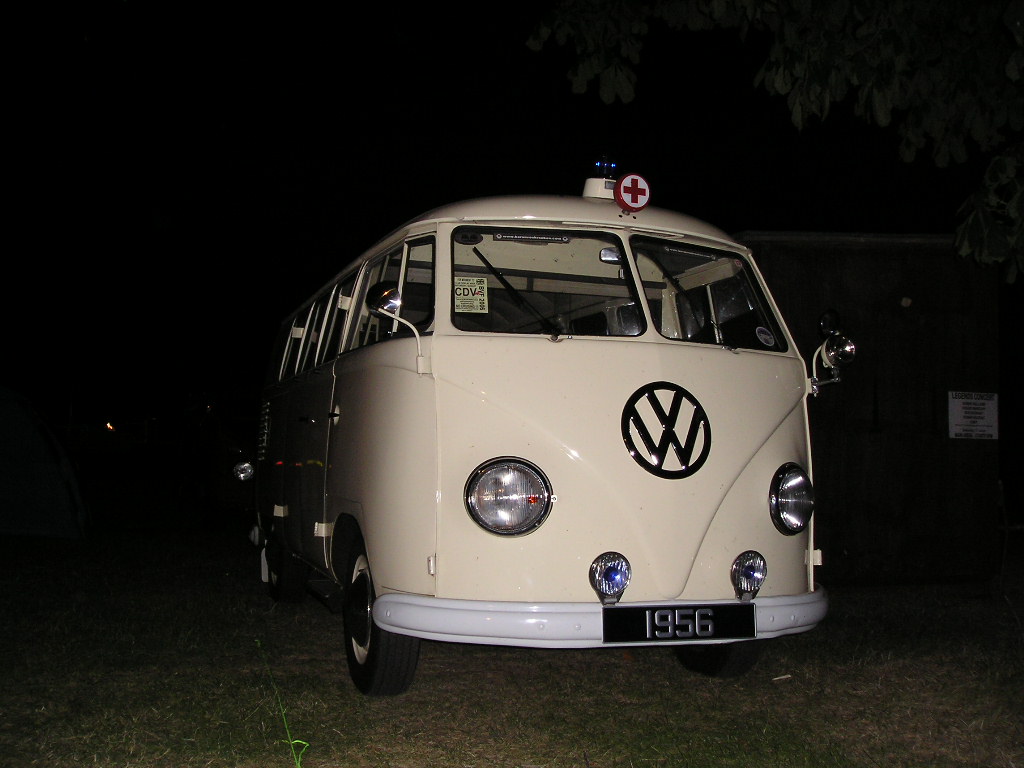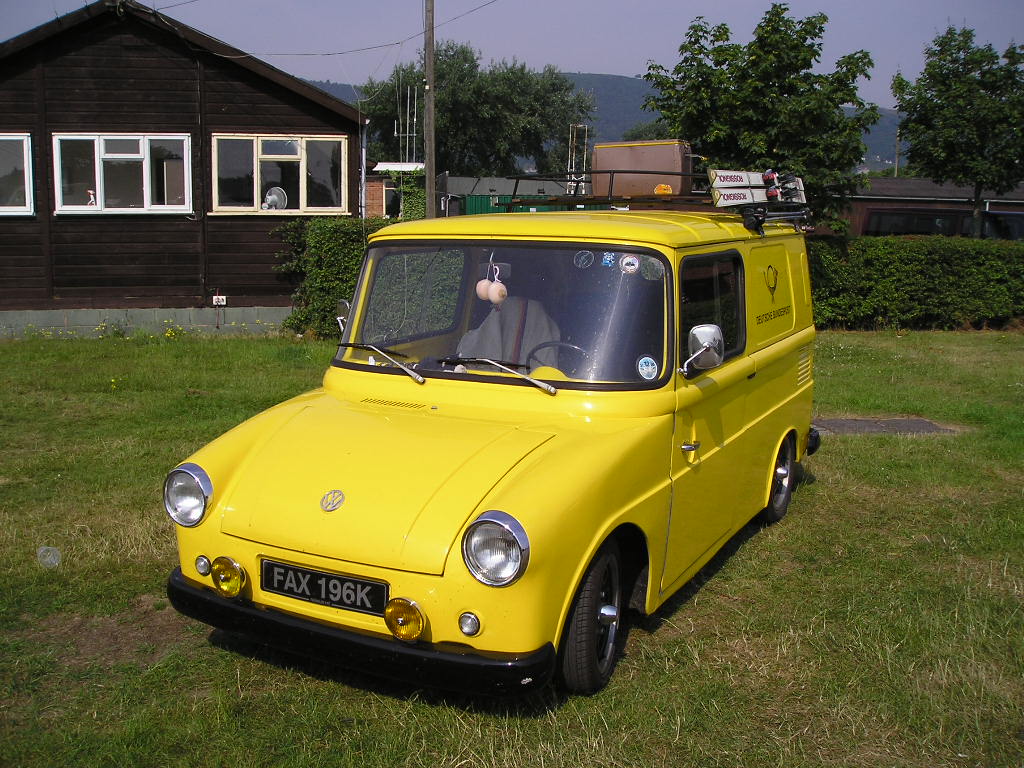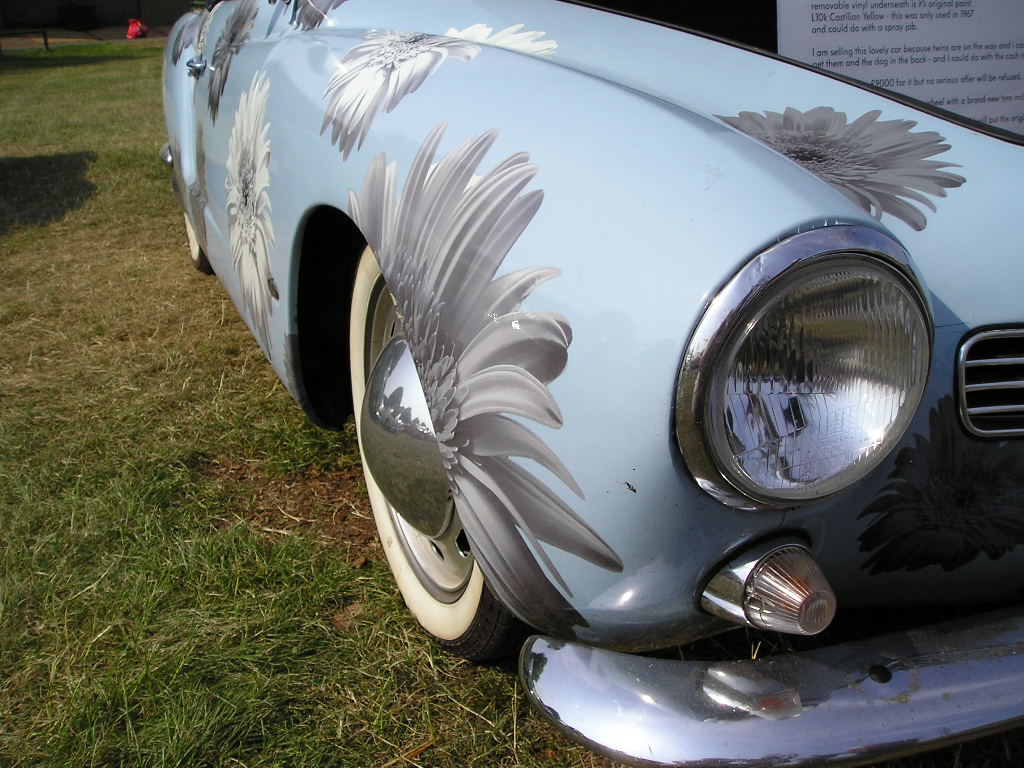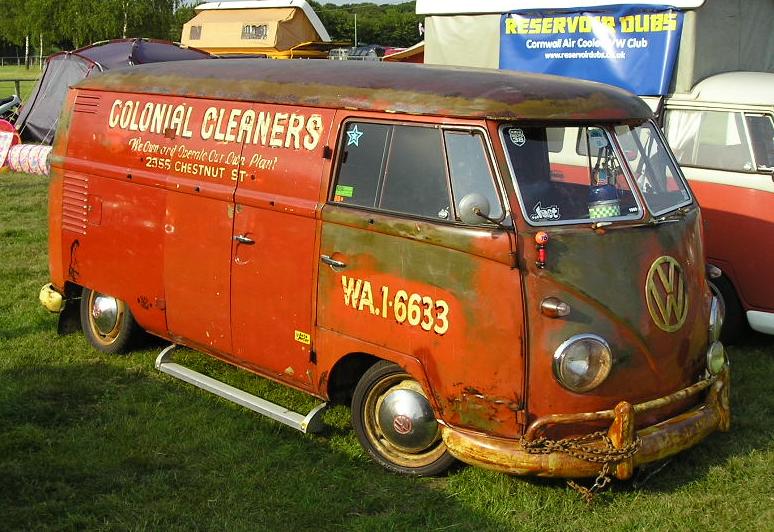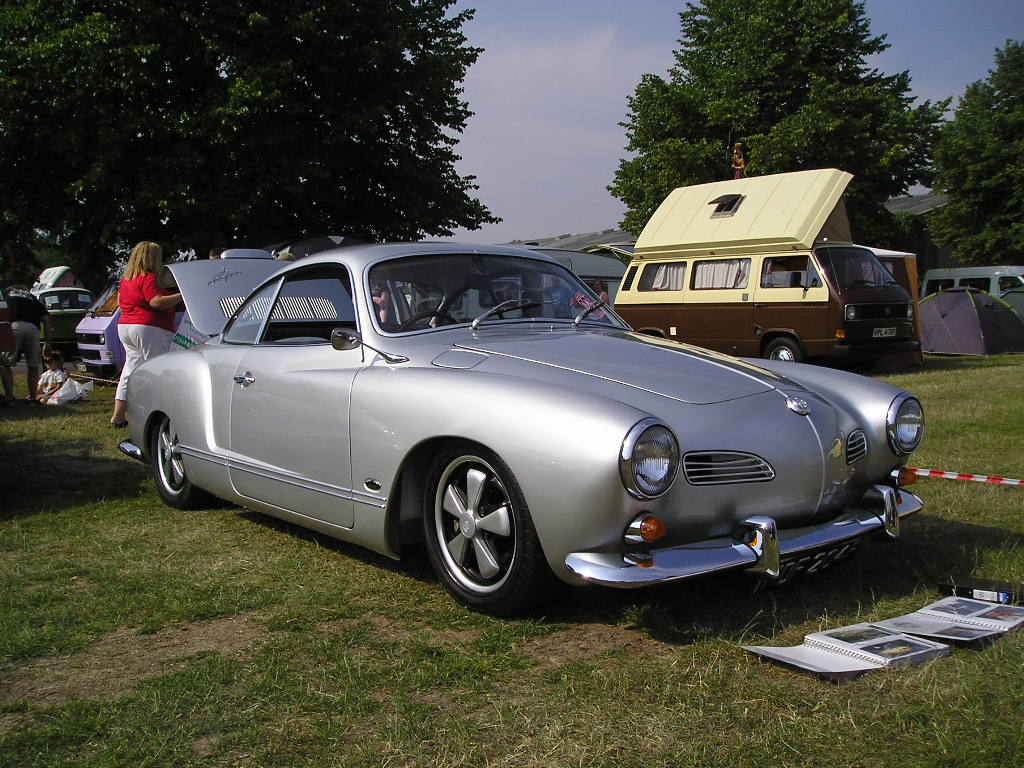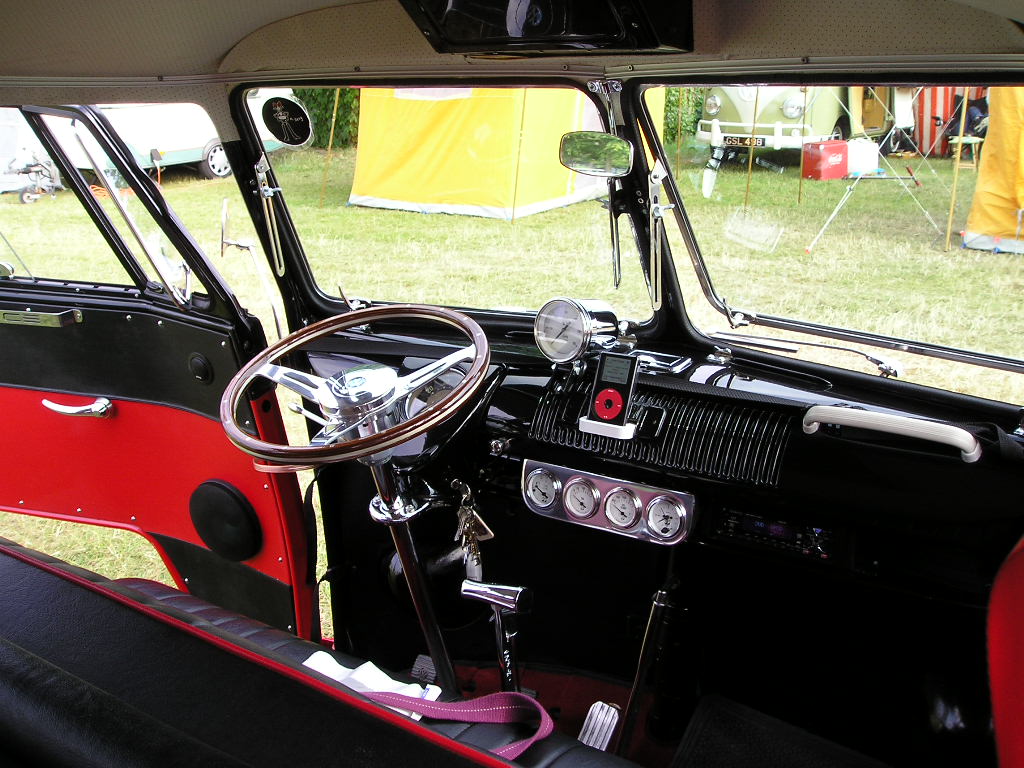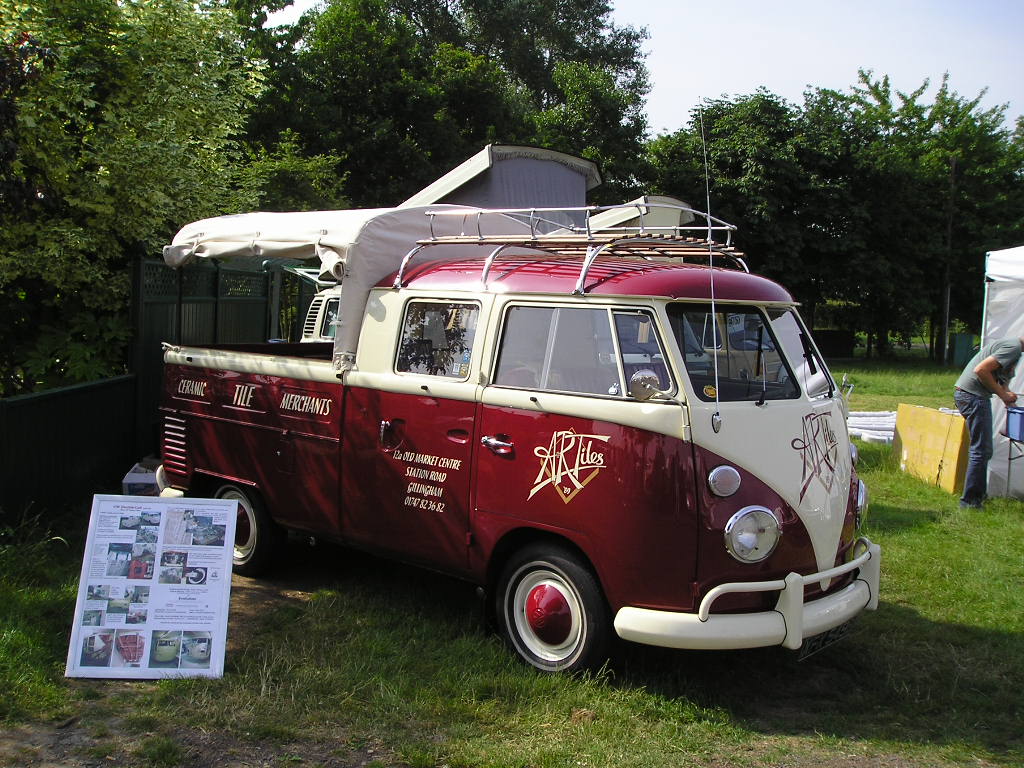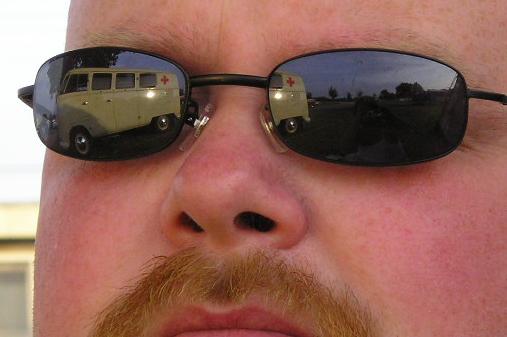 ( 4 June ~ Stonor Park )
A steaming hot weekend, about 160 cars in concour's and heaps of parts to browse at. The krankenwagen came Runner-Up (2nd) in
class 5, Discovery RealTime were there filming. Miss VW had 12 excellent examples on display, the german sausage stall got plenty of
sales, those currywurst's were yummy. A good showing of porsche and beach buggys too. I loved the sign written single cab, although it
wouldn't have been my first choice of colours.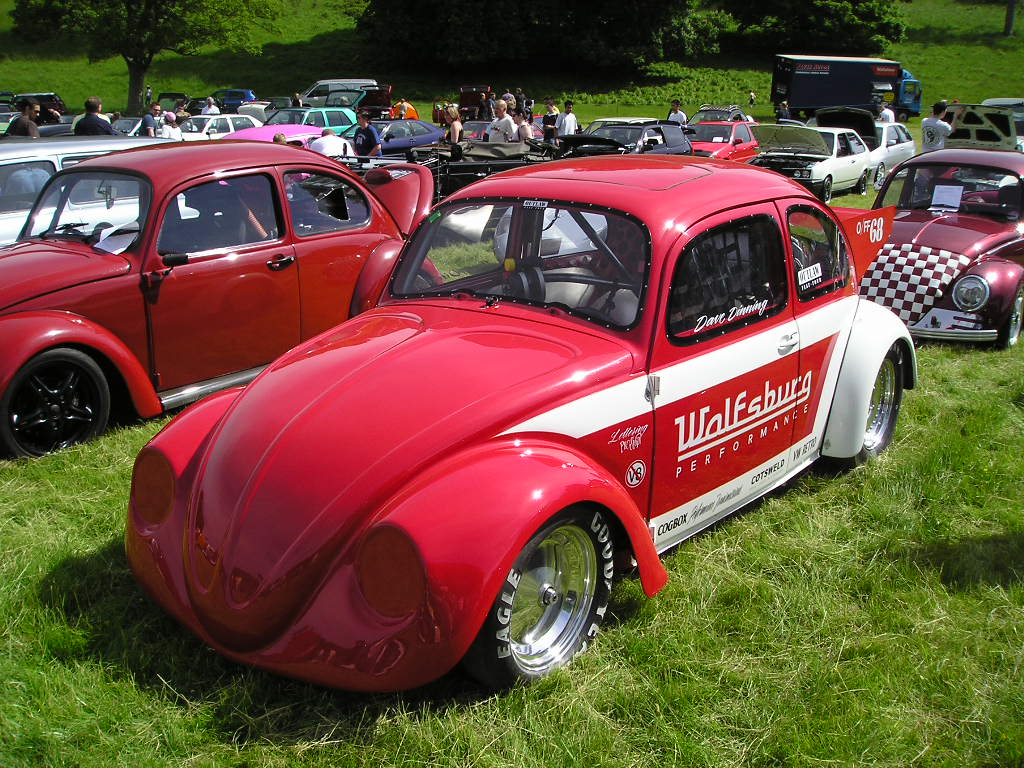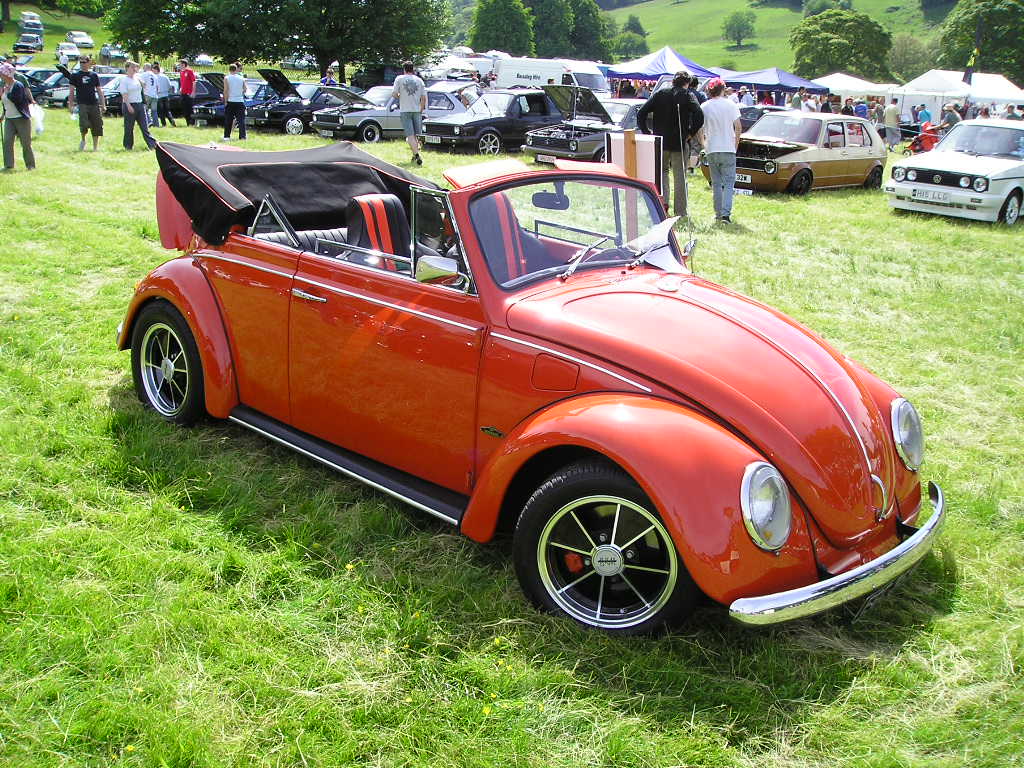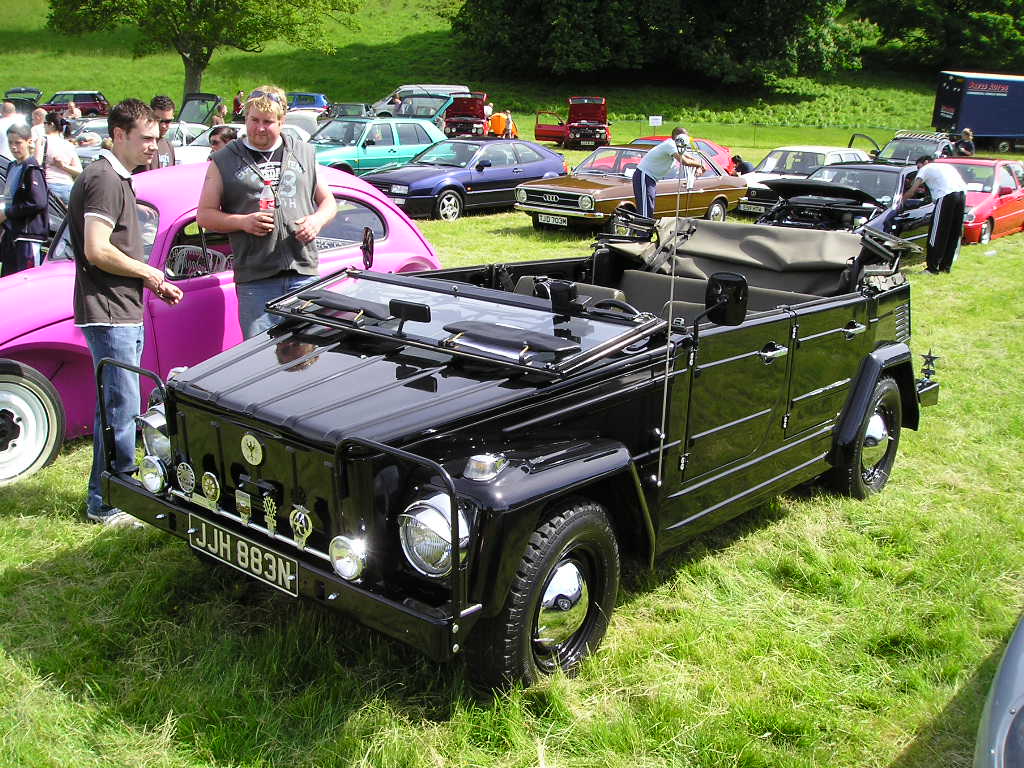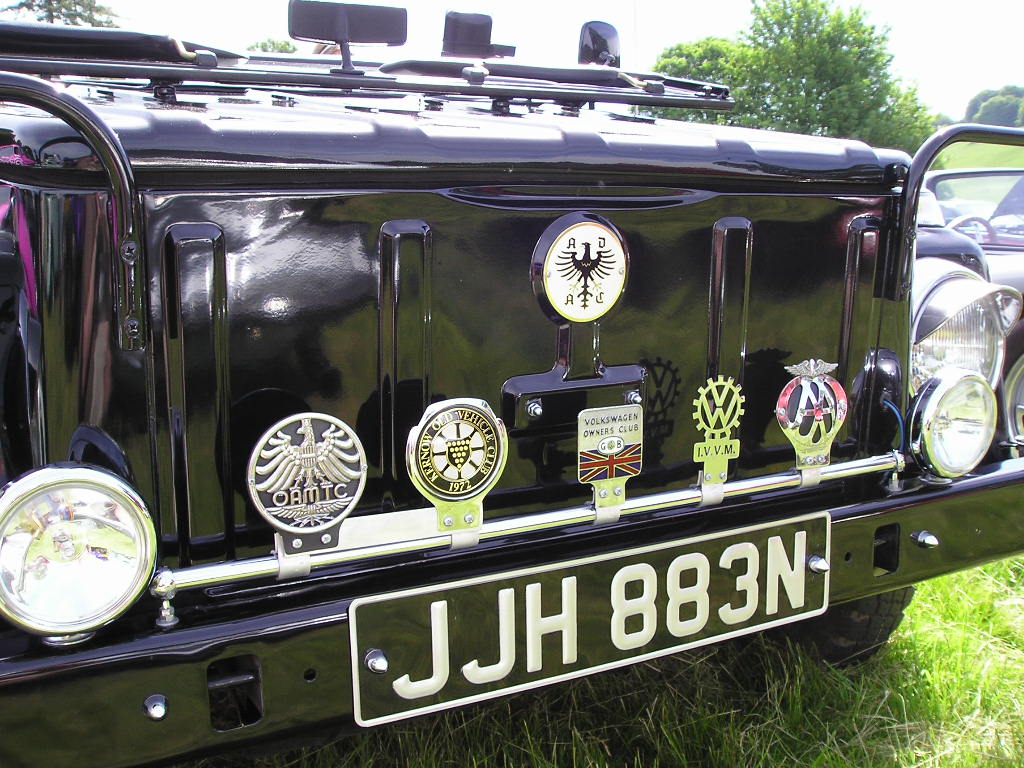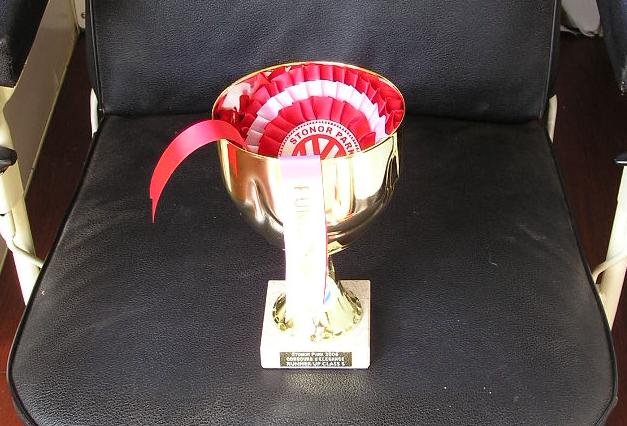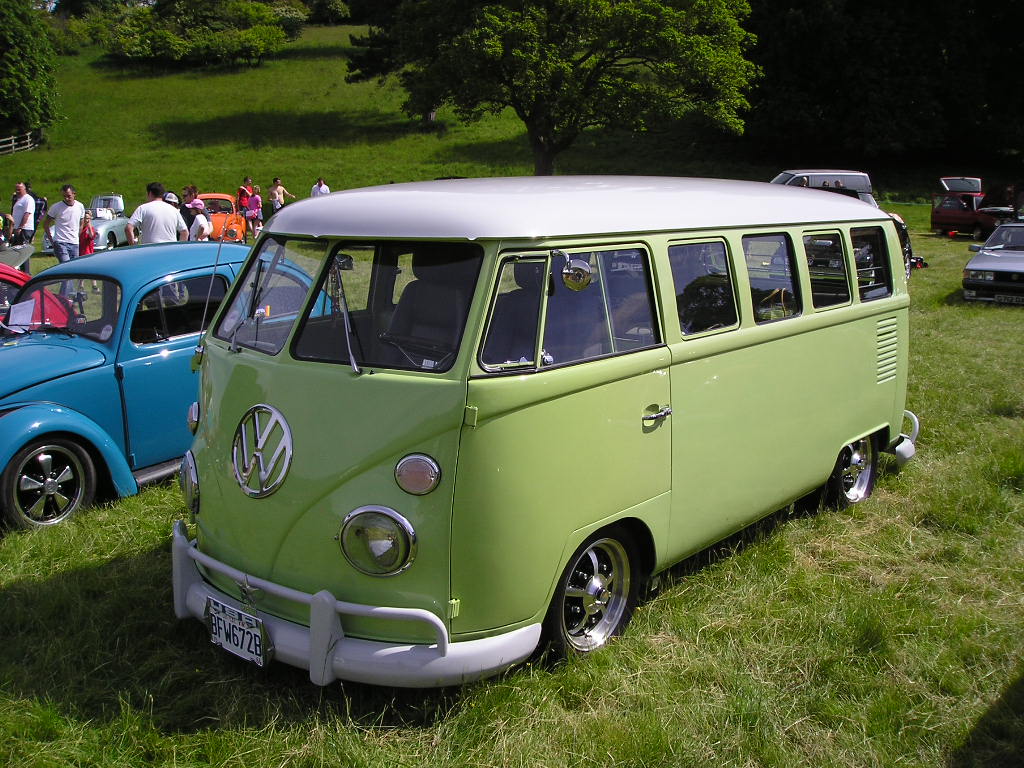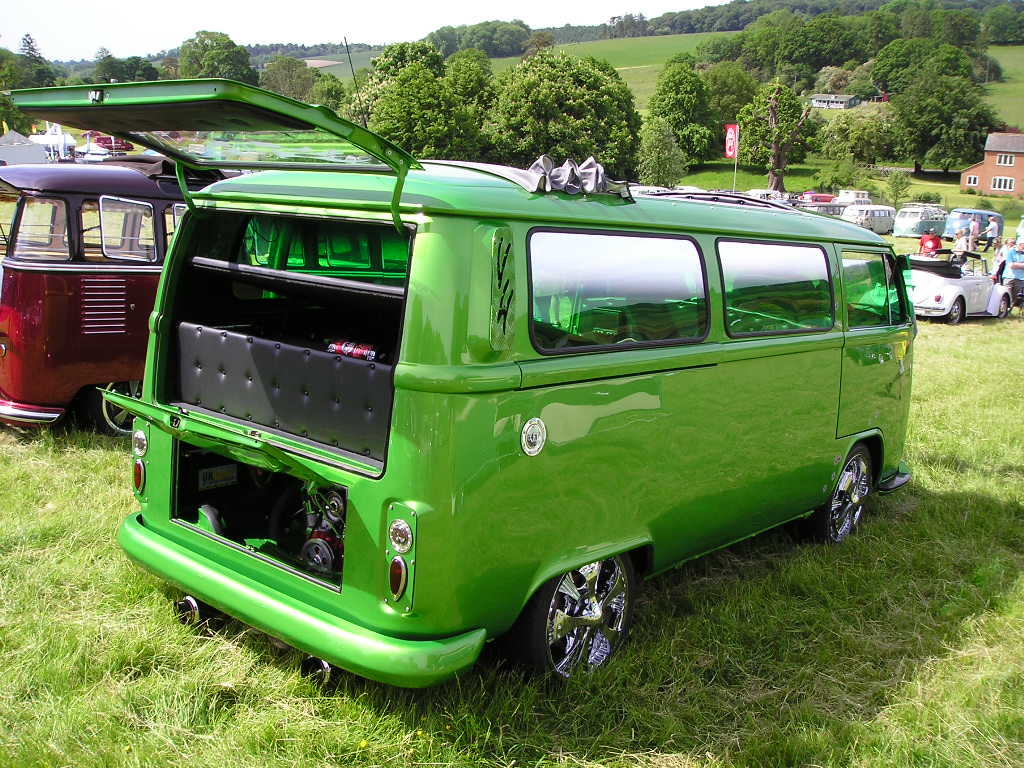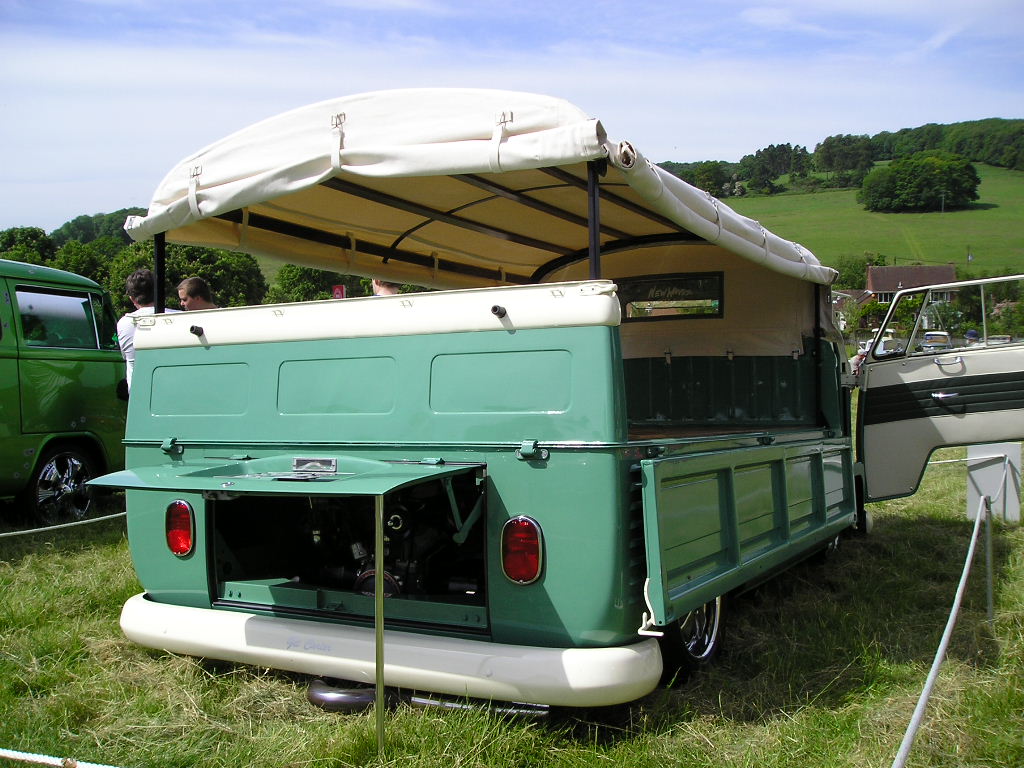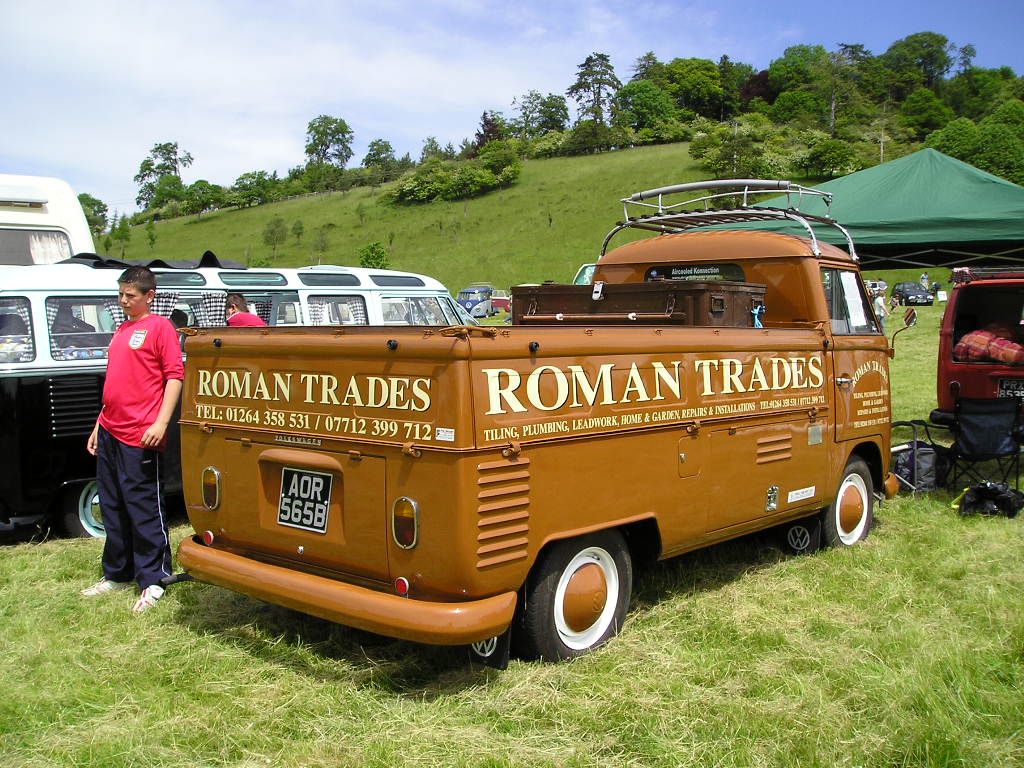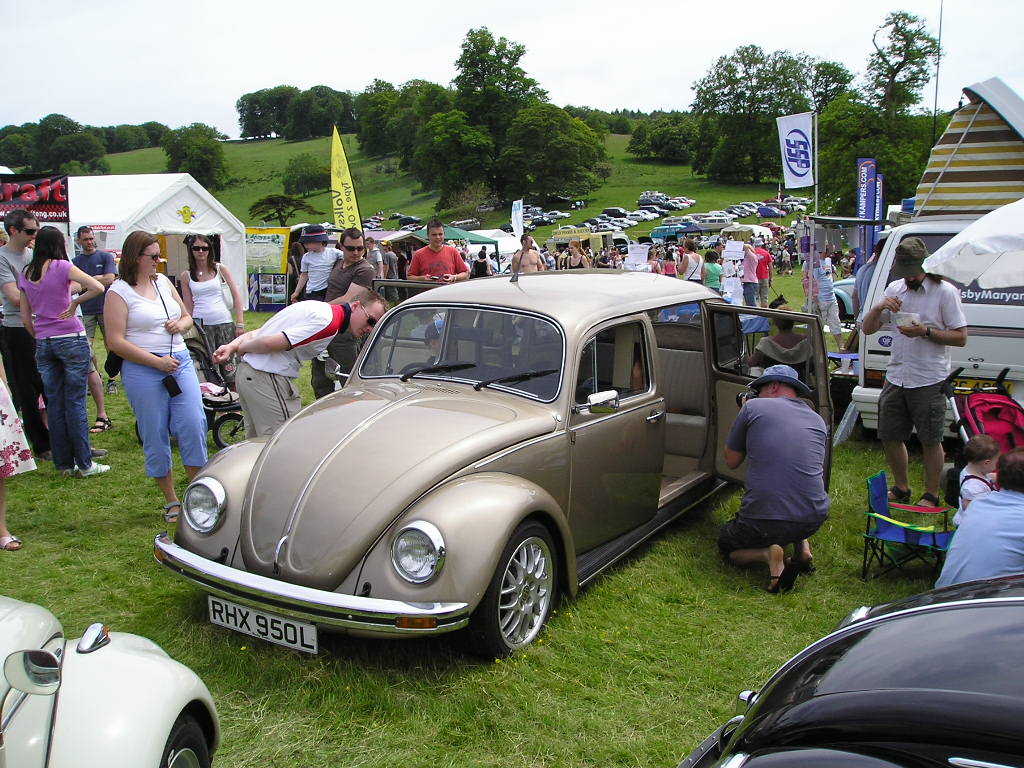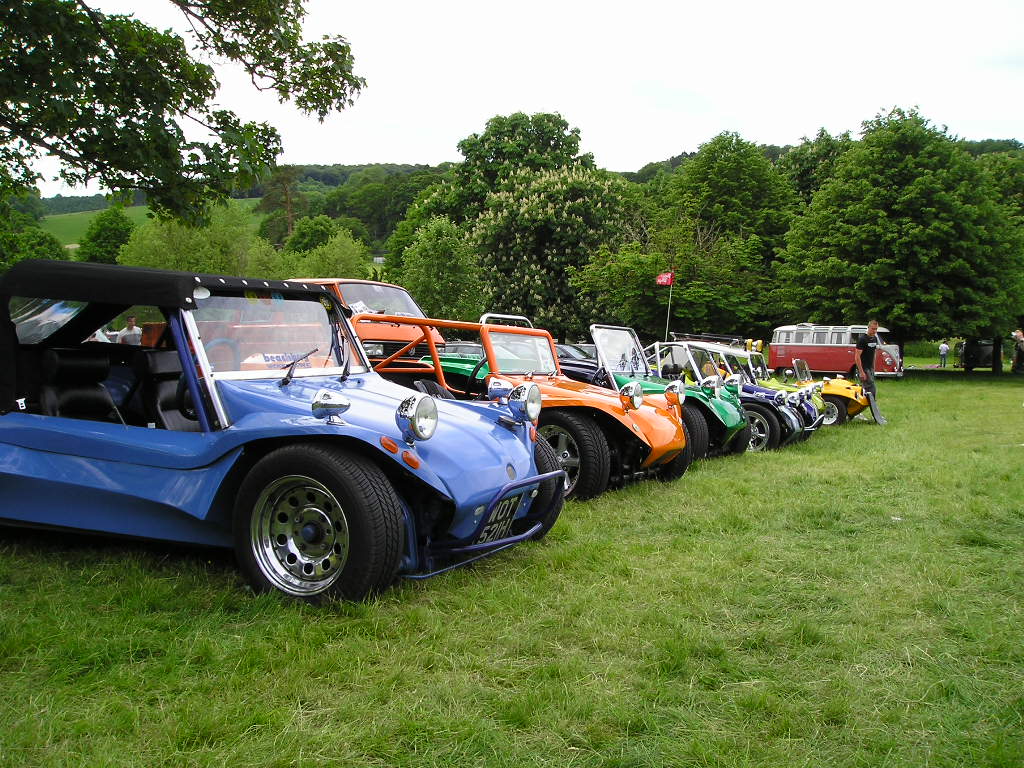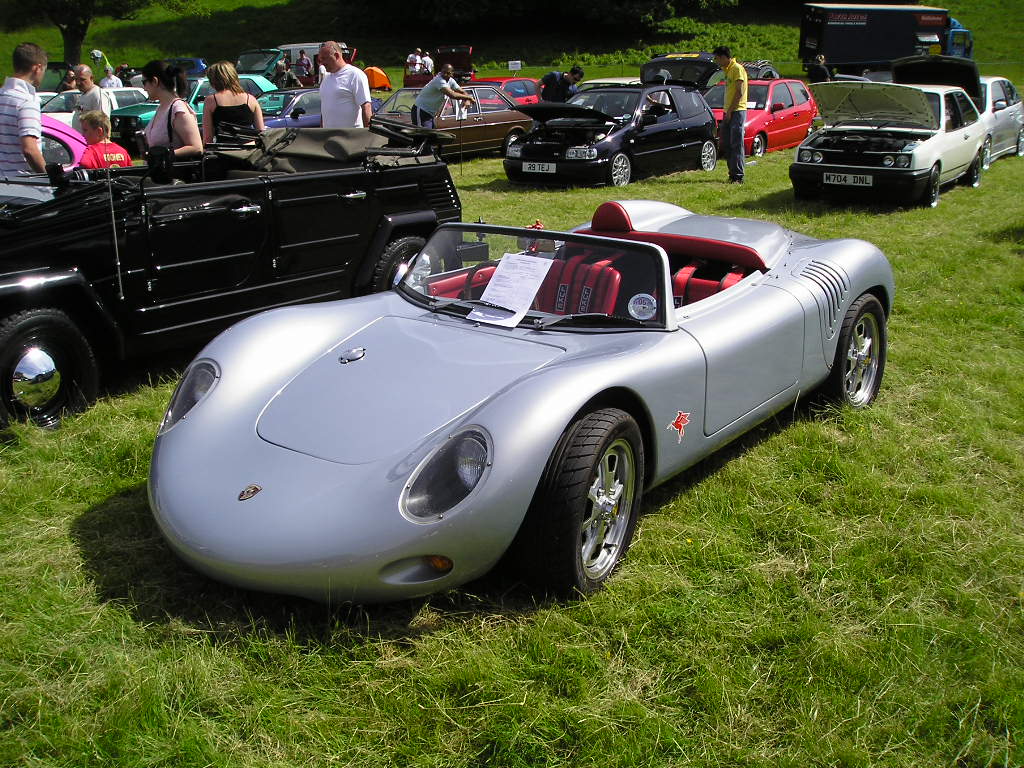 ( 21 May ~ Historic Hatton )
A very wet & windy hatton, reasonable turnout for the weather. Come on summer, where are you?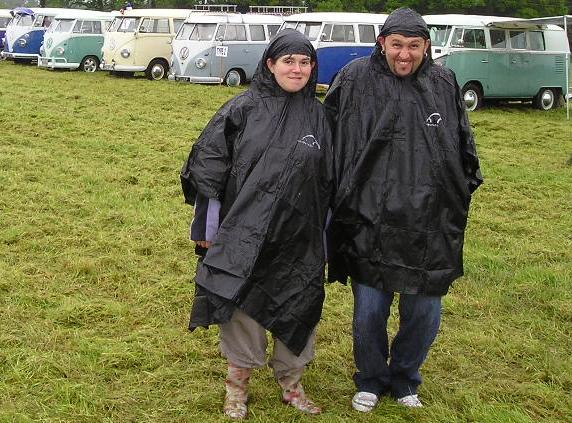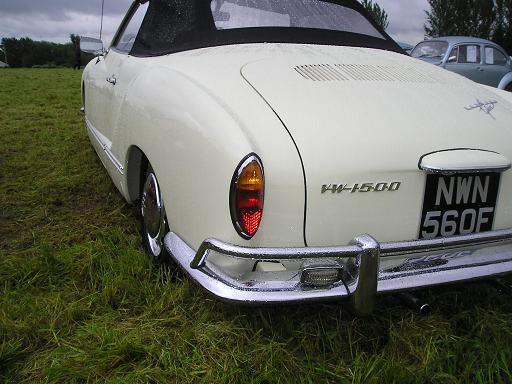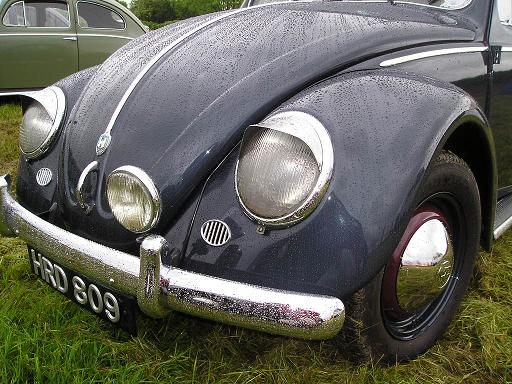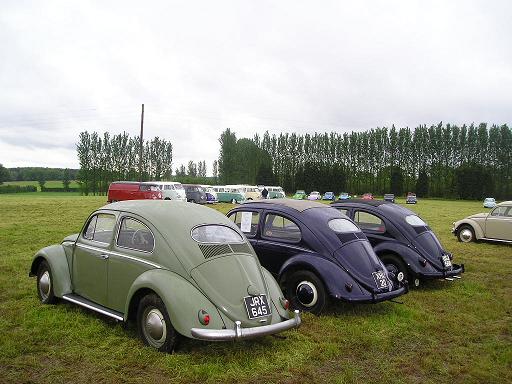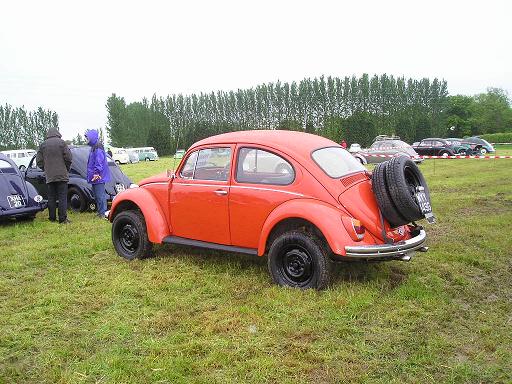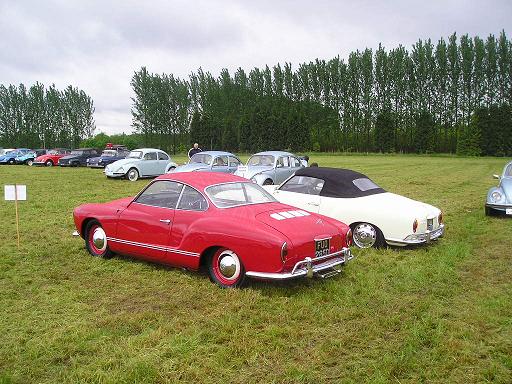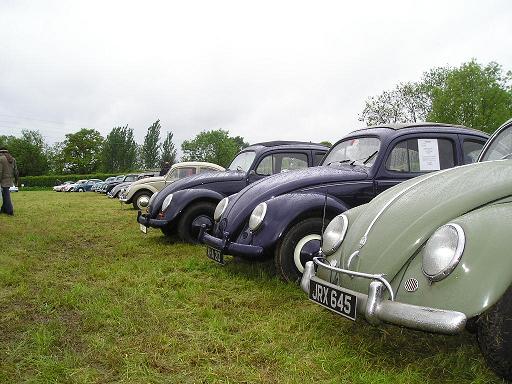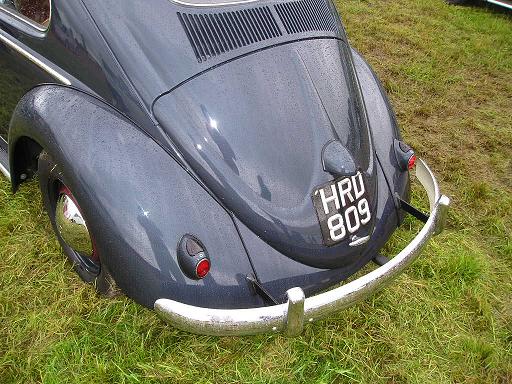 ( 01 May ~ Big Bang / Santa Pod )
The 56 krankenwagen made two standing 1/4 mile runs down the strip on monday.
1st run = 26.893 seconds @ 47.26 mph with a reaction time of 0.159
2nd run = 25.940 seconds @ 47.22 mph, up against another splitty running a 1600TP who ran a 23.4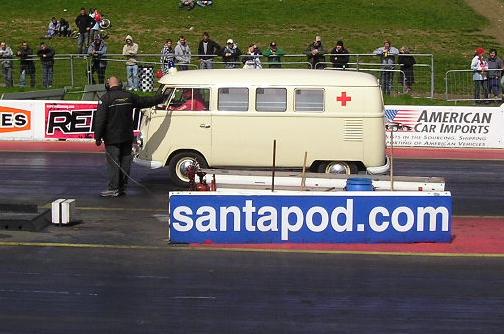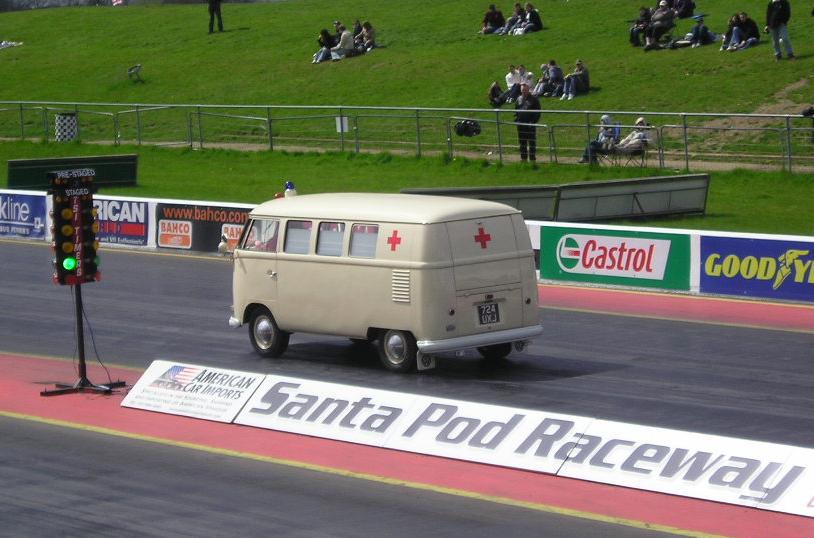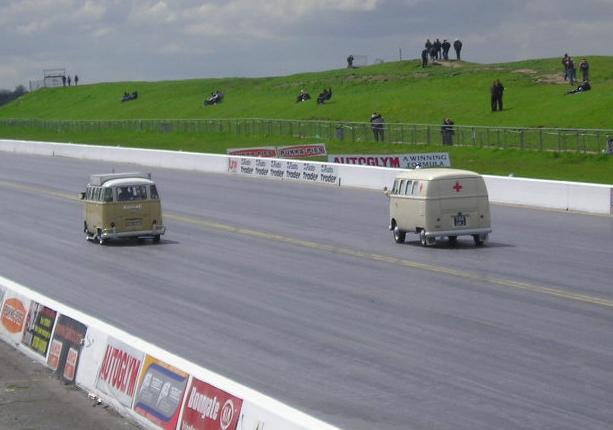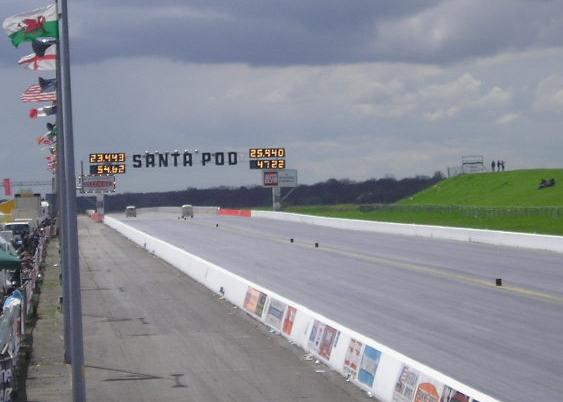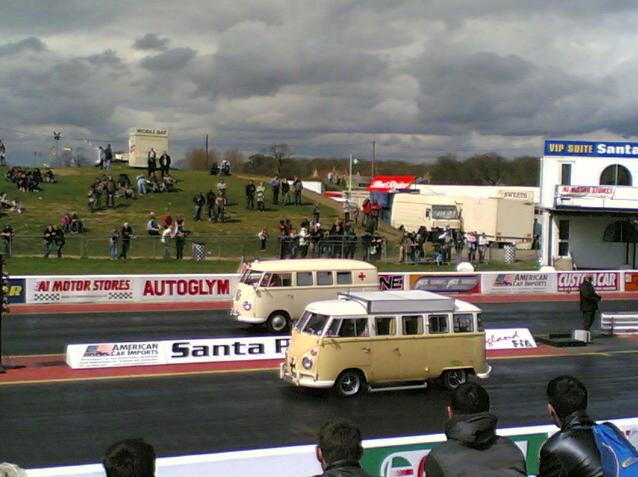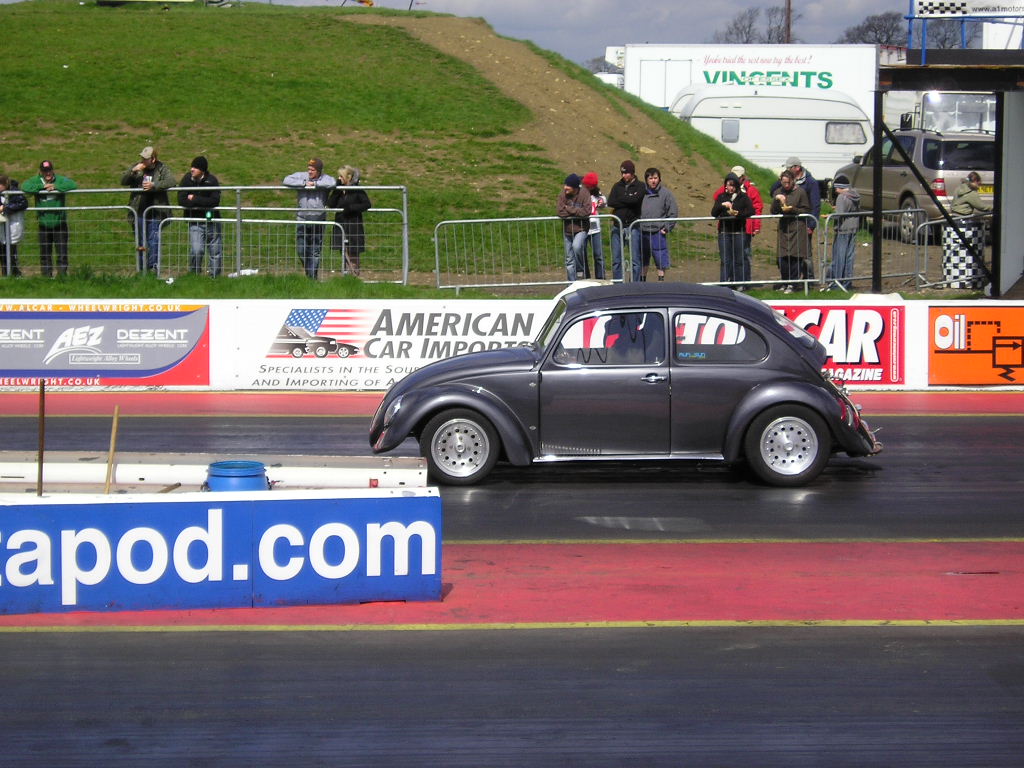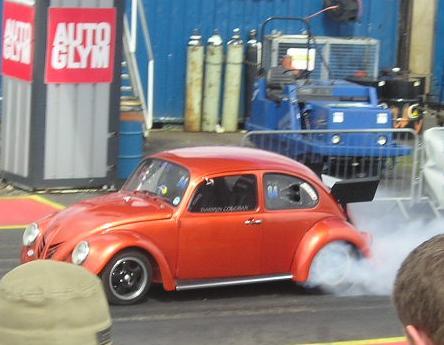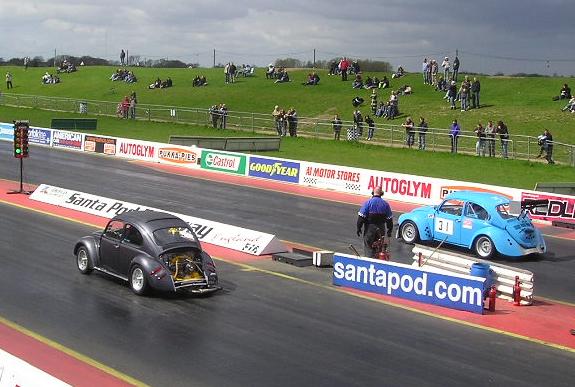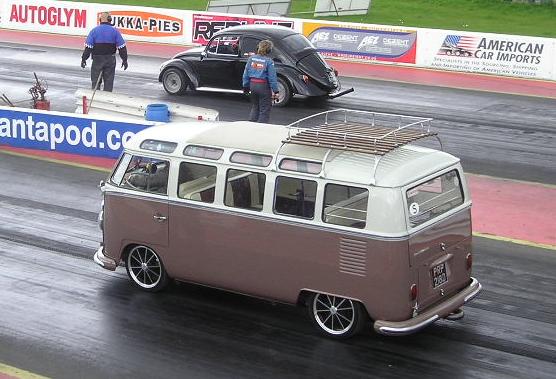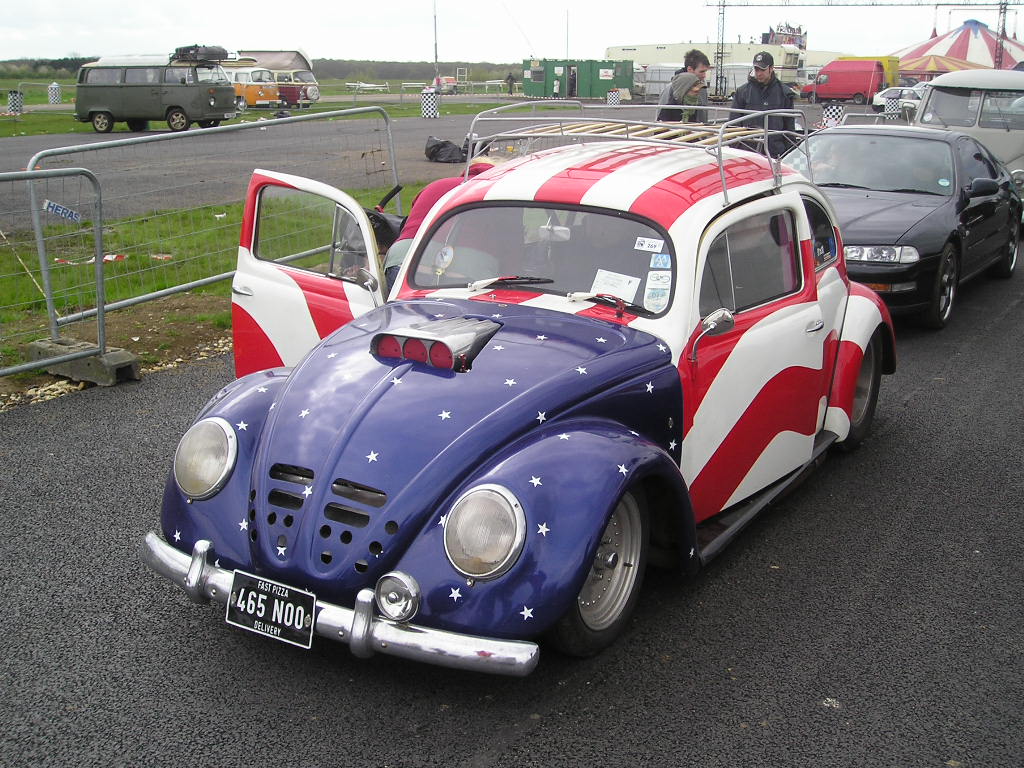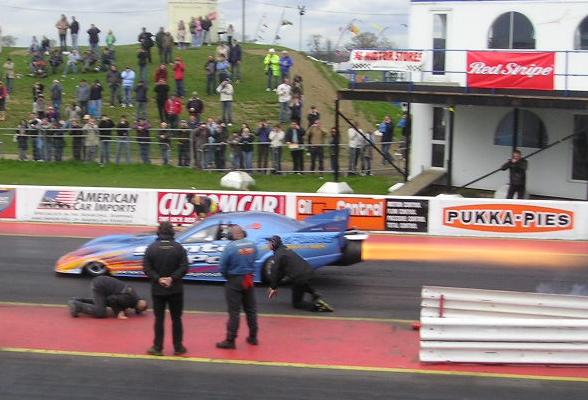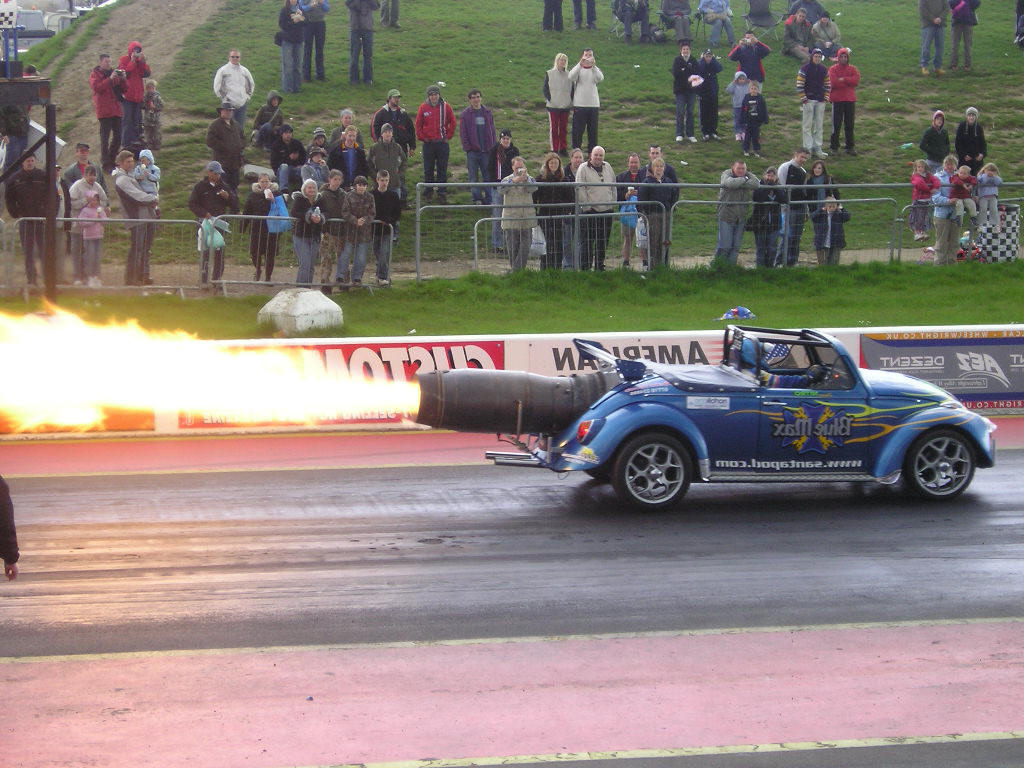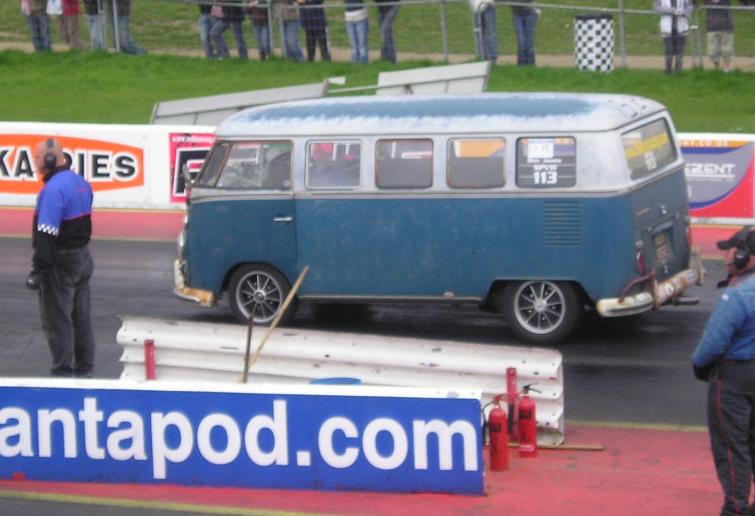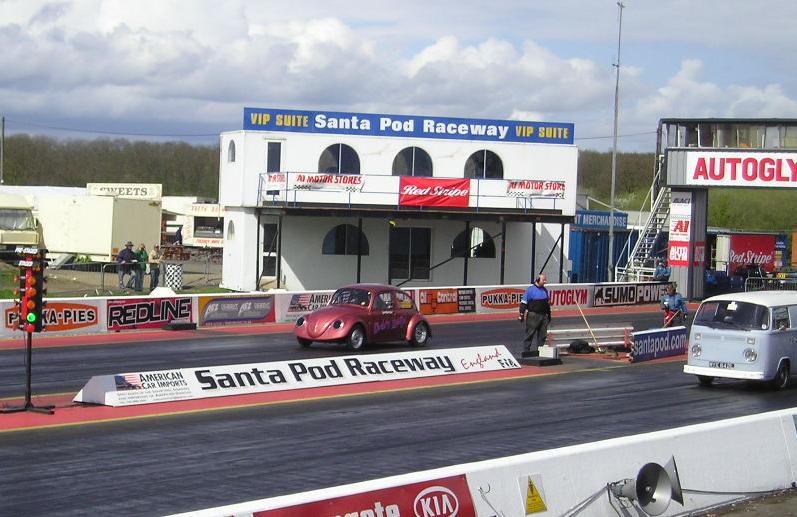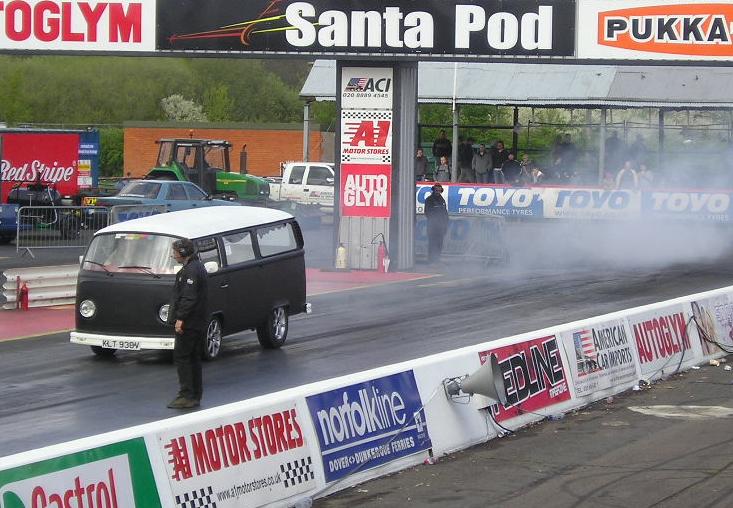 A few more SantaPod photo's in Gallery.
( 30 April ~ Stanford Hall )
Stanford Hall was again lucky with good weather, it was very busy, heaps of parts & cars for sale. The krankenwagen & kubel were
displayed in the concour's area, a swimmenwagen replica also turned up, very nice. A excellent day out, always a favourite of mine,
vintage and stock, sweet.....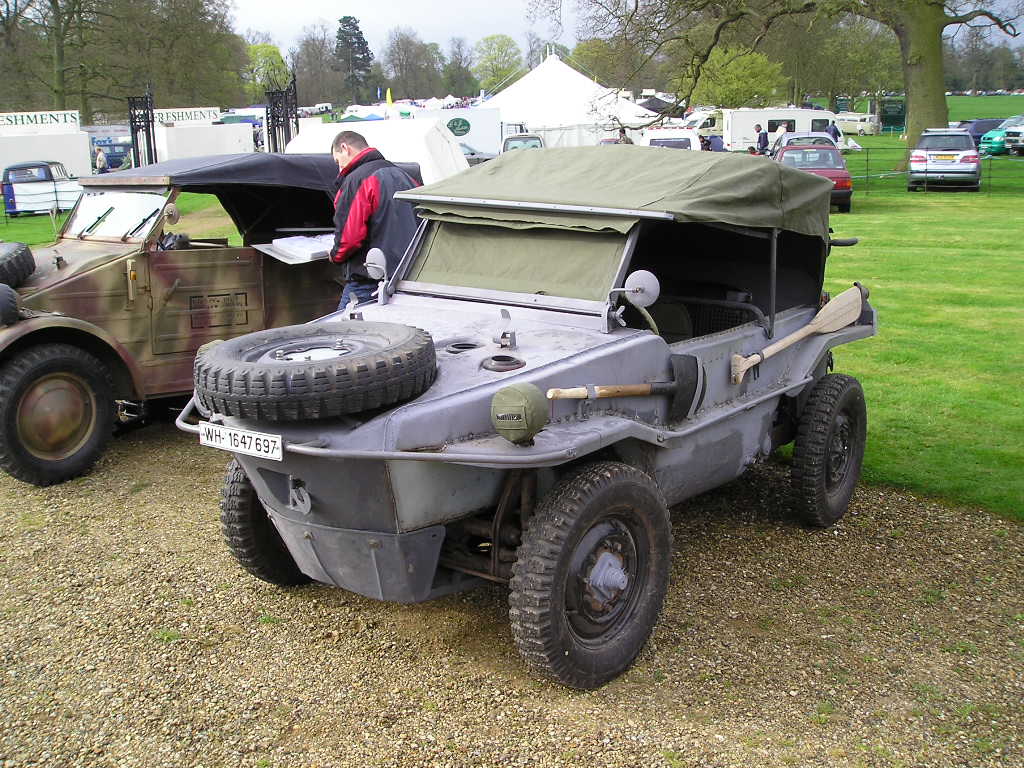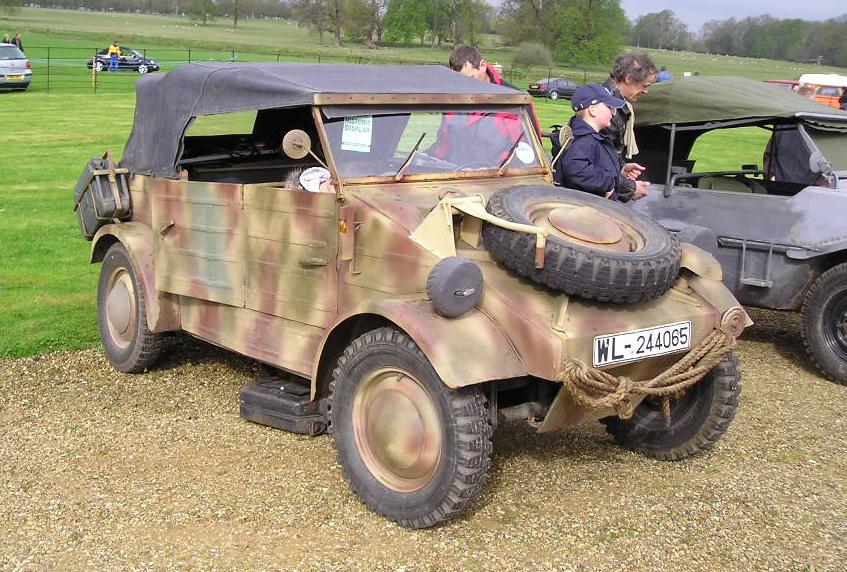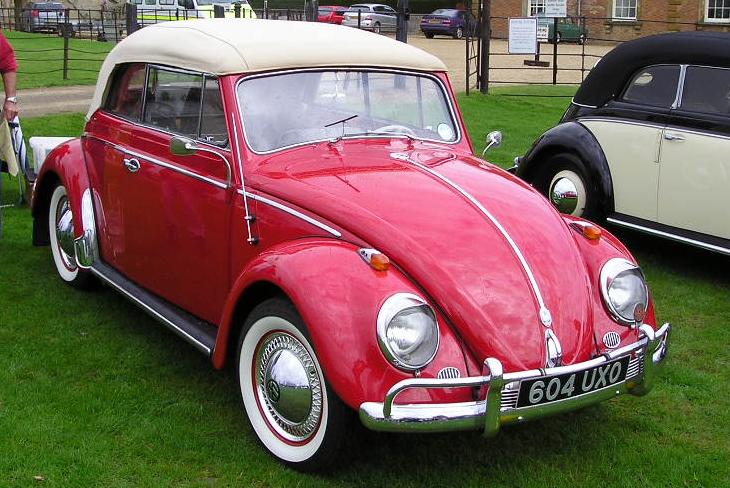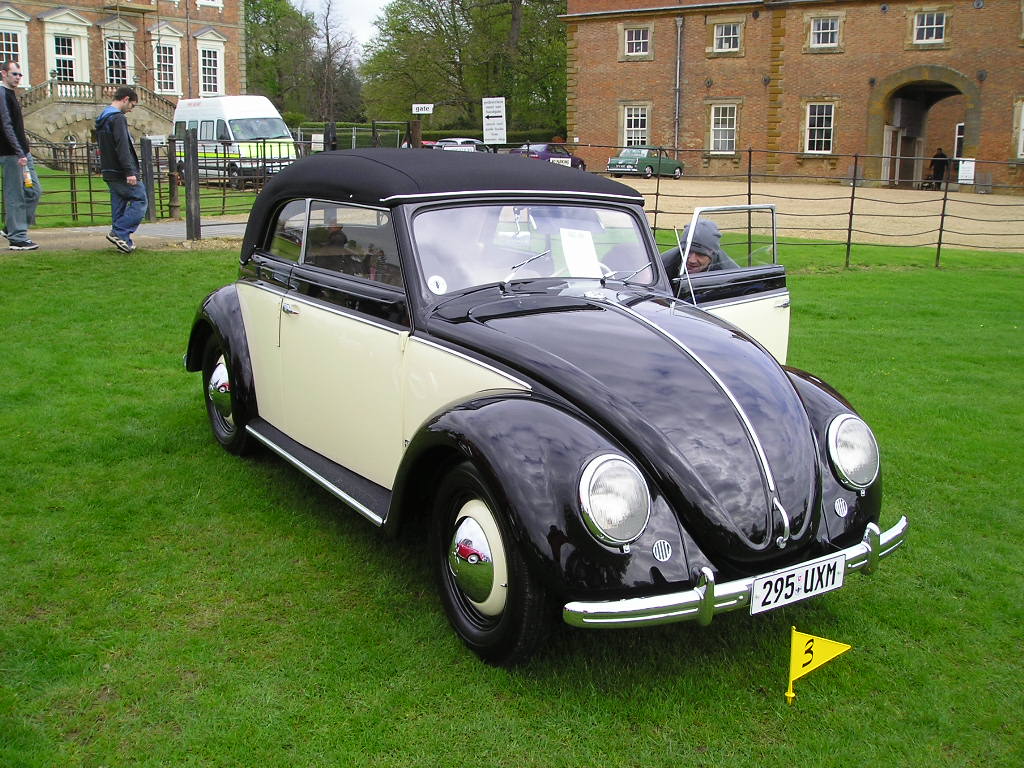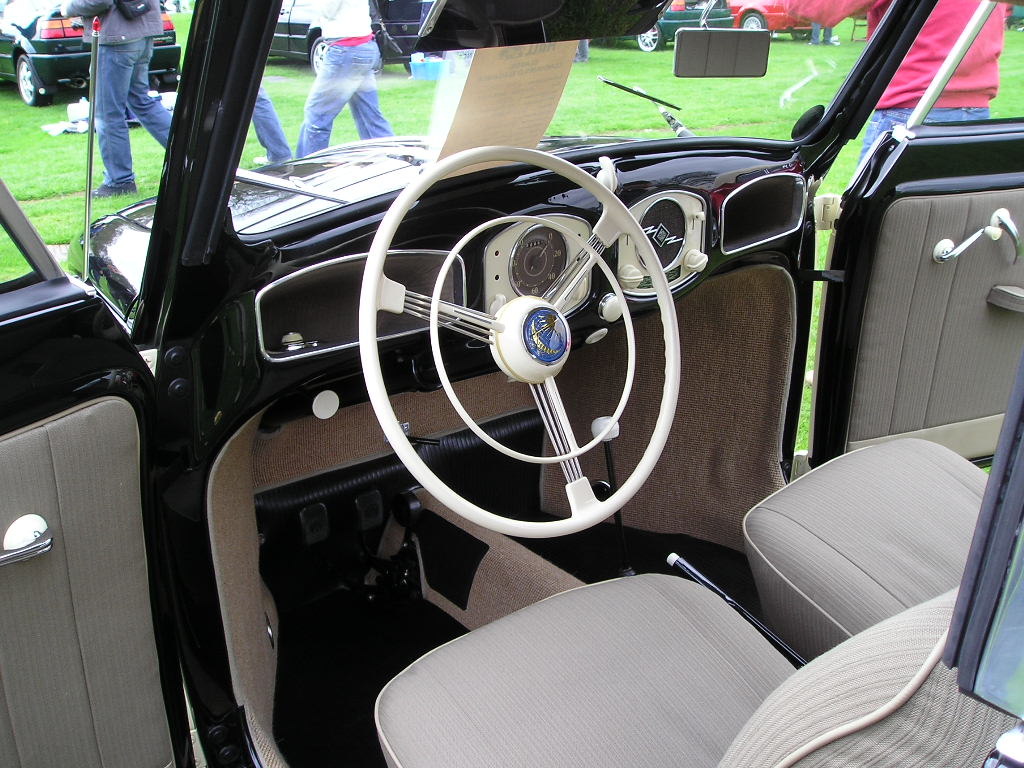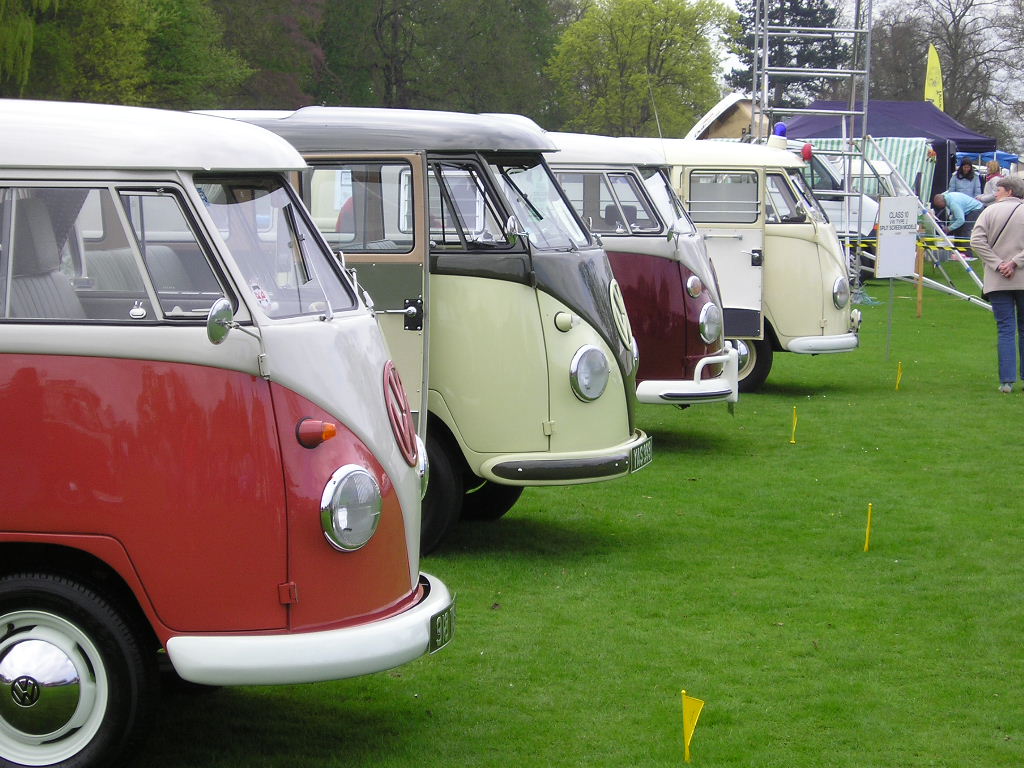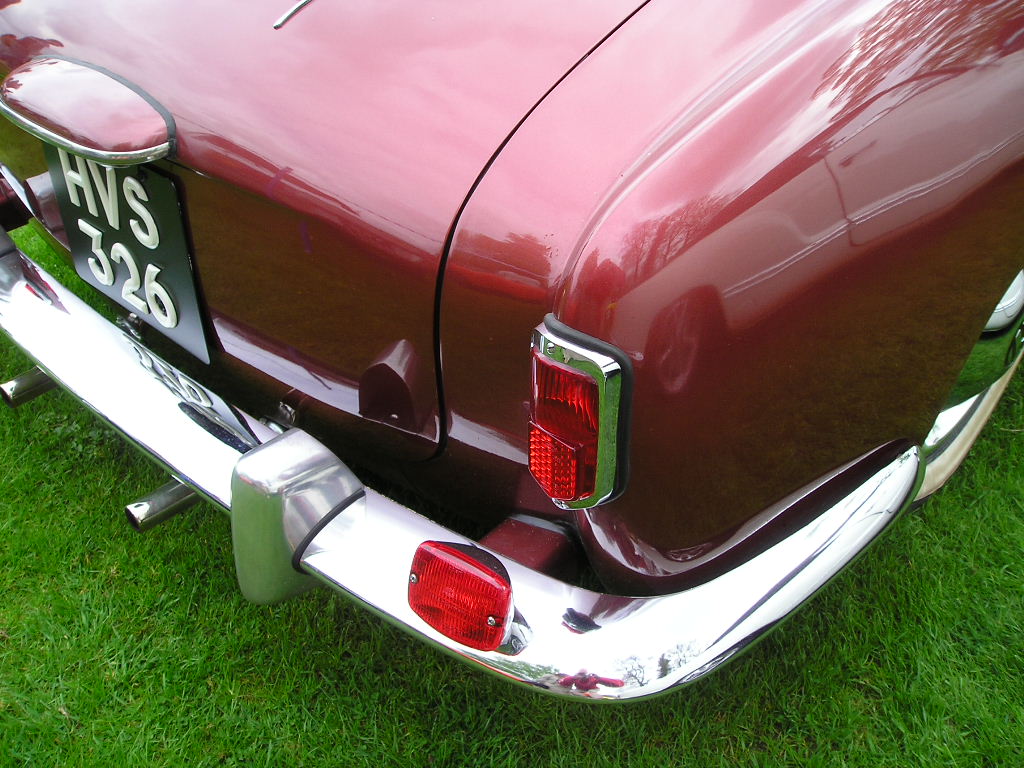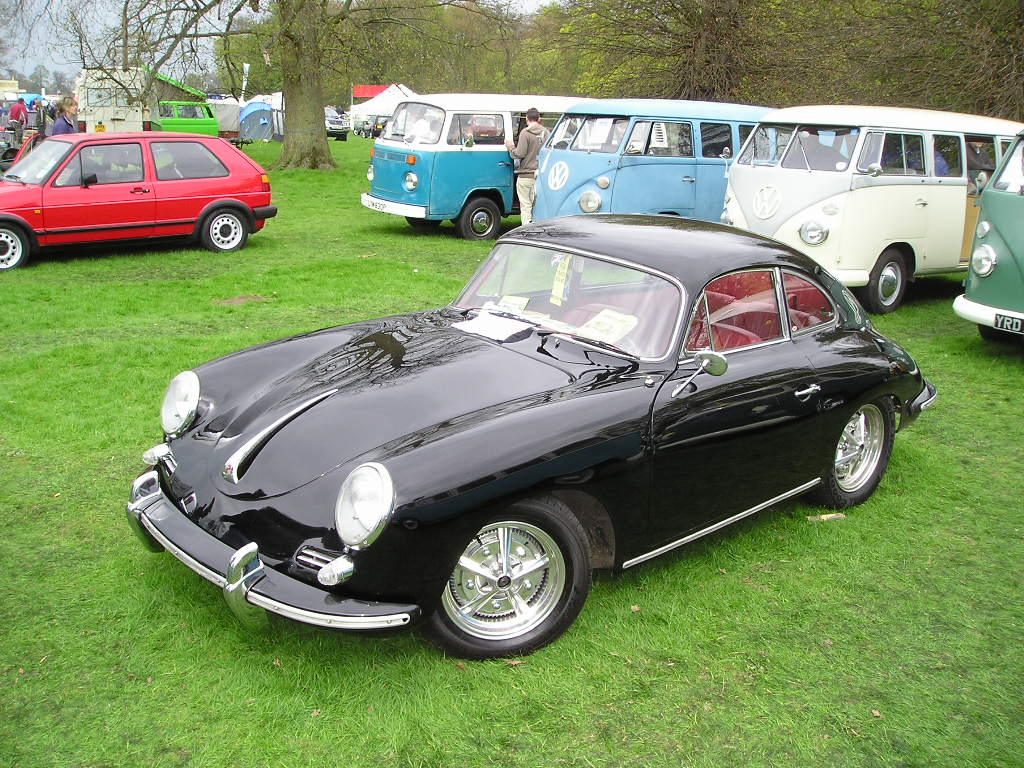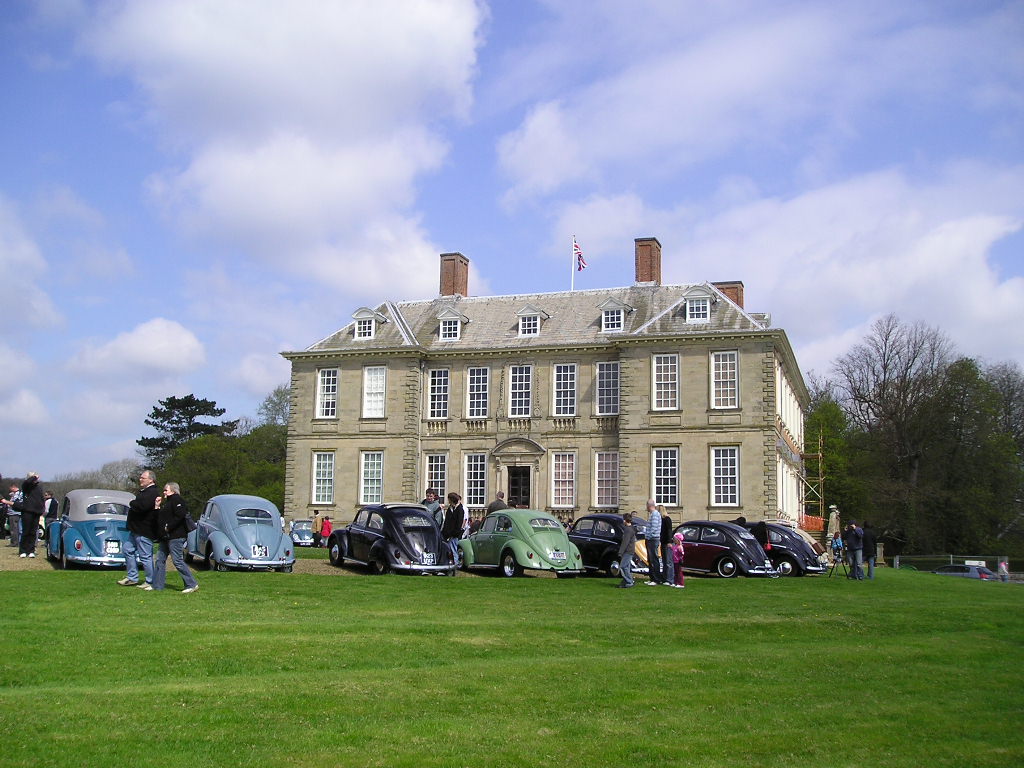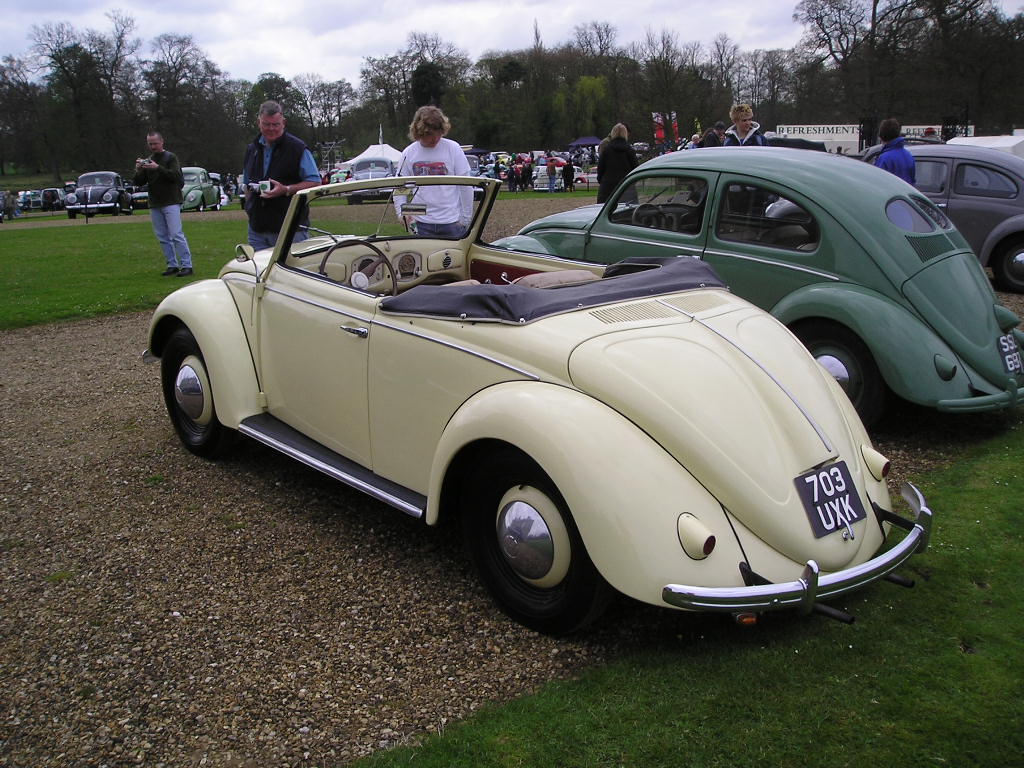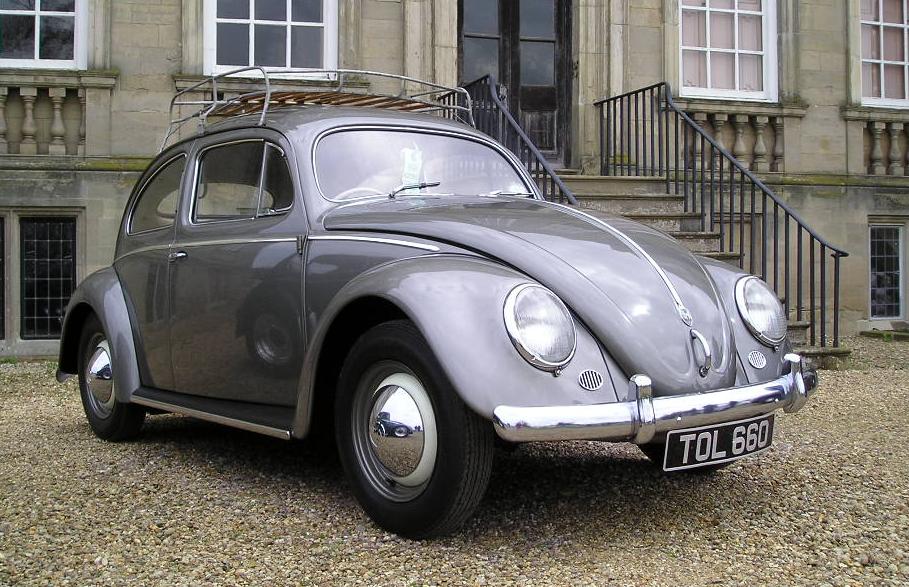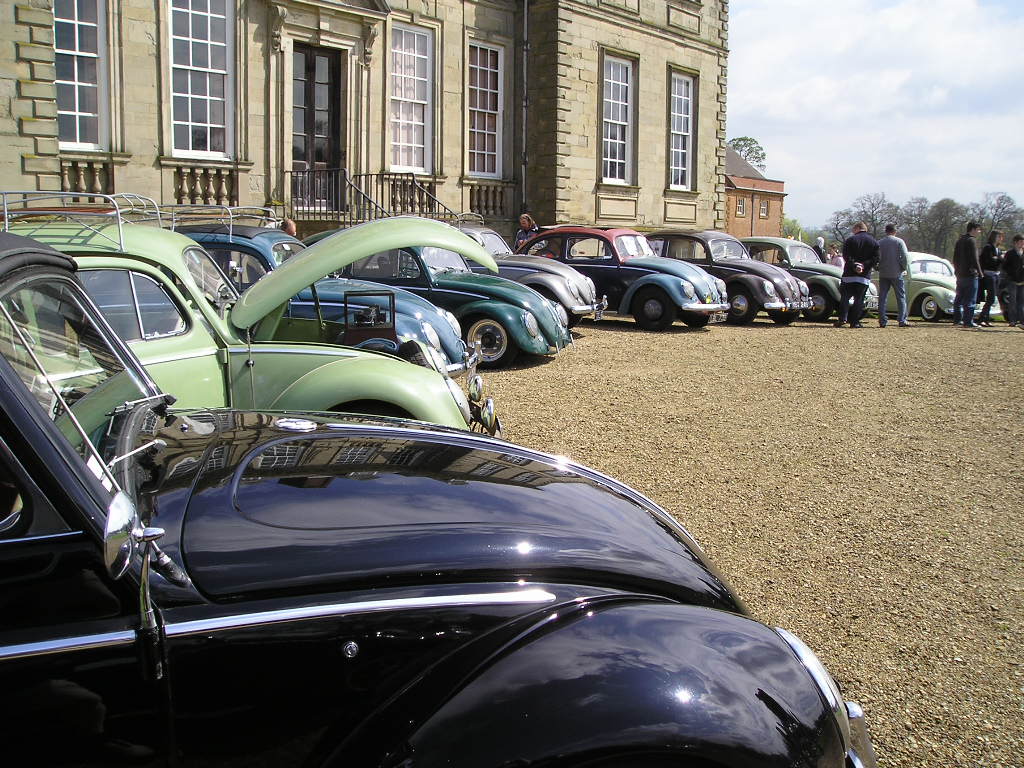 ( 01-02 April ~ VolksWorld )
VolksWorld was sunny most of the weekend, with plenty of new cars on the scene to be seen. The top floor was busy with loads of parts,
the ground floor was filled with buggies, bugs, rods, and ghia's whilst the lower hall was filed with Type 2 vans of all types from custom to
stock.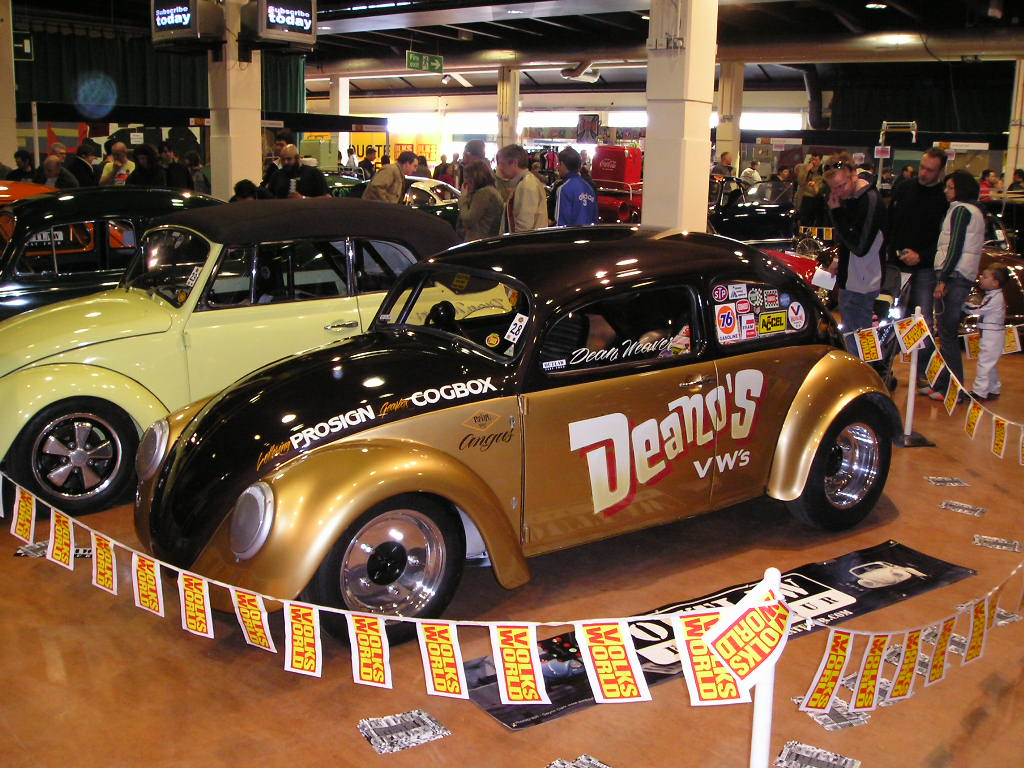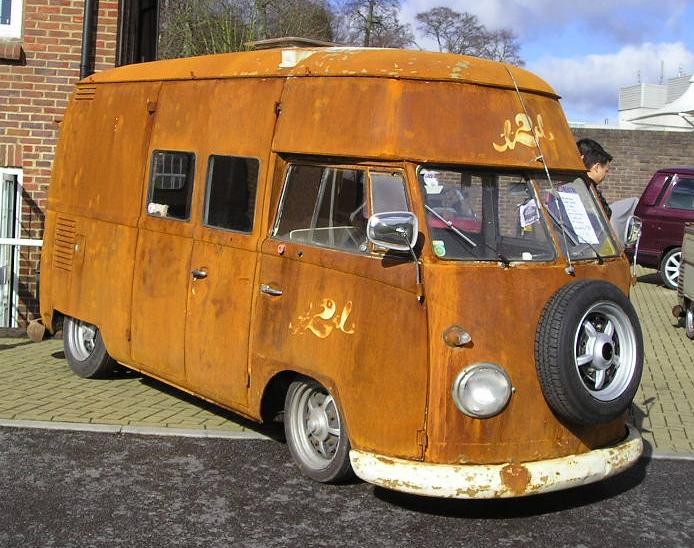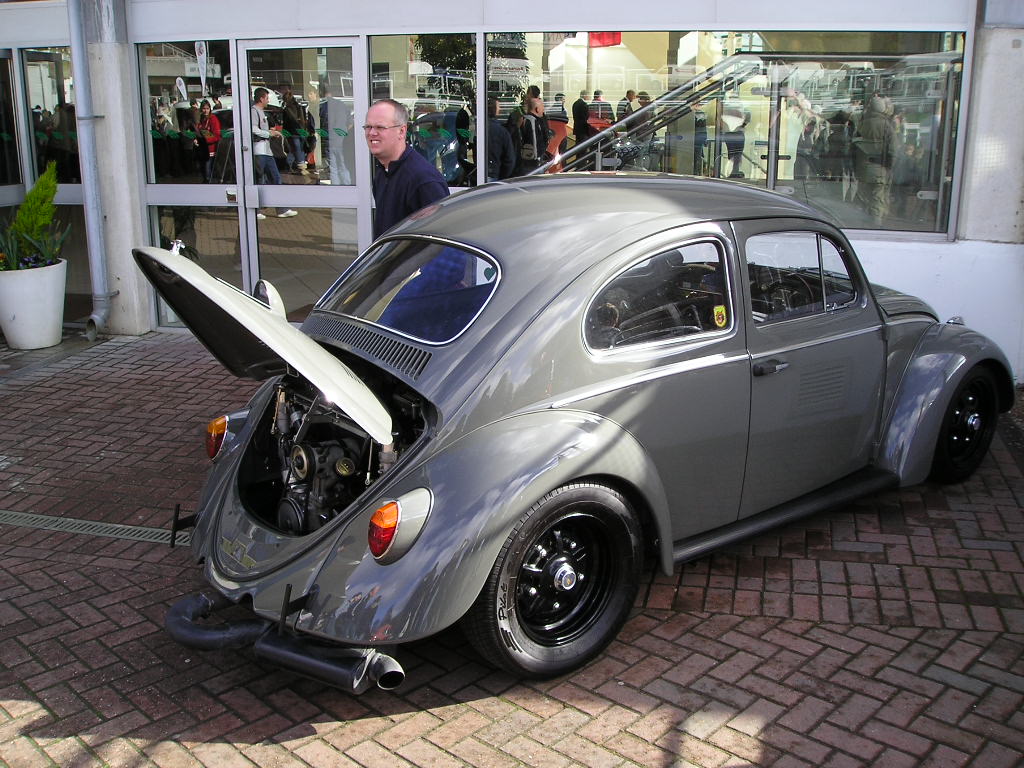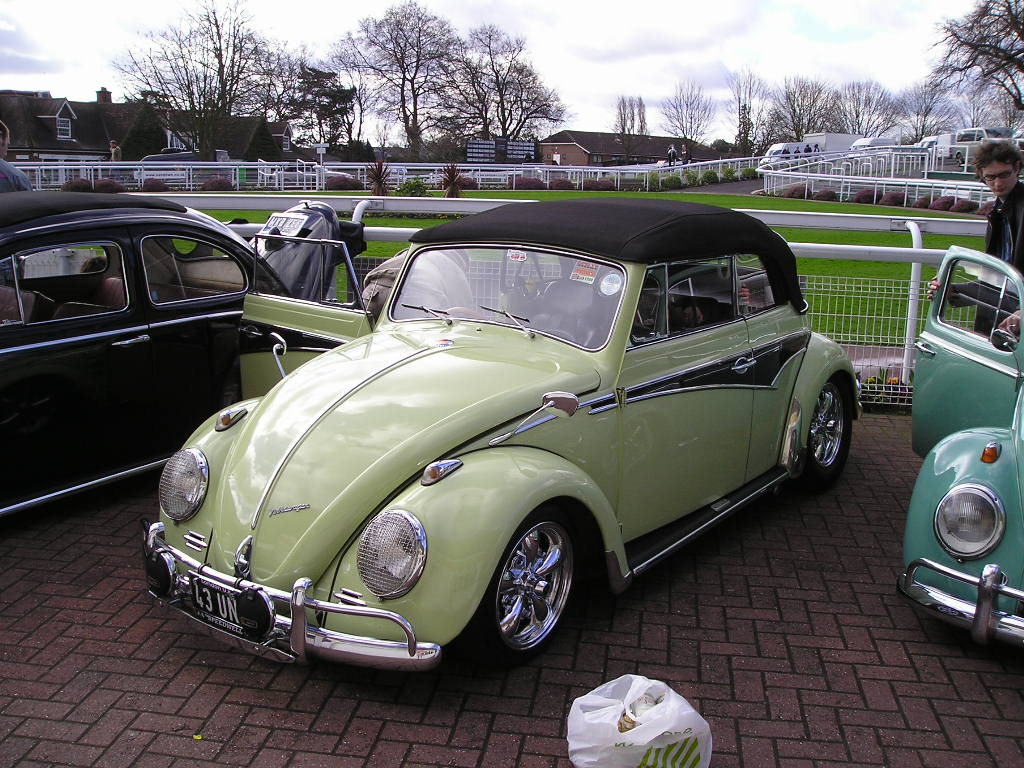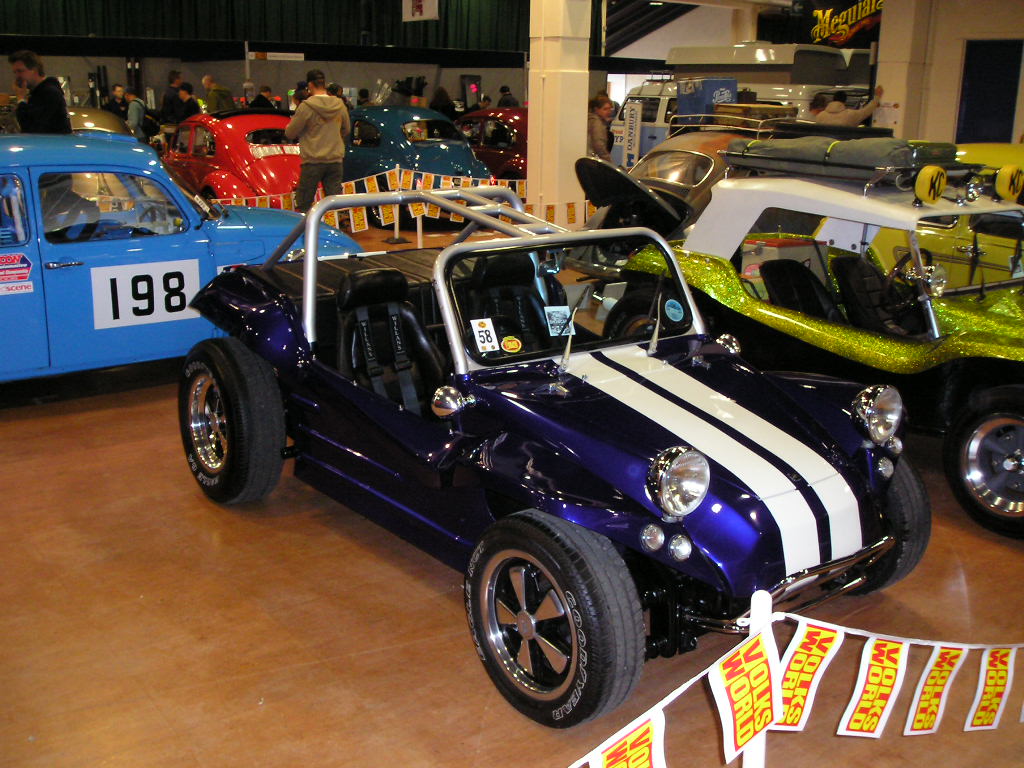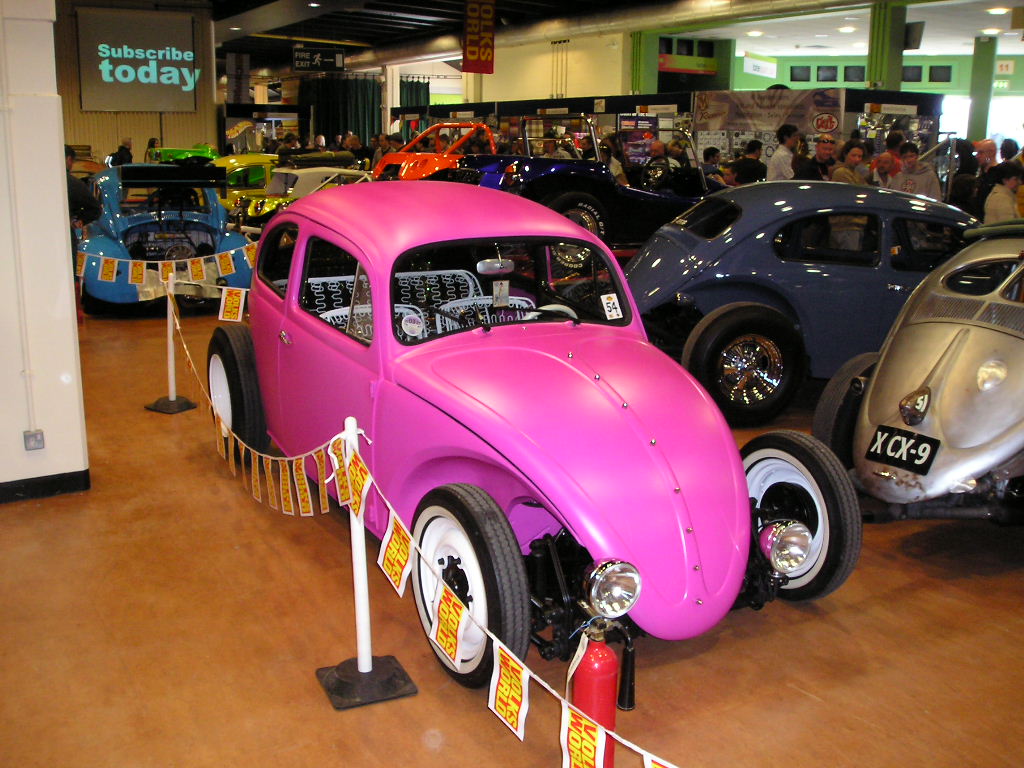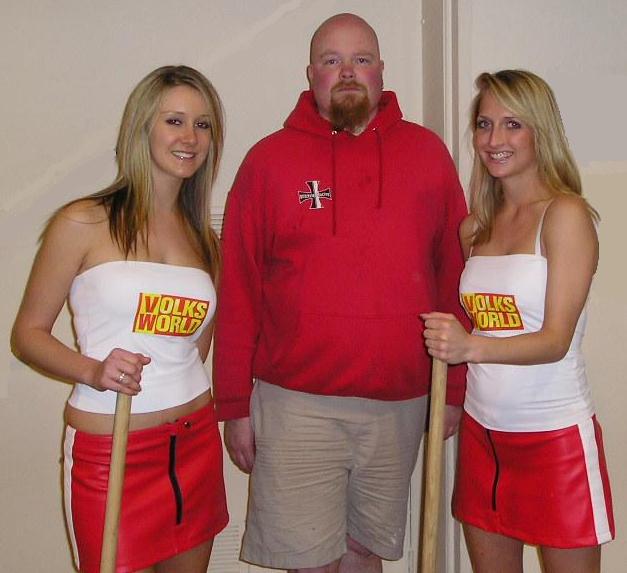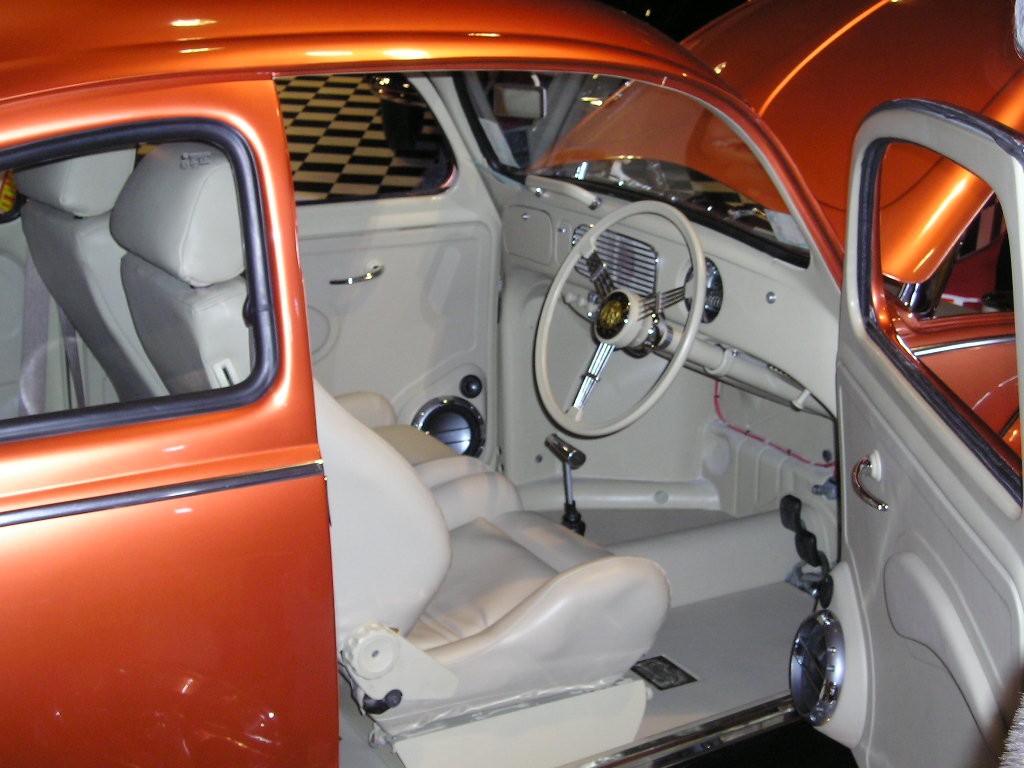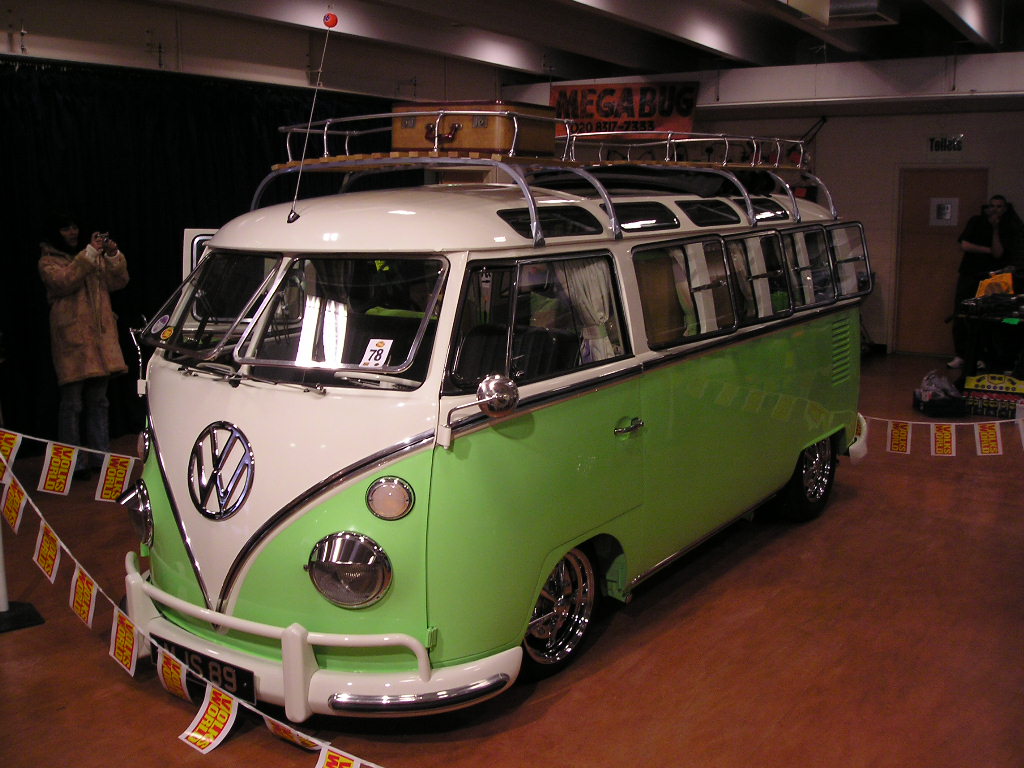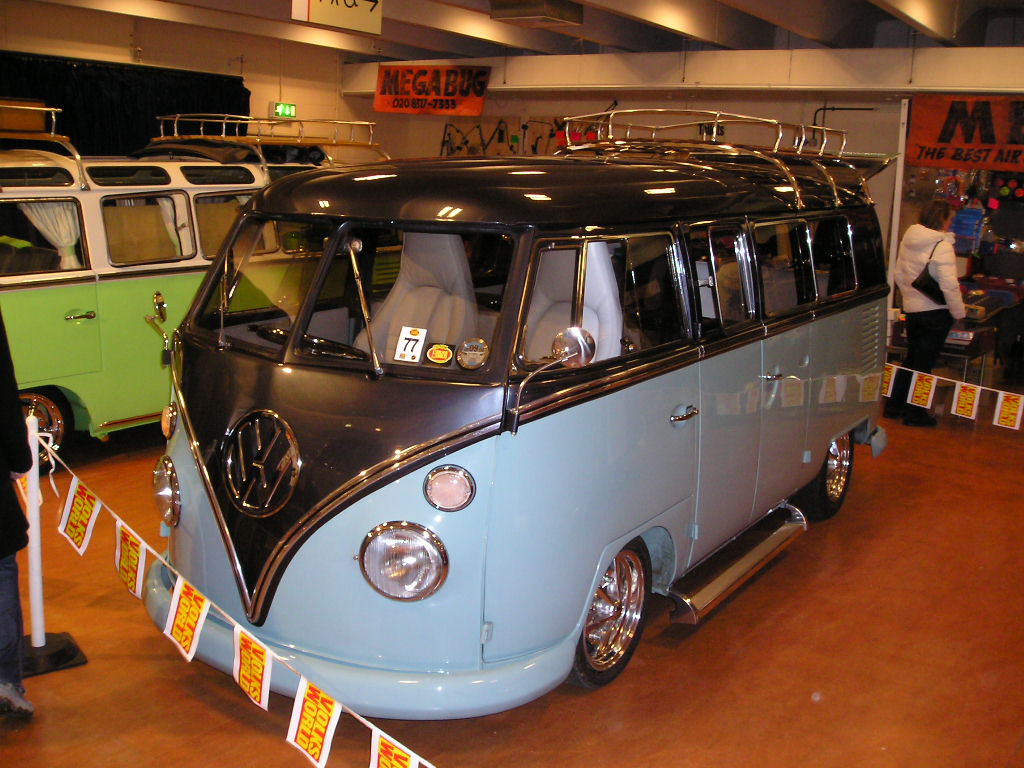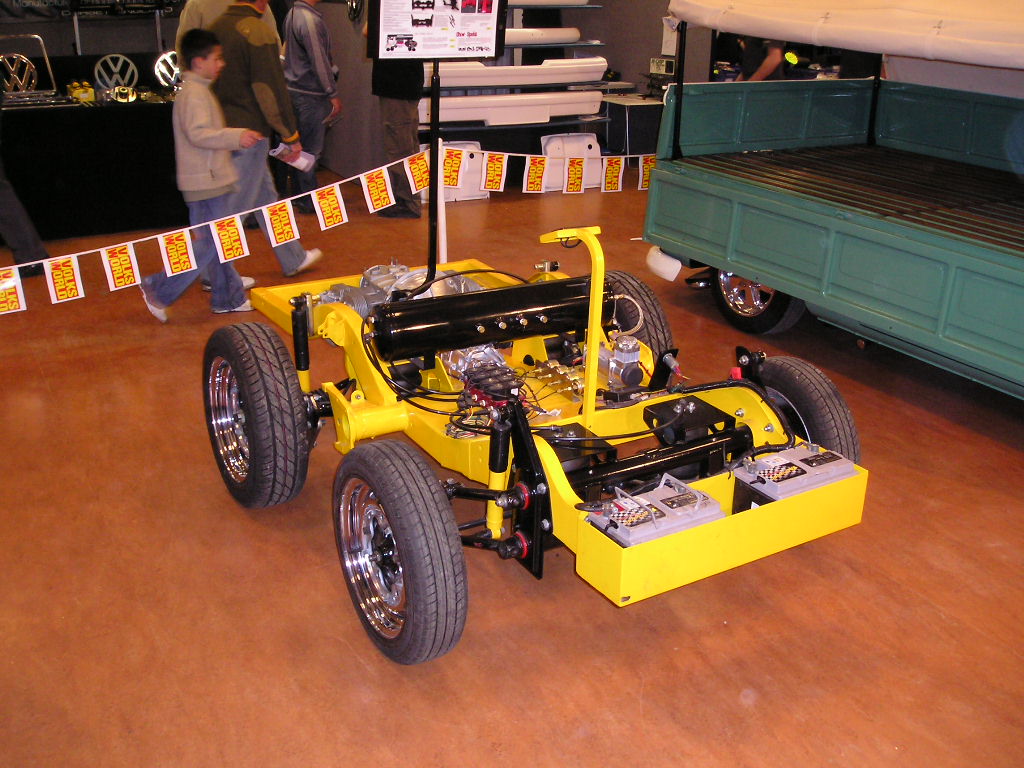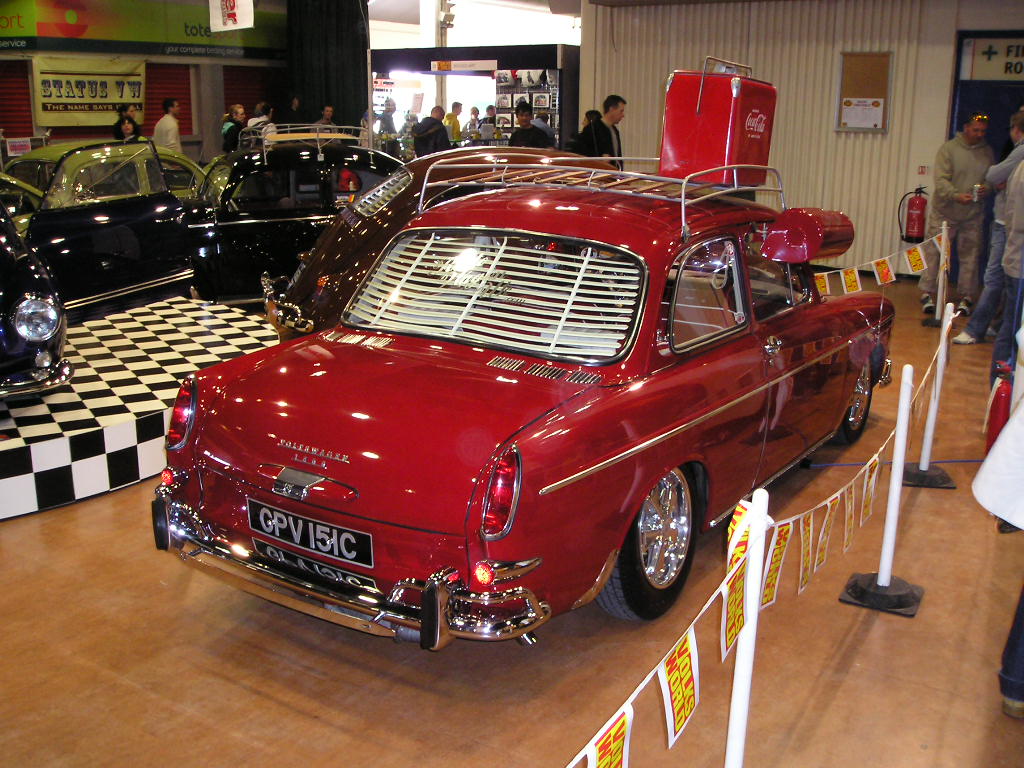 The bus chassis was interesting, as was the giant splitscreen van bodied truck selling cornish pasty's. The bug rods seem to be growing in
number, excellent news, they look great fun, i want, i want. Thanks to Ivan & the his crew, & the Volksworld girls for giving us something
else to look than cars.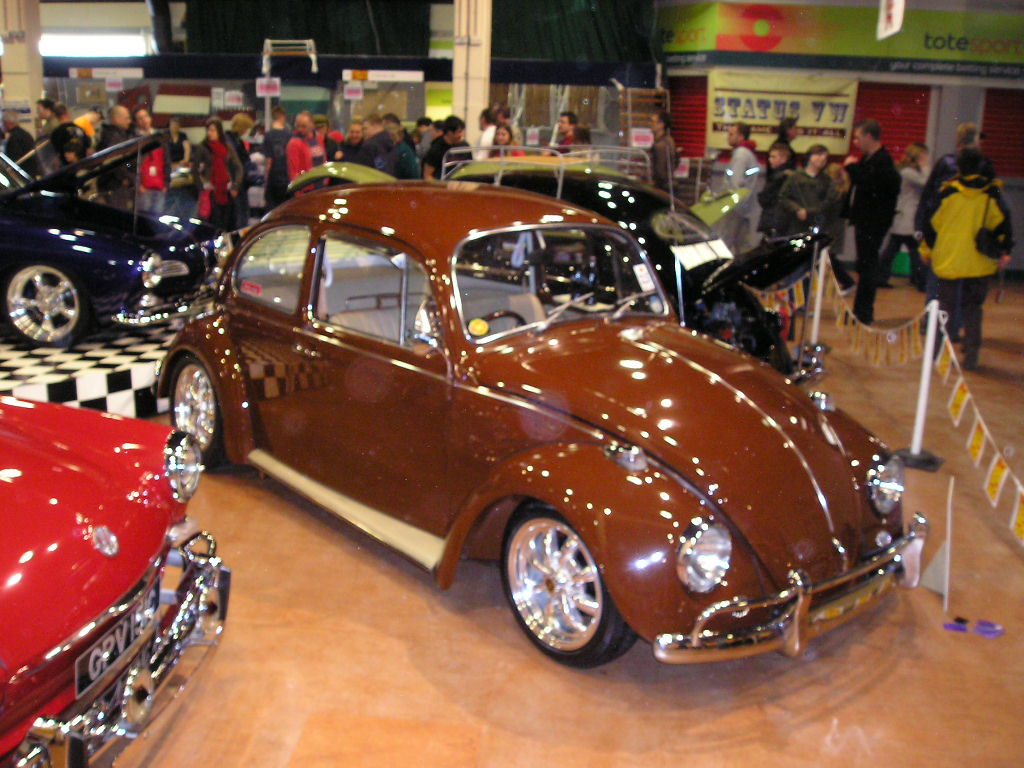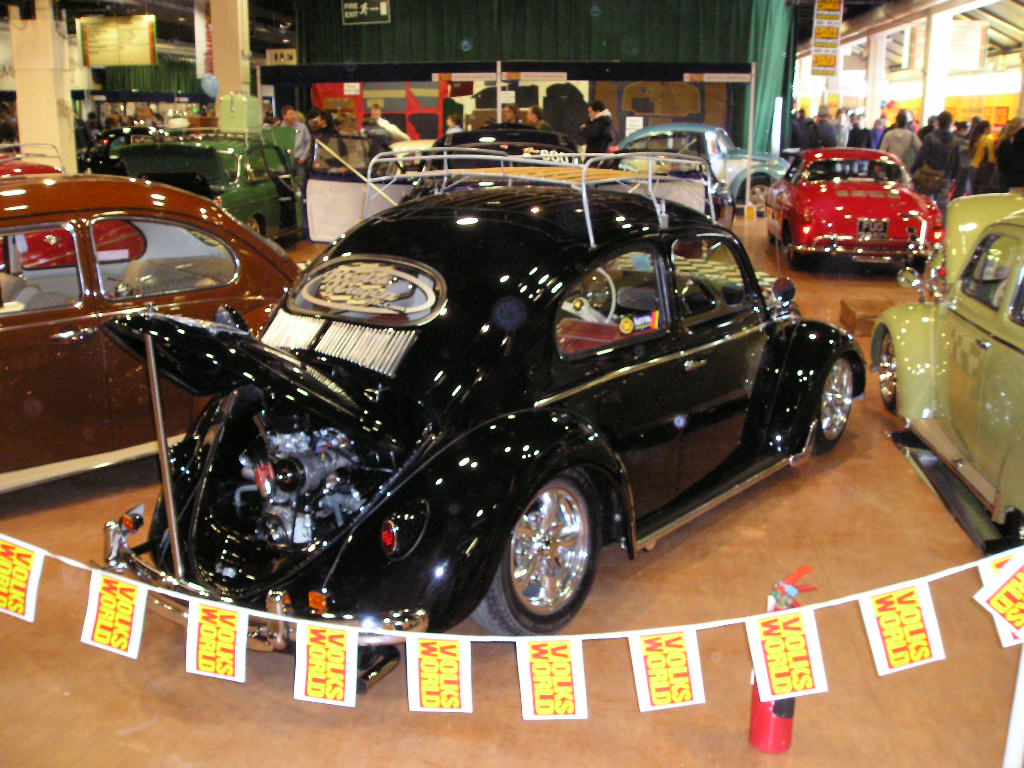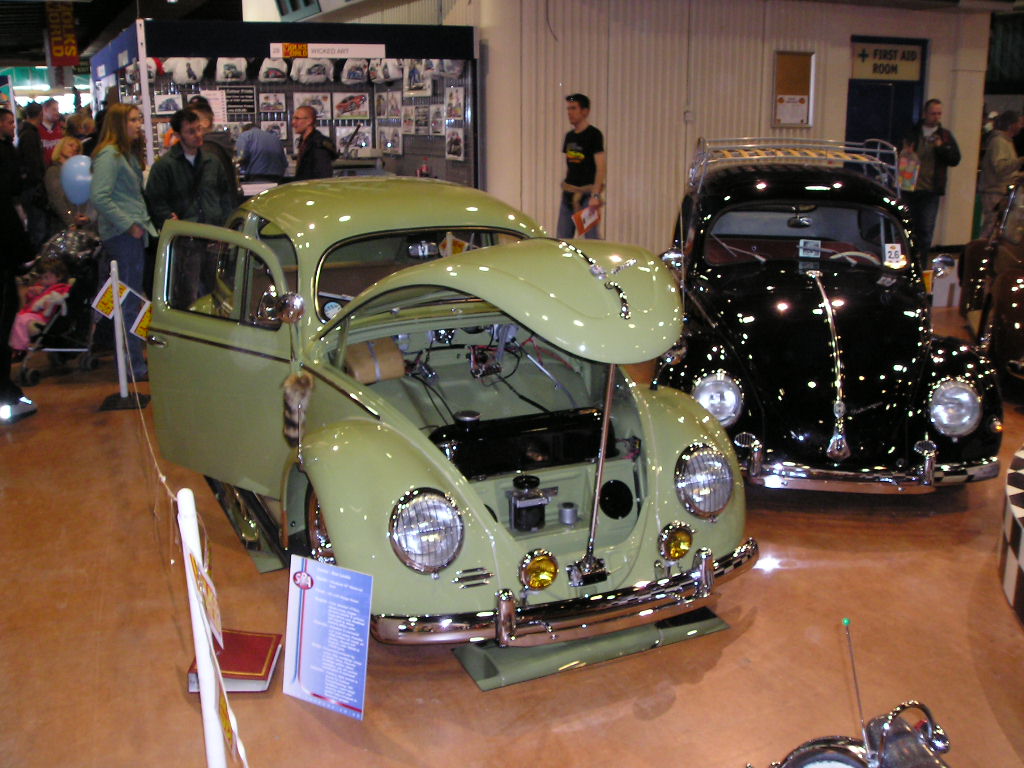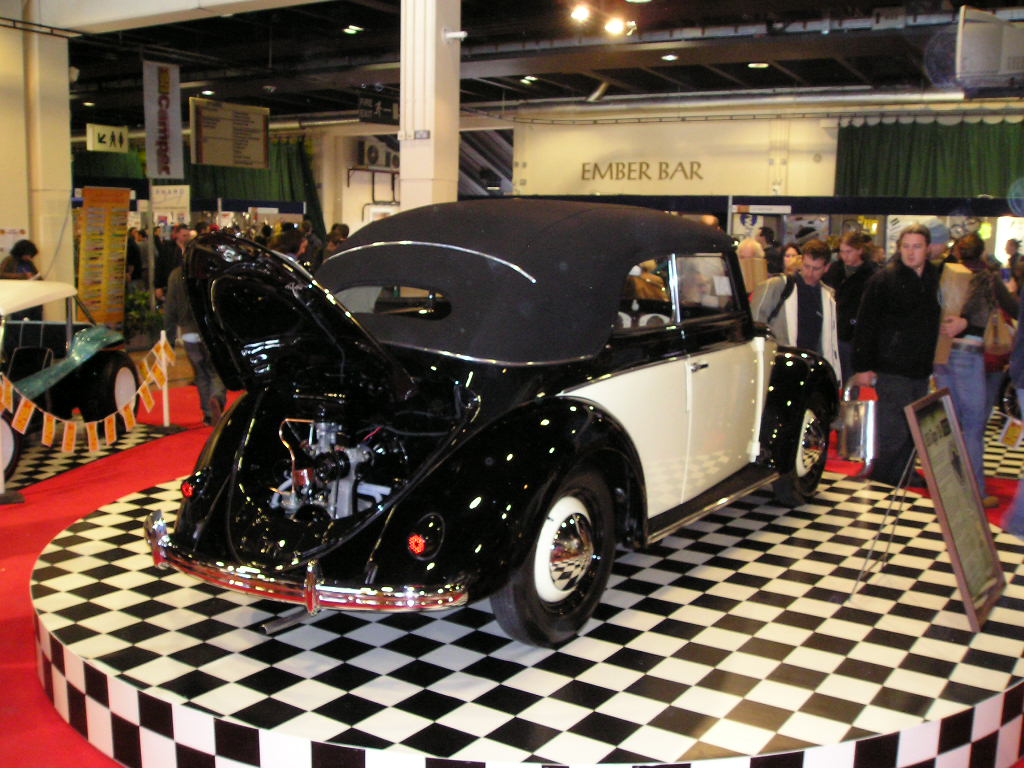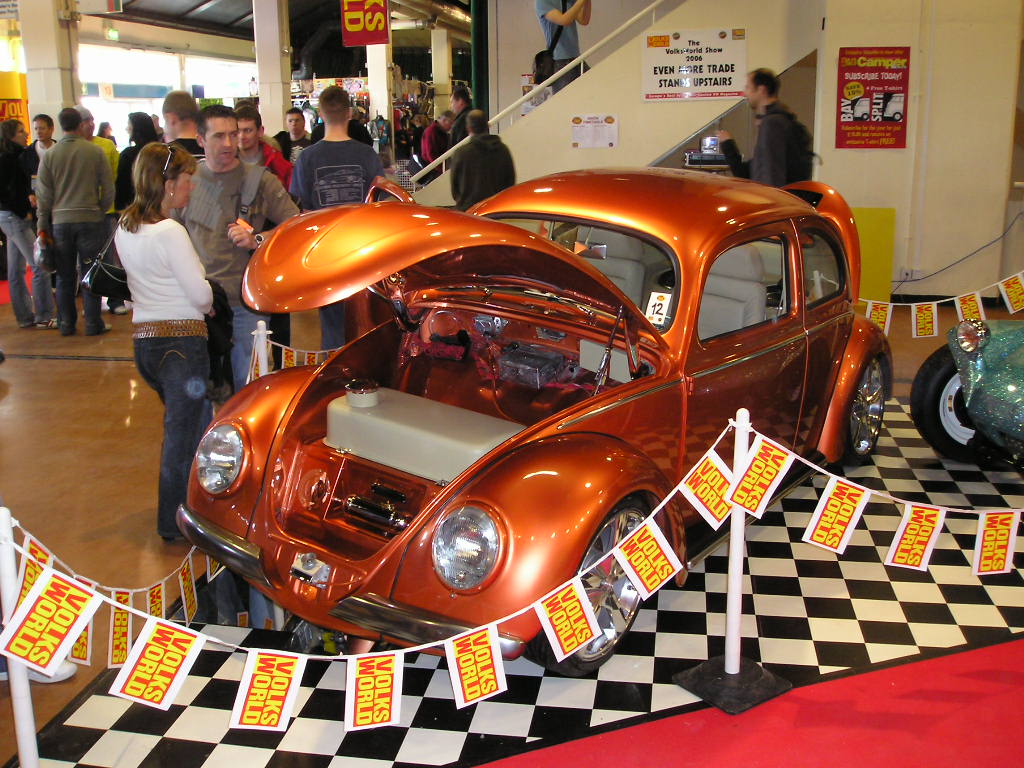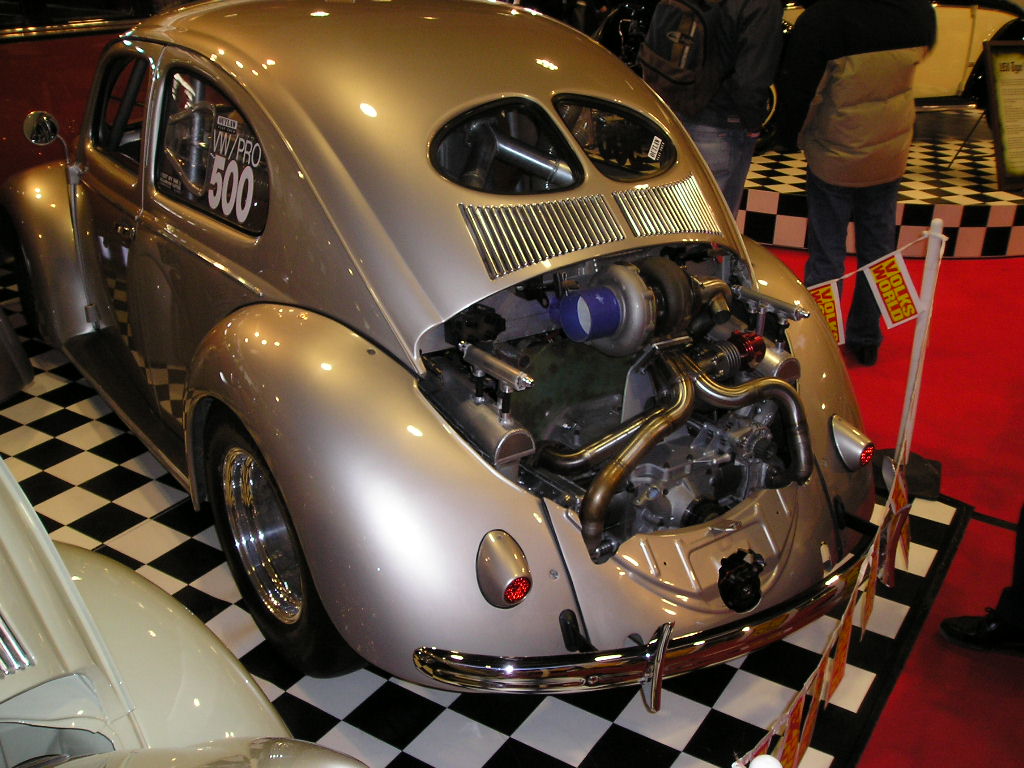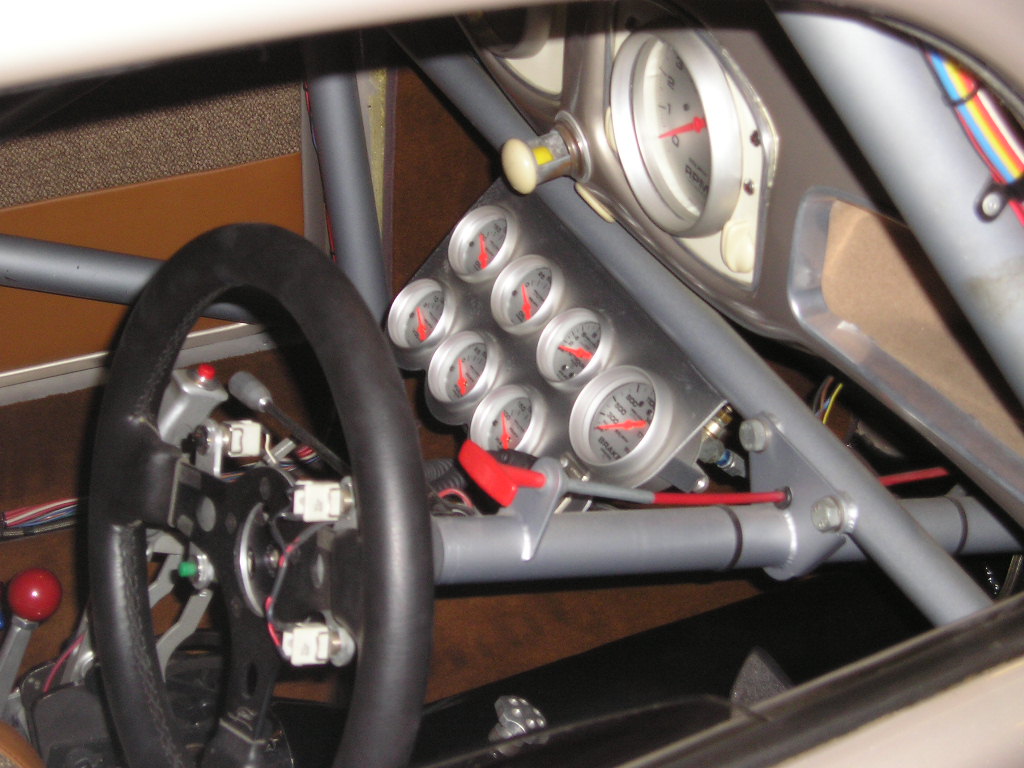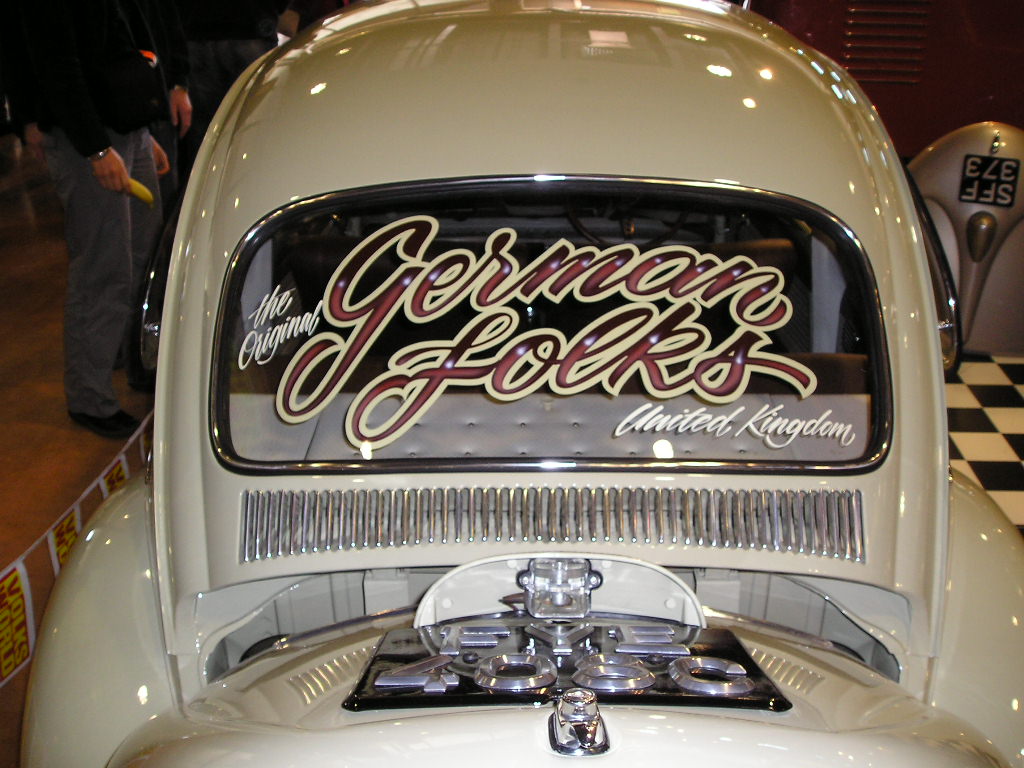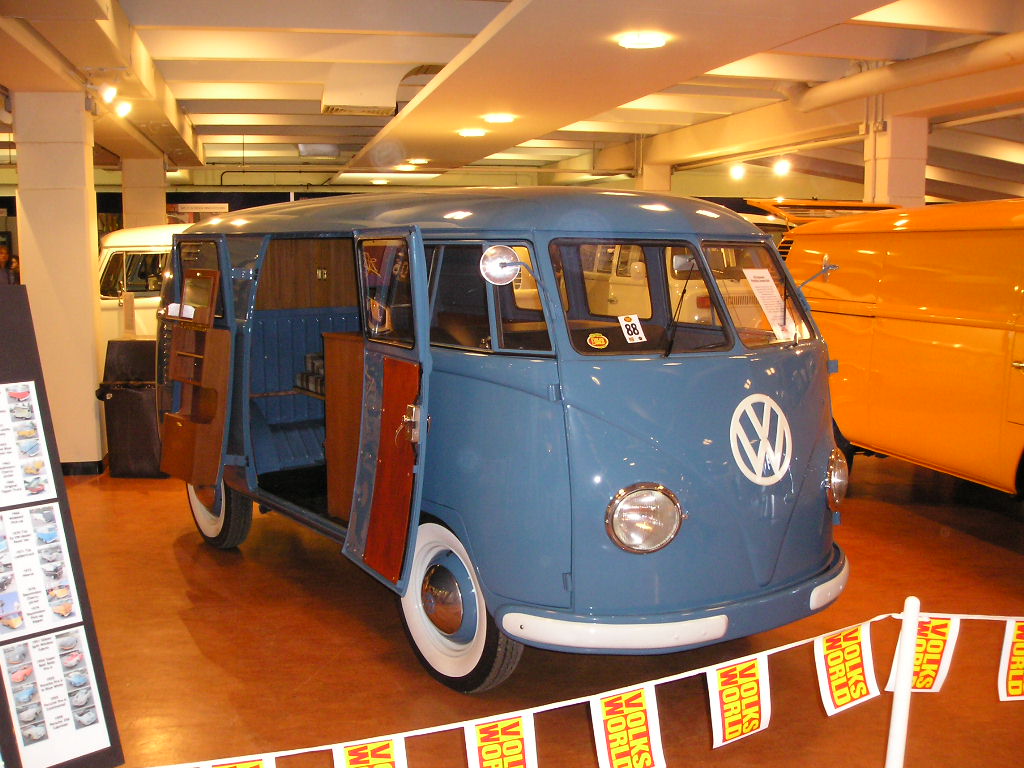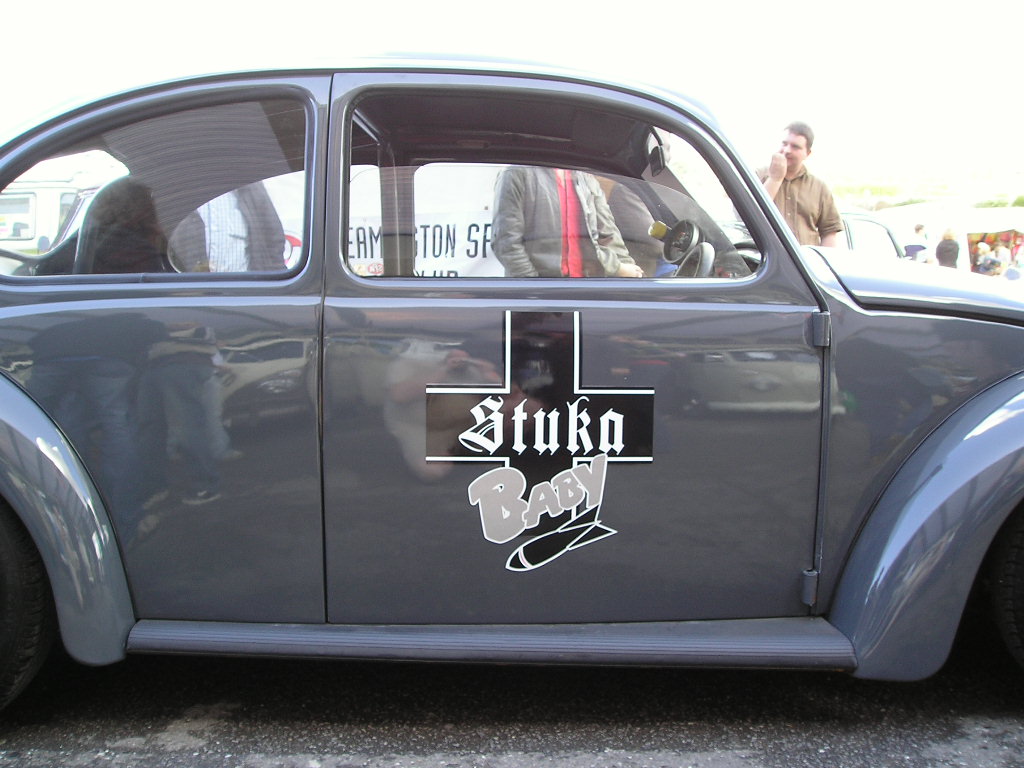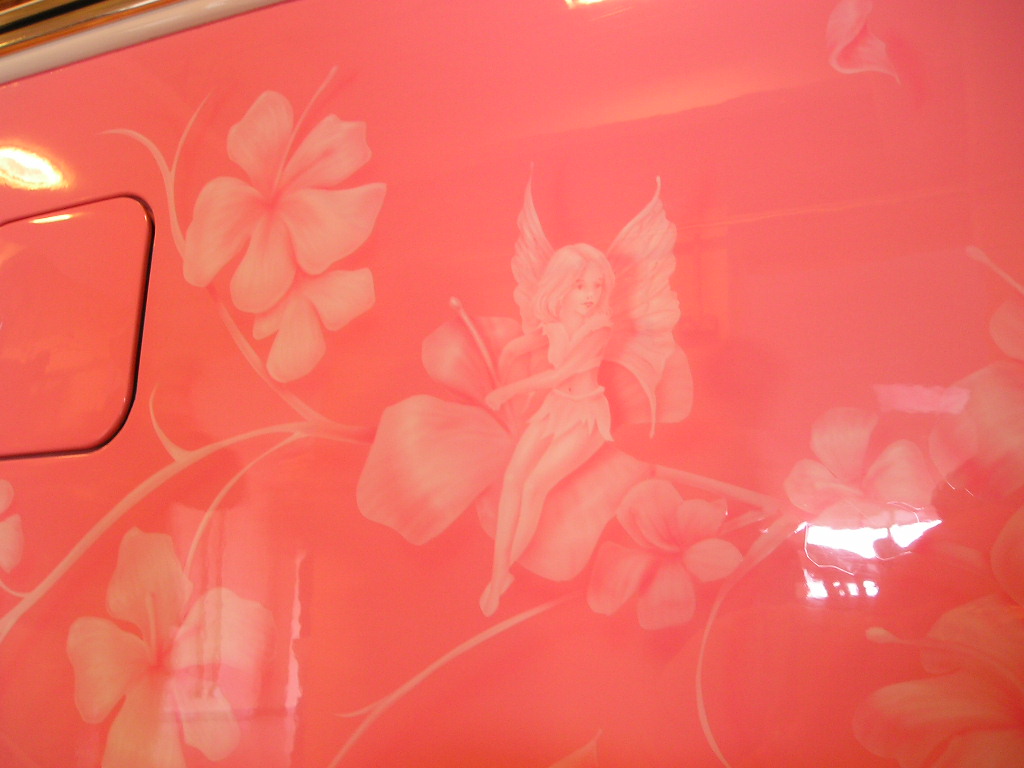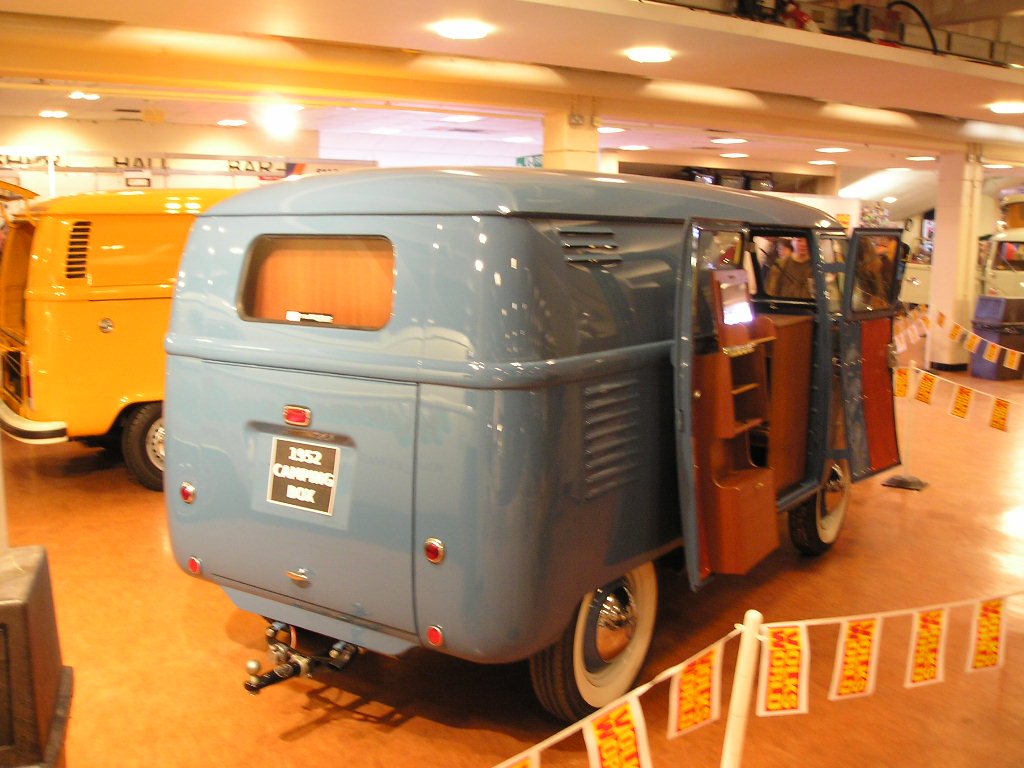 ( 19 Feb ~ DubFreeze)
First show of 2006. Not to cold, but damp. Good start to the year, some sweet rides, loads of traders. I managed to get some nice bits
and pieces, the for sale section was busy, roll on the summer.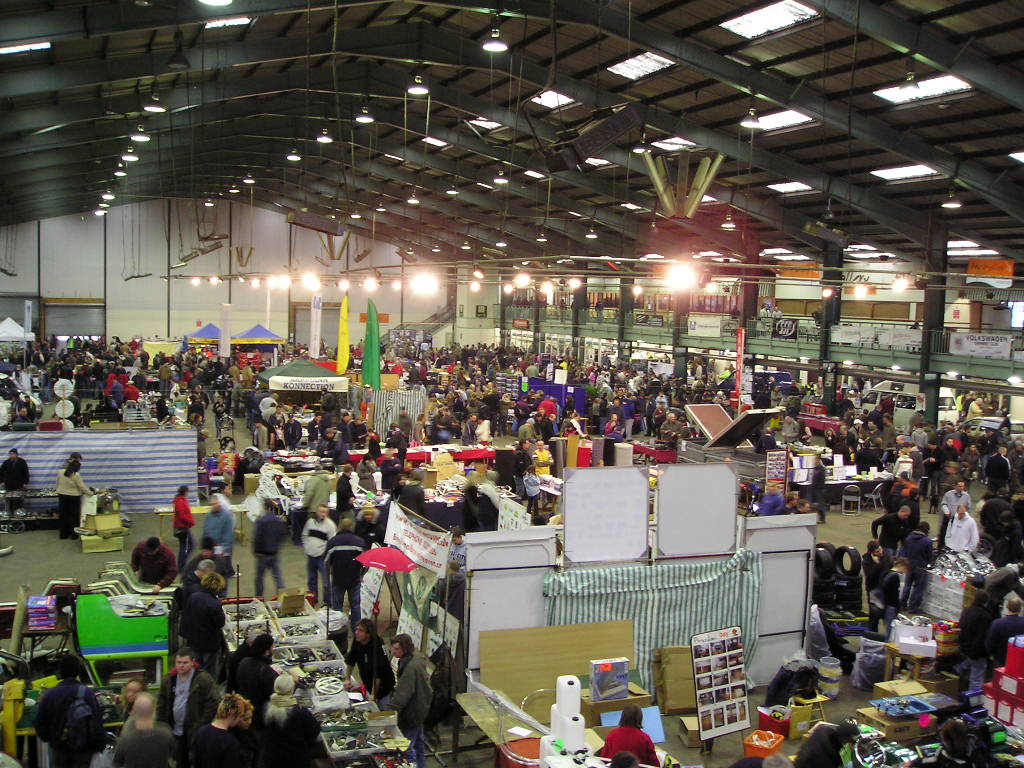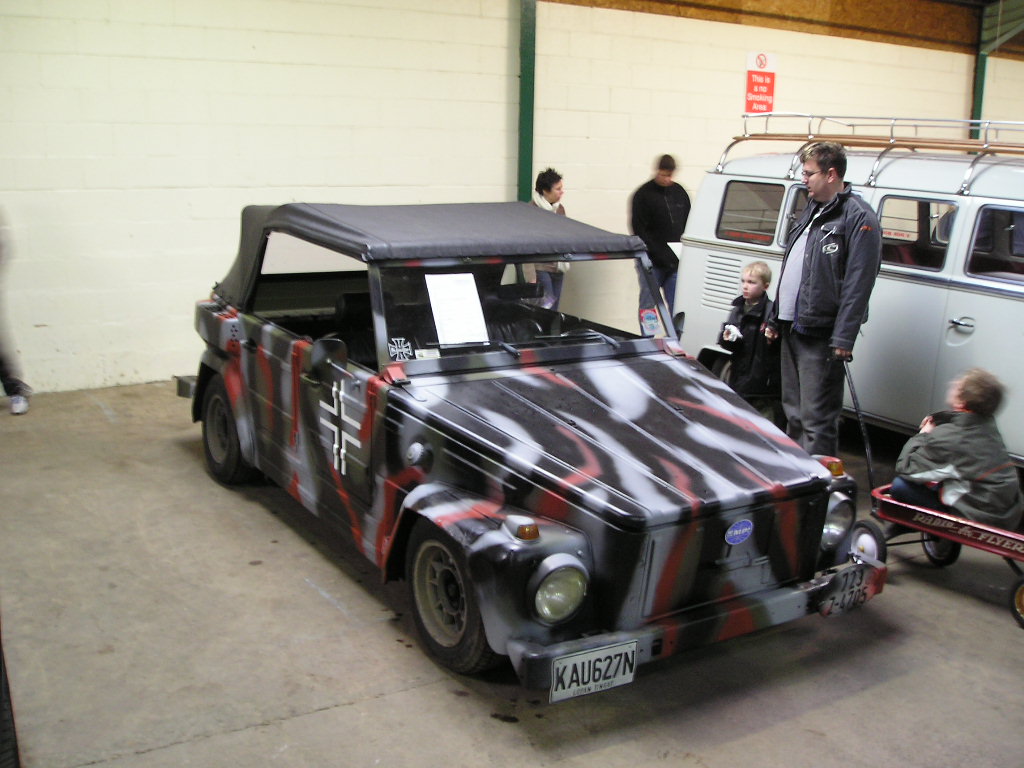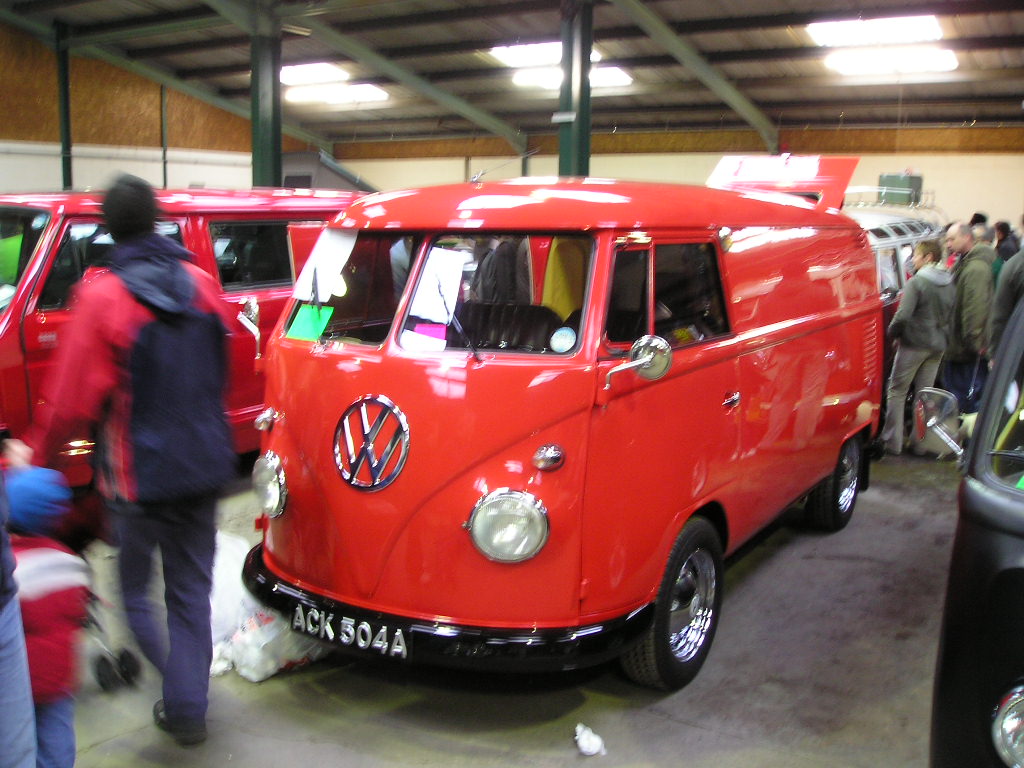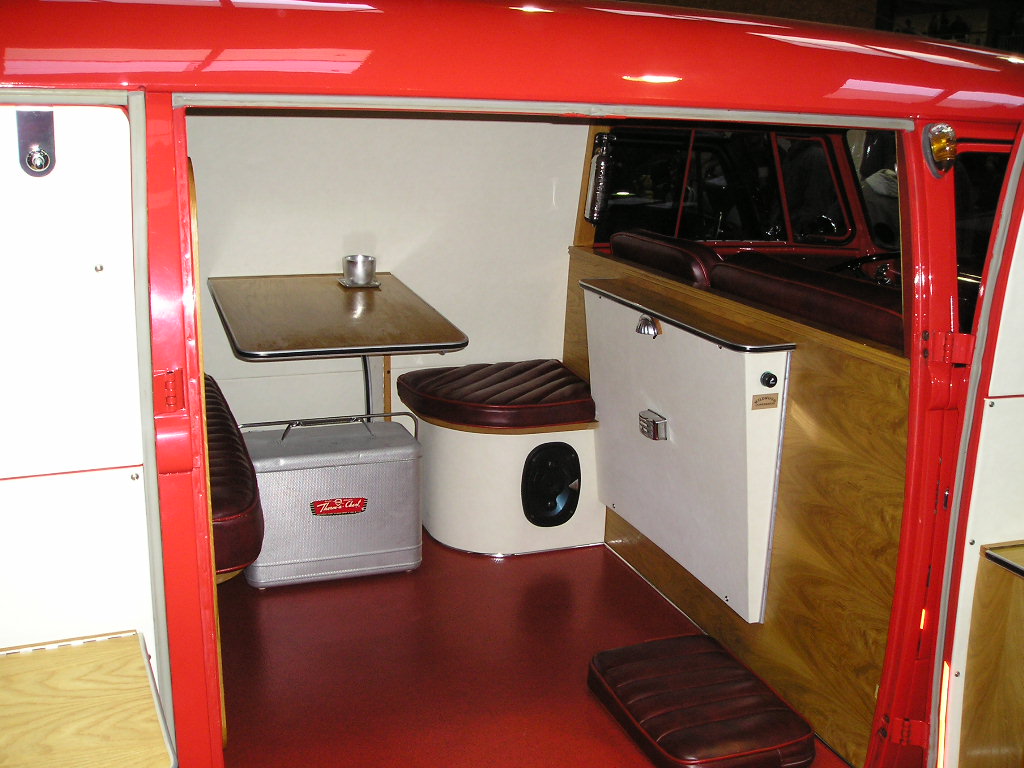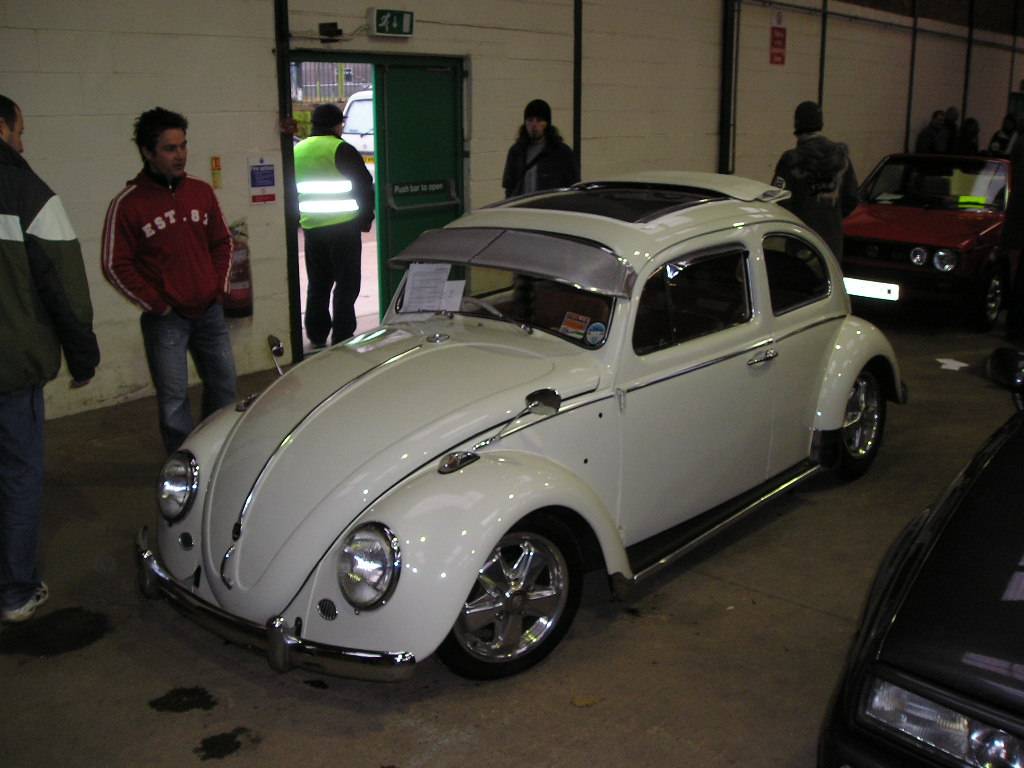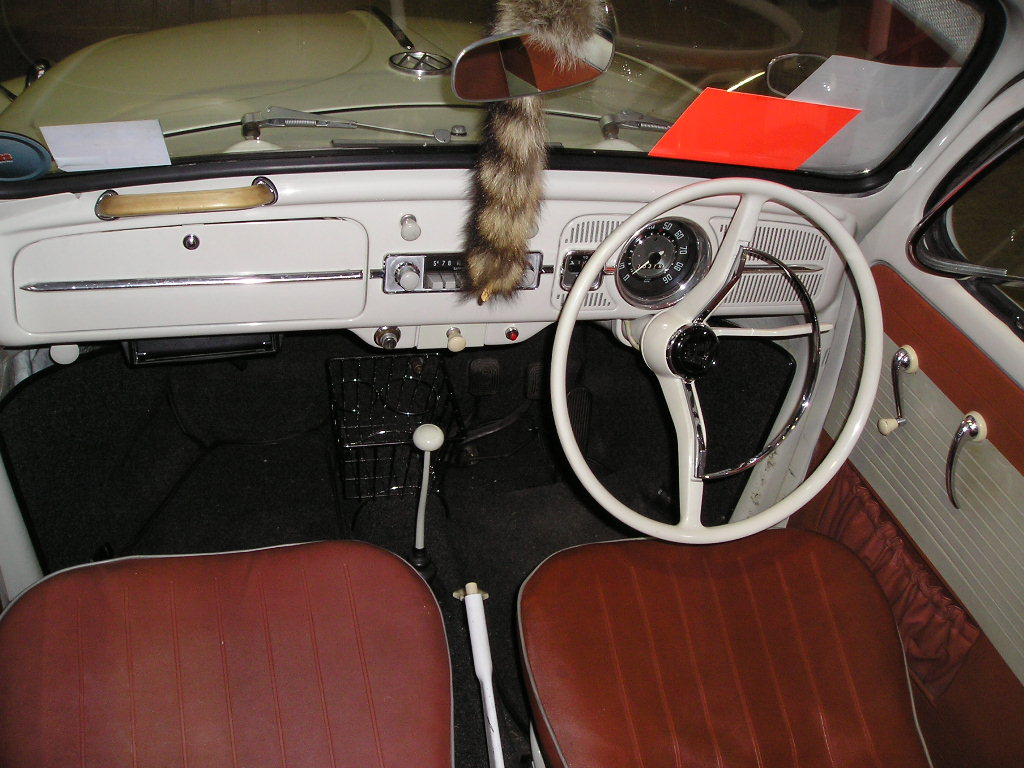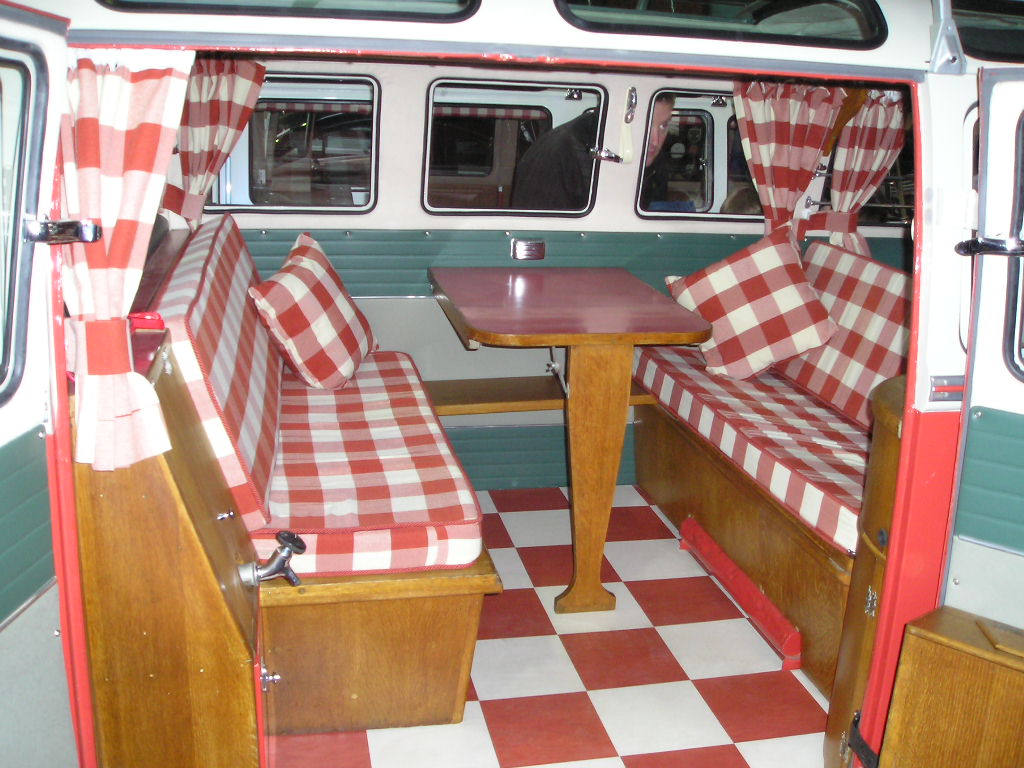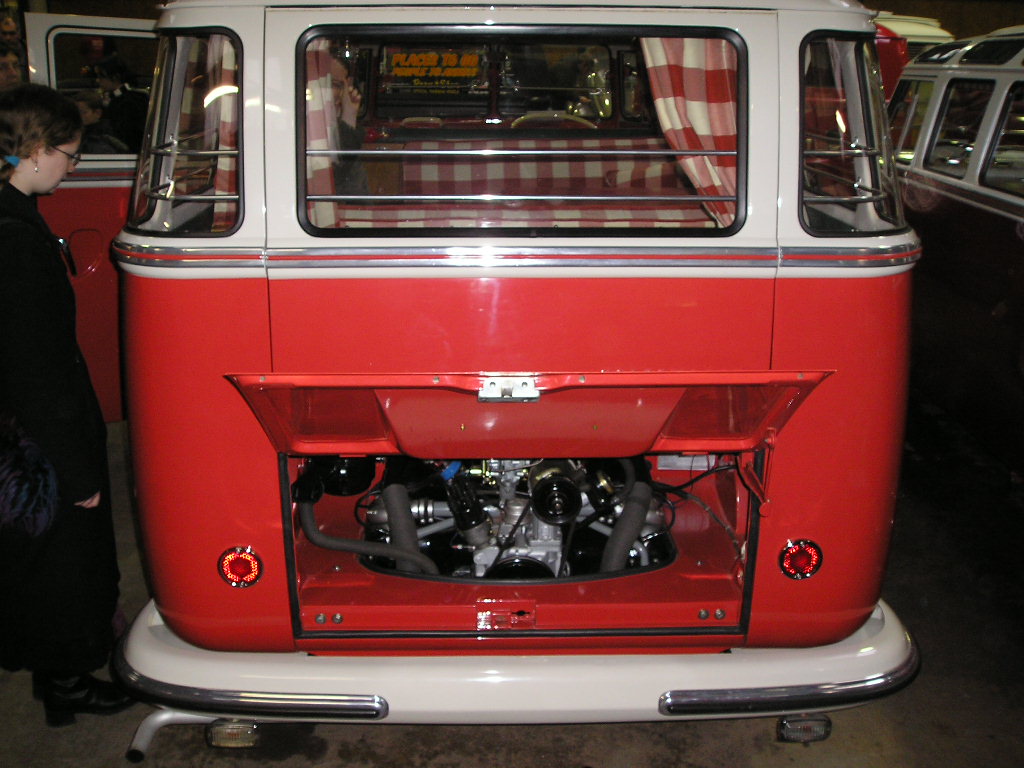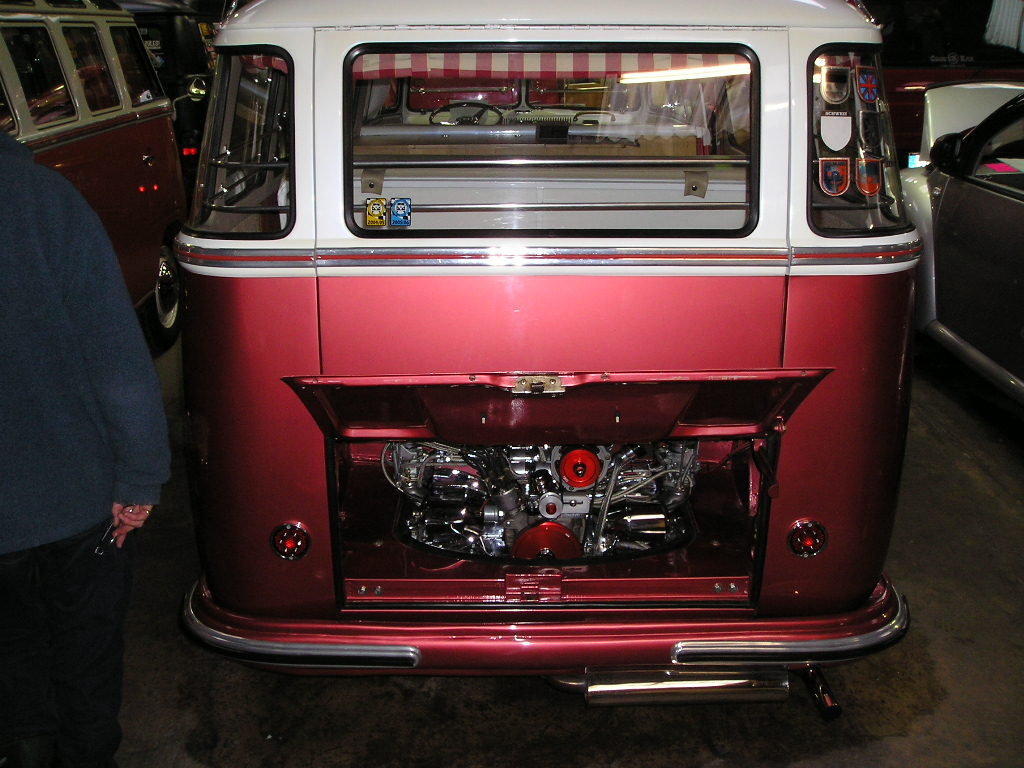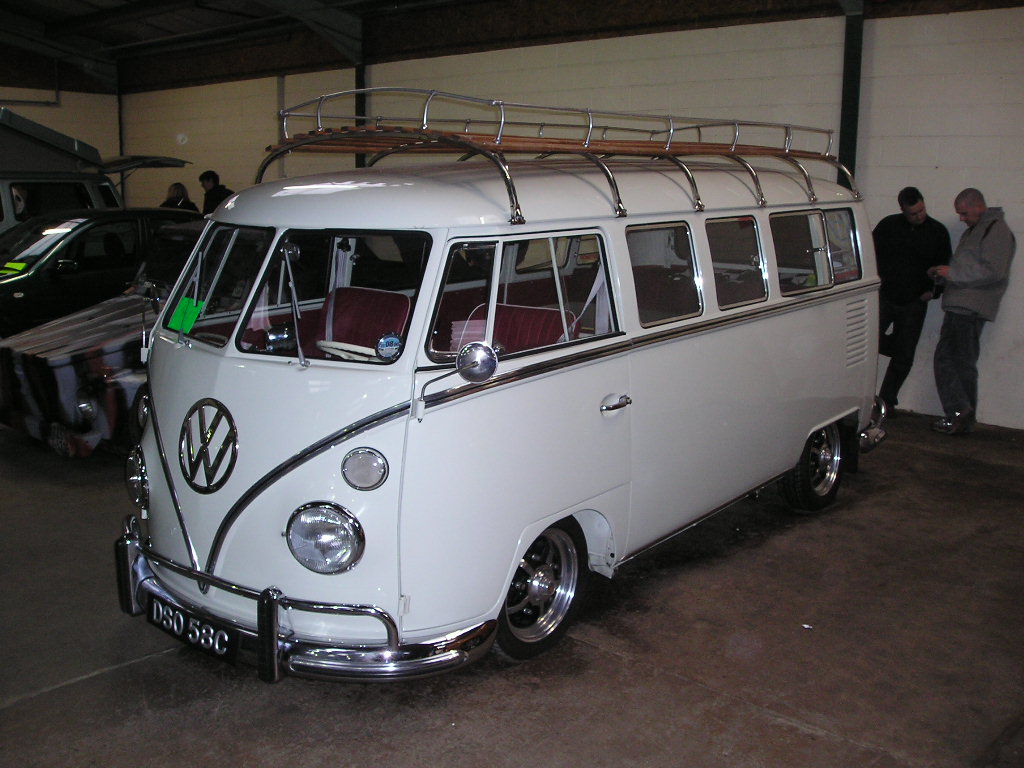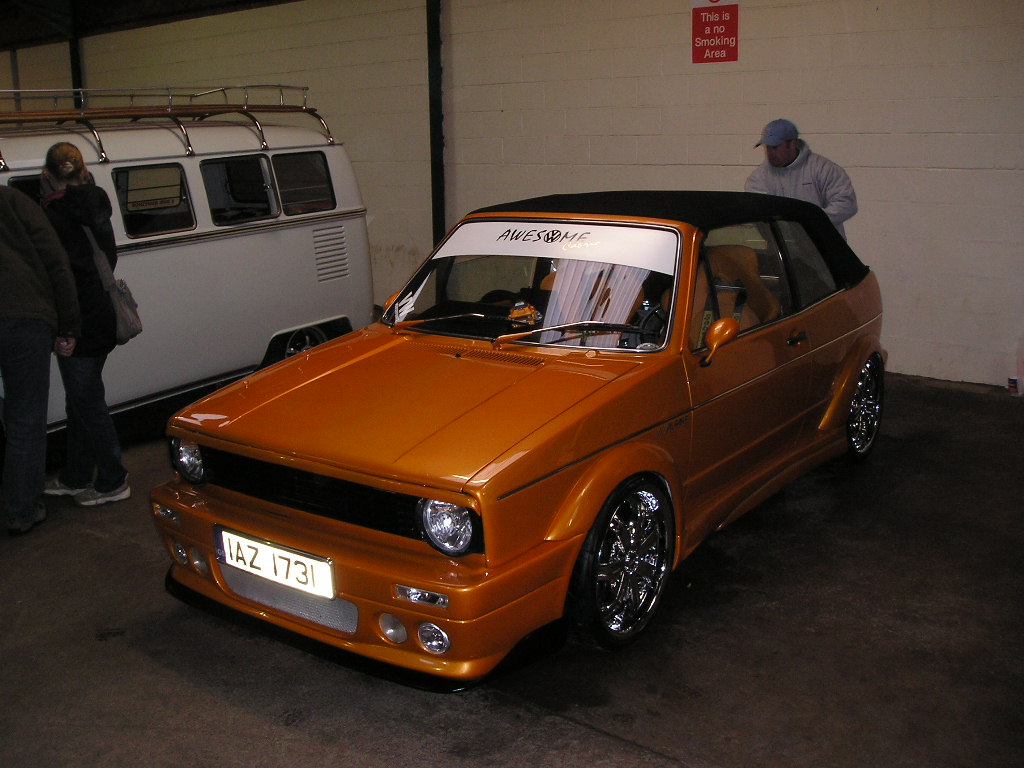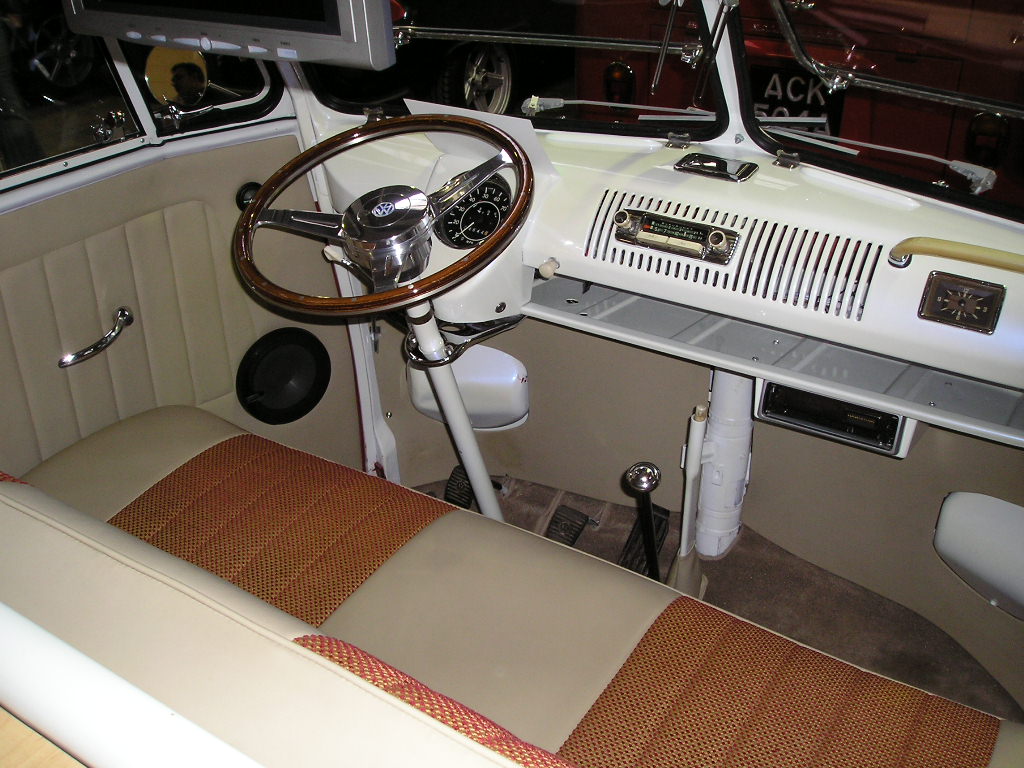 ( Dec 05 ~ TIN @ the LID )
A Christmassy meet near Coventry was good, we all had turkey curry whilst xmas music played.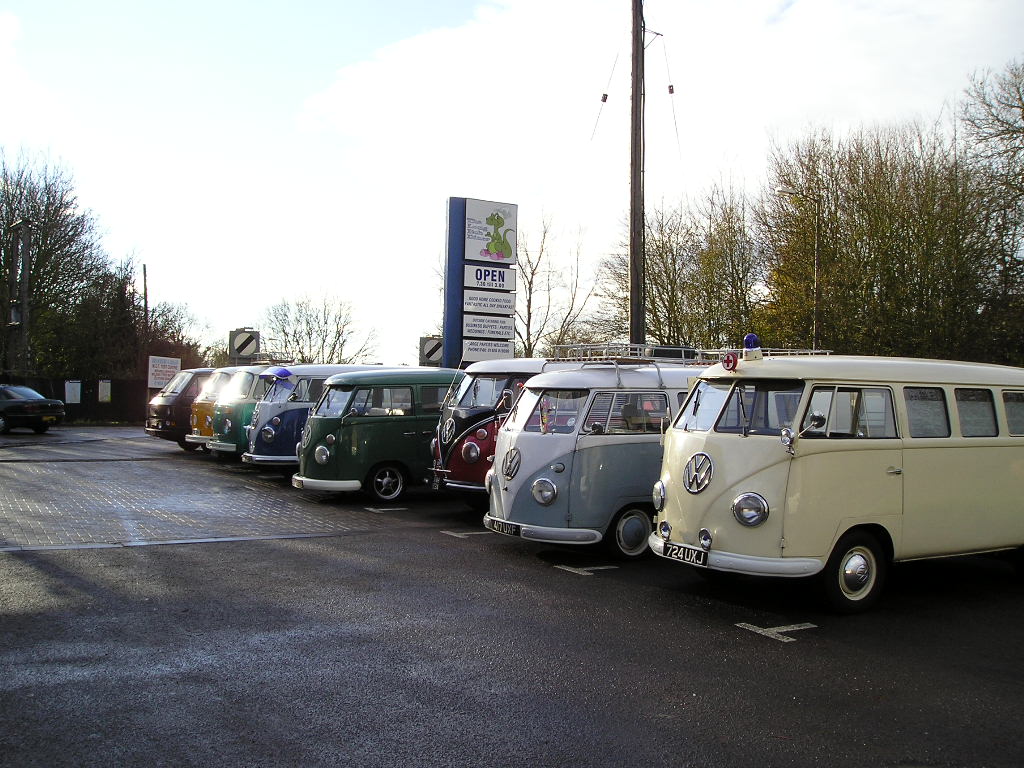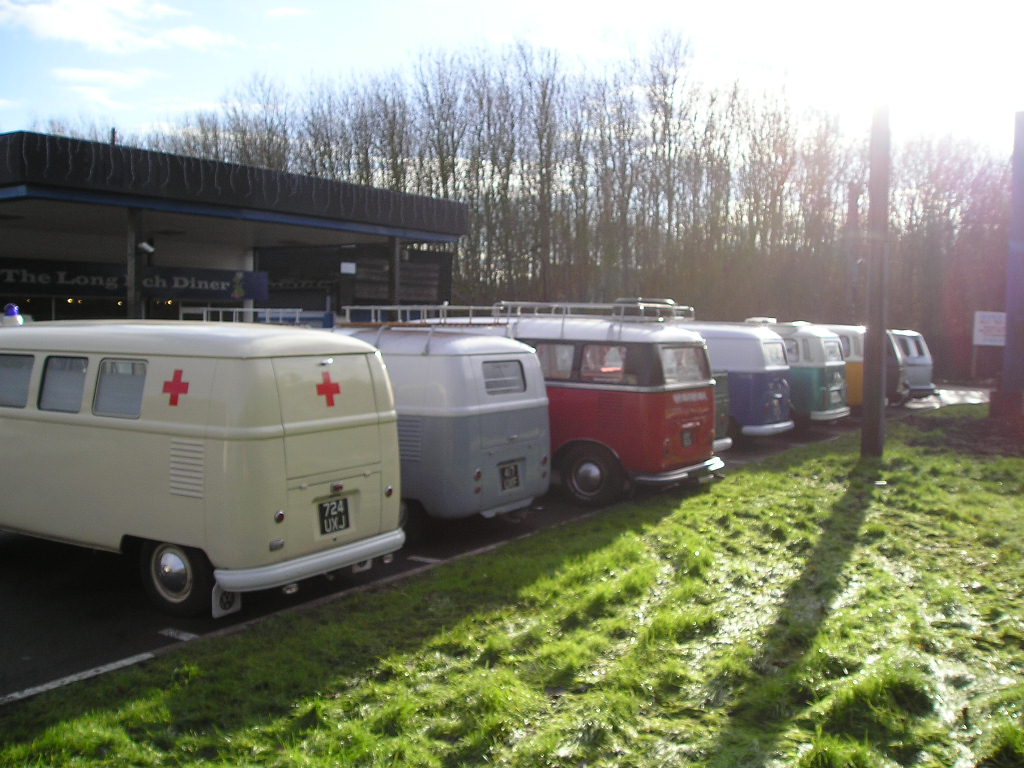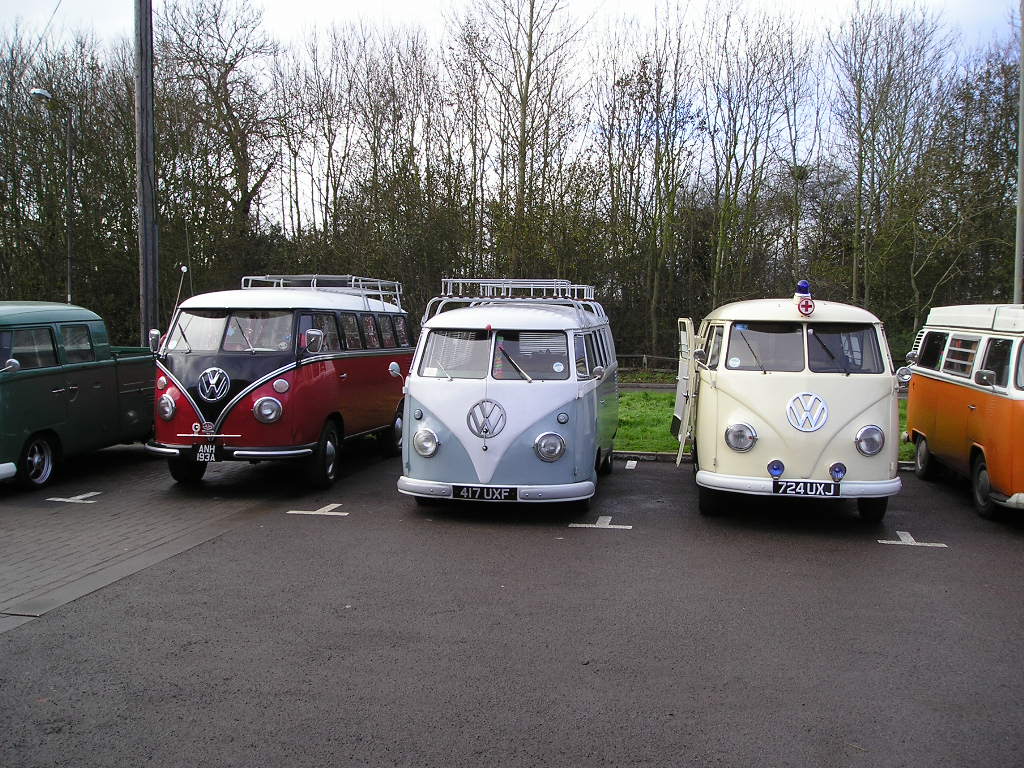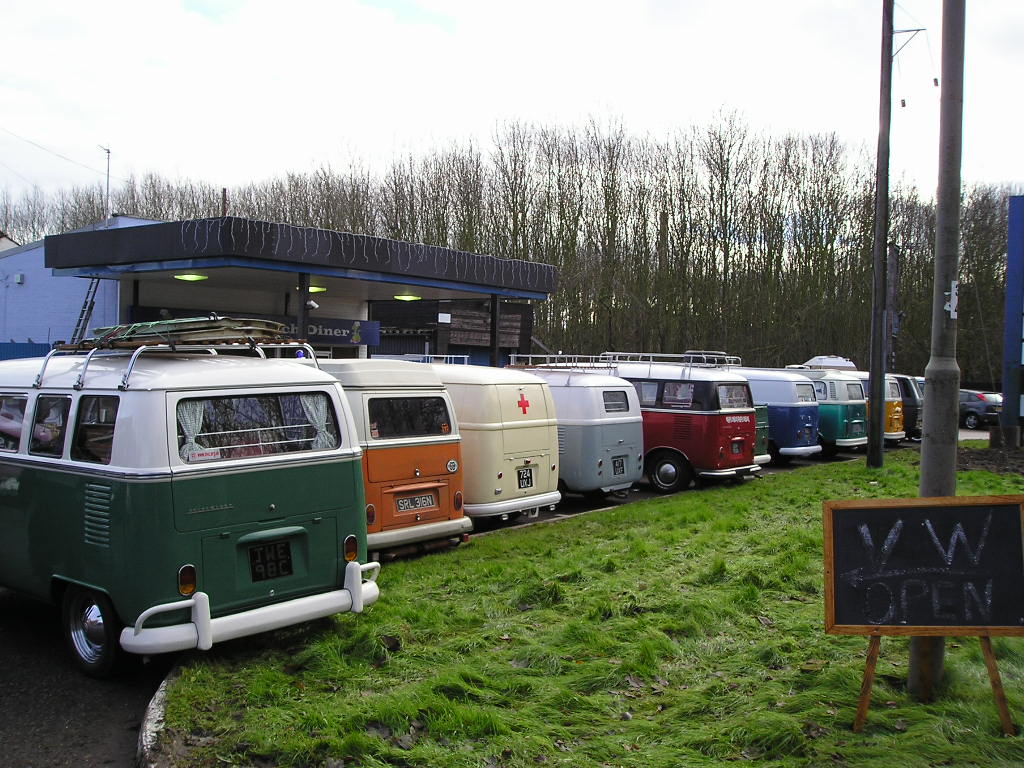 ( Nov 05 ~ SSVC AceCafe & Slough SwapMeet )
It was dry & cold, a good turn out of vehicles and there was loads of bargins to be had.